Nothing says fall like Grandma's Pumpkin Bread!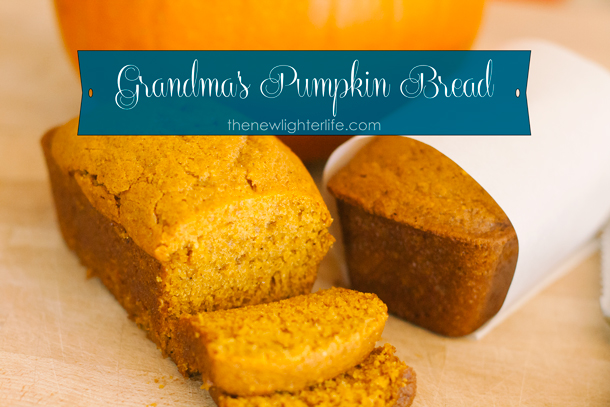 But before I get to that I have to tell you, I almost lost it a few days ago.
My fellow RVing friend, Alicia, told me that baking in the RV oven was challenging and boy was she RIGHT!
After attempting a coffee cake (that was crispy on the bottom and gooey in the middle, I had my moment of temporary insanity.  I had followed all the advice I could find online about RV ovens (which I'll cover in another post) – still my cake was yuck-o!
RV ovens are tricky.
Hello Pinterest!  Oh how I love thee!
Grandma's Pumpkin Bread – Crockpot Style
Who knew such a thing was possible, so I gave it a shot with some of that pumpkin I dealt with the other day.
I did a little controlled experiment and made a few adjustments to my RV oven setup.  My goal was to show the impossibility of baking in RV ovens and the success of the crockpot.  But my adjustments to the oven worked!!  Ha!  So if you're struggling with your oven, head over here for my tips.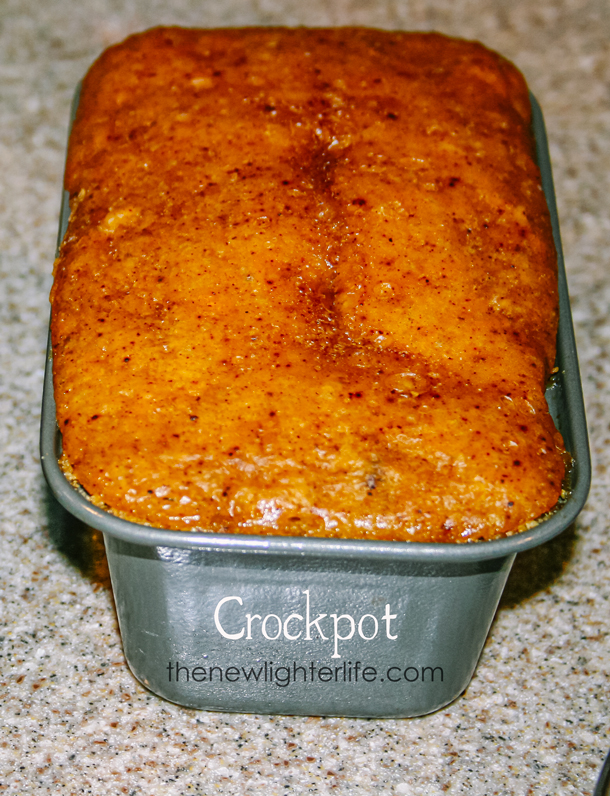 They both tasted great but the crockpot version was a little more moist and flatter on top.  My family was still cool with it.
I found instructions for crockpot bread, here and used my all-time favorite Grandma's Pumpkin Bread recipe.
One thing I do like about the crockpot one, it's not so time sensitive.  Meaning, I can leave it and go do laundry without worrying about it burning. I'm not the greatest about setting the timer anyway so I like the flexibility the crockpot offers.
So we have a win-win here folks!
Now you have to try my pumpkin bread recipe… it is super-delicious!!
Grandma's Pumpkin Bread Recipe
1 1/2 c. sugar
1 tsp baking soda
1/4 tsp baking powder
1/2 tsp ground cloves
1/2 tsp cinnamon
1/2 tsp salt
1/2 tsp nutmeg
1 2/3 c. flour
1/2 c. butter (melted)
1/2 c. water
1 c. pumpkin (cooked & mashed, or canned)
2 eggs, beaten
Oven Directions
Preheat oven to 350 degrees.
Mix all the ingredients together in a bowl.
Pour pumpkin bread batter into your greased loaf pan(s).
Bake at 350 degrees for 1 hour for a standard loaf or 20 to 25 minutes for 3 mini loaves.
Crockpot Directions
Pour a couple of cups of water into the bottom of your crockpot, you don't want the water in the crockpot to go into the bread pan once you place it in there.
Pour your pumpkin bread batter into your greased loaf pan(s).
Place the filled pan(s) into the crockpot.
Lay several paper towels inside the crockpot, so they just rest on the top, and cover towels with crockpot lid to hold them in place.  This is done to collect the condensation that will inevitable form from the water sitting at the bottom of your crockpot.
Bake for 2 to 3 hours, check bread's doneness with a toothpick or knife.