Previously, I shared my  Quinoa Bread Recipe, today I'm sharing my 100% Whole Wheat Bread Recipe (that I make with sprouted flour).
Since we're doing Trim Healthy Mama, we rarely eat bread.  But, the kiddos have toast and I buy store-bought sprouted bread for my protein packed french toast.  So I got to thinking, why not MAKE sprouted bread.
If you are so inclined, you can sprout your own grain, dry it, and then grind it for bread.  I've done this in the past but the process takes time and is not conducive to camper living.  So I gave up on homemade sprouted grain. Thankfully a local friend tipped me off to buying sprouted grain from To Your Health Sprouted Flour Co (I do not have any affiliation with them).
My friend had some extra flour that she was storing in her freezer. So I bought some off of her.  I'm waiting on my sprouted grain to come in but in the meantime I've been making completely whole wheat bread with sprouted flour.  Below is my recipe and it is tasty!
Now you can use regular wheat that's not been sprouted but sprouting lowers the carb content and raises the vitamins and minerals.  (plus it has a milder flavor)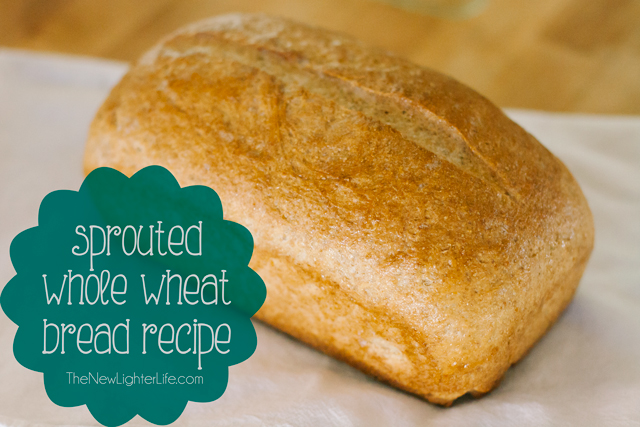 Here is my very basic but tasty whole wheat bread recipe. My kids declare it a winner, they've previously turned up their noses at homemade whole wheat bread.  I hope you enjoy it too!
(I used sprouted soft white wheat but will be trying out sprouted kamut, oats, and soft white soon)
Whole Wheat Bread Recipe
1 c. warm water
1/4 c. honey
1/2 Tbsp yeast
1/4 c. olive oil
1 tsp salt
2 1/2 – 3 c. whole wheat flour
In a medium bowl, combine the water, yeast, & honey.  Let it sit for a few minutes to give the yeast a chance to start working.  Add the salt, oil, and 2 cups of flour.  Continue to add more flour until the dough does not stick to the side of the bowl and does not feel sticky to the touch.  Knead for about 10 minutes.
When you're finished kneading the dough, let it rise once until doubled in bulk.  Punch down dough and form it into a loaf.  Placed into a lightly greased bread pan.  Cut a slit in top of loaf to allow for expansion and air to escape.  Cover and let bread rise for about an hour.  Bake in a 350 degree preheated oven for approximately 30 minutes.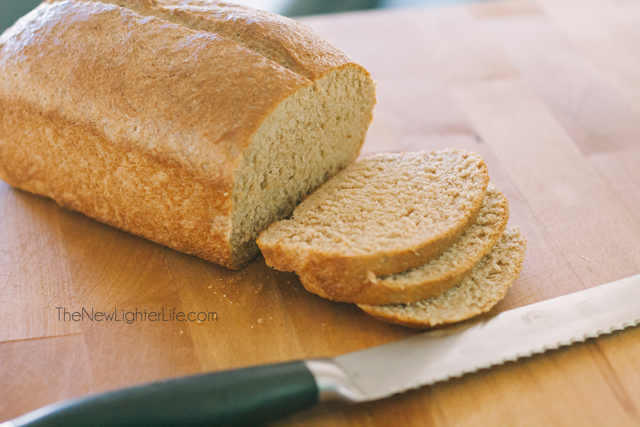 *You can also make this bread in a breadmaker.
*This recipe is easily doubled.