Mmmm.  I love pumpkin as much as the next gal, (if you haven't, check out my pumpin fotato soup, pumpkin bars, my grandma's pumpkin bread). Up but until very recently, I hadn't ever made or feasted on Pumpkin Pancakes.
Eli found a recipe for pumpkin pancakes in an old Highlights magazine the recipe called for pancake mix, which we never buy.  We experimented with a couple of recipes and this one from All Recipes is utterly delicious, (shockingly better than Pioneer Woman's)!!
If you want ideas of how to make this with a pancake mix, head on over to AllRecipes, there seems to be a good substitute in the comments to that highly-rated recipe (linked above).
Let me explain our big changes:
We added freshly ground nutmeg to ours.  All sweet pumpkin recipes should contain nutmeg.
The recipe calls for 1 cup of pumpkin puree.  We're using canned pumpkin and that comes in a 15 oz can, leaving 7 oz of pumpkin leftover and not enough for my pumpkin bread if I was being a stickler about amounts.  So I just adjusted it to be half a can of pumpkin.  I don't think you have to get crazy about measuring is my point really.  Waste not…want not.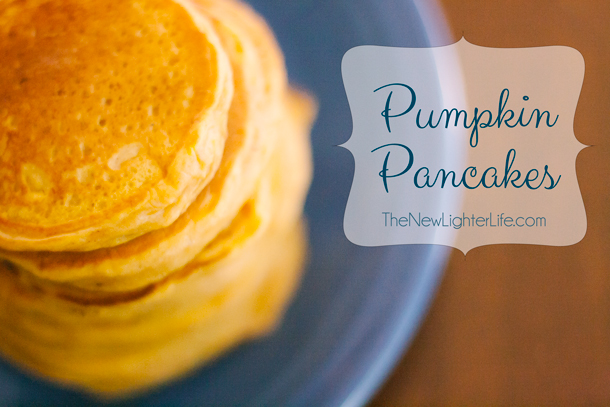 Pumpkin Pancakes
Ingredients
1/2

cup

milk

1

cup

pumpkin puree

1

egg

2

tablespoon

butter

melted

2

tablespoon

vinegar

2

cup

flour

3

tablespoon

brown sugar

2

teaspoon

baking powder

1

teaspoon

baking soda

1

teaspoon

ground allspice

1

teaspoonground cinnamon

1/2

teaspoon

ground ginger

1/4

teaspoon

nutmeg

(fresh ground is best)

1/4

teaspoon

salt
Instructions
In a bowl, mix together the milk, pumpkin, egg, butter, and vinegar. Add the flour, brown sugar, baking powder, baking soda, allspice, cinnamon, ginger, nutmeg, and salt in a separate bowl. Stir all the ingredients just enough to combine.  Do not be tempted to add more milk to the batter, it will be thick.

Heat a lightly oiled griddle over medium-high heat. Scoop 1/4 a cup of batter onto the griddle and spread the batter out with the back of a spoon. Brown on both sides.  Serve hot with maple syrup.