I admit, I've been complaining about my RV oven.
I had reservations about it before I ever turned it on.  And truth be told, I was just waiting for it to fail me when I moved into the camper.
My RVing friend, Alicia, told me her oven stunk.  She hated it so much so that she took out her overhead microwave and replaced it with a toaster oven.  She does 90% of baking in there and rarely turns on her oven.
So what's the big deal about an RV oven?
The Negative Aspects of an RV Oven
Size.  First of all….they are smaller.  I can fit my 9 X13 in there, but barely.  I had a Pampered Chef bar pan that I got rid of because it was just too big.  I'm still sad over that bar pan…it was my bacon baker.
Heat Source.  It is propane.  I'm not sure how much propane you burn through but I'm finding that I need to do less baking.  We've gone through quite a bit of propane in the few weeks that we've been in the camper.  There are other factors to contribute to our propane usage, this is just something that is on the forefront of my mind.
Heat Element.  The propane flame comes out along a rod from the back of the oven to the front.  This rod is very hot…did I just state the obvious??  There is a thin metal plate right above, that I'm assuming is designed to transfer the heat.  This is a major flaw in my very humble opinion.
Preheating.  There is no little buzzer or beeper that lets you know your oven is at the right temperature.
Lighting the Oven.  You actually have to light the oven with a lighter.  Really RV oven people?  How hard would it be to add a spark option for the oven?  It's already there for the burners on top.
I scoured the internet in search of tips for baking in an RV oven.  I found several sites that talked about replacing your microwave with a microwave/convection oven and baking in there instead of the oven.  Some talked about dutch ovens.  A few did offer tips….I compiled them and implemented the ones that were feasible.  Below are the tips that actually worked.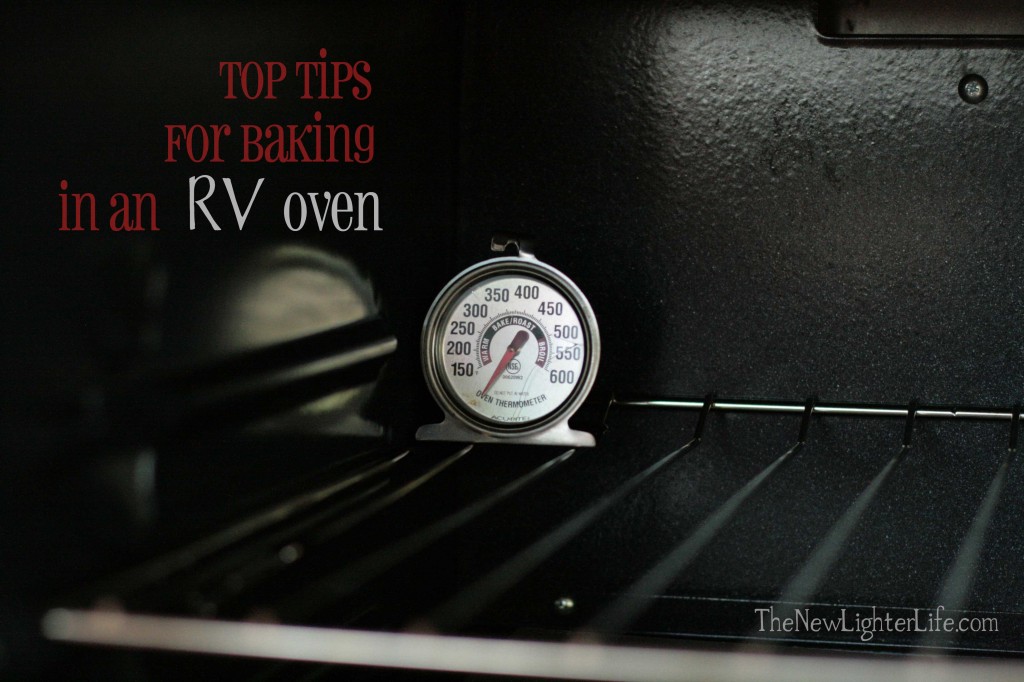 My 5 Tips for Baking in an RV Oven
Preheat the oven.  You just gotta do it.  It feels like a big ole' waste of propane but without it preheated, your baked goods have a greater potential to flop.  I really wish there was a beeper to let you know your oven had reached the right temperature.  But there isn't and that's just the way it is.
Use an oven thermometer.  The little temperature dial on the oven is most likely NOT accurate.  Follow the oven thermometer and save yourself the headache of guessing the temperature.  After baking several dishes in my oven, I know where my dial needs to be and I don't even check the temperature.
Rotate your pan.  Rotate the baking dish halfway through baking to get as even of cooking as possible.
Use stoneware or unglazed tiles.  The massive heat from that heating element has to be transferred somehow to get a more even distribution.  That thin metal shelf is inefficient at doing this!  The best way is to place stoneware or unglazed tile directly on the metal shelf.  When we first moved in the camper, I used my round pizza stone but the stone was getting discolored.  Plus I want to use the stoneware sometime.  So I bought 4 unglazed tiles from Menards for $0.44/each….that's a deal if you ask me!
Adjust your wire rack.  By moving this rack up higher you don't have the intense heat and the temperature is a little more even.
Our oven has more levels to adjust vs other camper ovens, so we have more flexibility.
I also read that you can adjust the thermostat on your oven.  Our particular oven does not have that option though.
We've had a few mishaps…but after implementing the changes above it's been VERY easy to bake in the oven.
Here is an excellent example of a failure…
There were so many things that went wrong with the blueberry muffins above!
1st – I didn't preheat the oven.
2nd – I didn't have it set at the right temperature.
3rd – I tried to cook the flat un-risen tops by placing them on the bottom shelf.  The result was so funny I figured I'd share.
So I hope this helps anyone trying to figure out an RV oven.
If you have any more tips, I'd love to hear them!