There must be an unwritten rule that if you do any time in North Dakota, you have to eat Knoephla Soup.  This is the VERY best comforting noodle soup you'll ever have! It's made with heavy cream and some amazing dumplings.
Knoephla soup is perfect during the winter months and it's on heavy rotation in our house.  In fact, we sometimes make this soup up to 3 or 4 times a month.  Definitely a family favorite!
What is Knoephla Soup?
Knoephla is a cream-based potato soup with little noodles or dumplings (the German word for these is knöpfle – meaning knobs). It is thick and hearty and oh so delicious.
The soup also includes chopped carrots, celery, and onion.  It's super-flavorful and has the perfect balance of seasoning
I'm a protein girl so you may add cooked chicken to this soup as well. My sister and grandma both swear off the chicken in this soup so it works if you're vegetarian.  But if you are looking for protein… I assure you, the soup is yummy with chicken and rotisserie chicken works well!
The soup instructions are pretty standard if you've ever made a soup in your life.
For the dumplings, the best way to cut them is to roll the dough into ropes and cut them with a pastry cutter.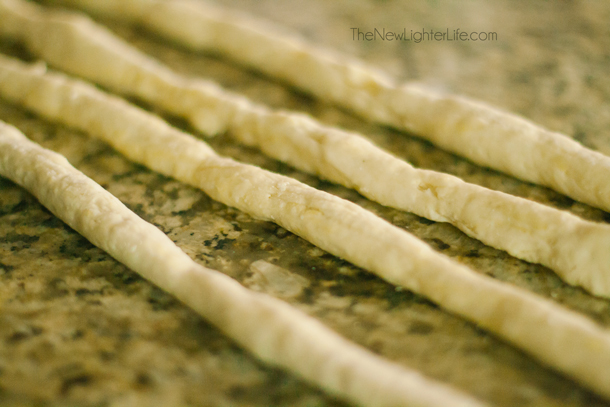 Here is a short video of the dumpling-making process.
Now for the details of the recipes…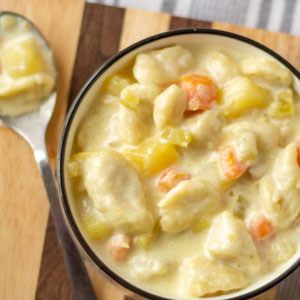 Homemade Knoephla Soup Recipe
Ingredients
For the Soup
3

Tablespoons

butter

1

small onion

diced

1

medium carrot

diced

2

celery ribs

diced

2

medium potatoes

peeled and diced

3

cup

water

3

cup

milk

2

cup

chicken broth

1/2

teaspoon

garlic powder

Salt & Pepper to taste

1

cup

heavy cream

added right before serving

boneless chicken

cooked and cut up, optional
For the Dumplings
2

cups

flour

1

egg

1

teaspoon

salt

1

teaspoon

onion powder

1/2

cup

milk
Instructions
In a large pot, melt butter and sauté onions, celery, & carrots for about 10 minutes or until onions are cooked and transparent.

Add water, seasonings, milk, broth, & seasonings to the pot.

Bring to a low boil and simmer for about half an hour or until the potatoes are almost cooked.

While the soup is cooking, in a separate bowl, mix all the ingredients for the dough.

Roll dough into ropes 1/2″ in diameter.

Cut these ropes into 1/4″ lengths.

When potatoes are almost cooked, drop the cut dough pieces individually into the boiling soup.

Simmer for about 10 minutes or until the dough is cooked through.

Add the heavy cream and serve.
The leftovers for this soup keep very well and it heats up nicely.
If you're looking for some other delicious soup recipes, I highly recommend my ham and potato soup, pumpkin cauliflower soup, or my chicken and wild rice soup.
Enjoy!