Cauliflower is my best friend since being on Trim Healthy Mama.  This lovely little (or big) veggie is great for making grain-free pizza crust but it's ability to stand in for potatoes is why we're tight.
Years ago my very good friend,  Anna,  shared her Pumpkin Potato Soup Recipe with me.  Let me tell you, it is yummy!
But since my potato eating days are pretty limited lately, I had to figure out how to make this fall soup work for us.
Cue my BFF.
Now keep in mind, cauliflower REALLY absorbs the liquids it's cooked in.  My modified recipe below calls for cooking the cauliflower before you add it to the other ingredients.  You are going to want to drain out as much excess water as you can.  You may even want to squeeze your cooked cauliflower in a colander.
To make this Pumpkin Fotato Soup a complete Trim Healthy Mama (S) meal, I'd suggest a grilled chicken breast or even some rotisserie chicken on the side.
If you're not following Trim Healthy Mama, you can make this with potatoes.  It's yummy either way.  But please please please, do not skip out on the bacon and sour cream.  They are necessary.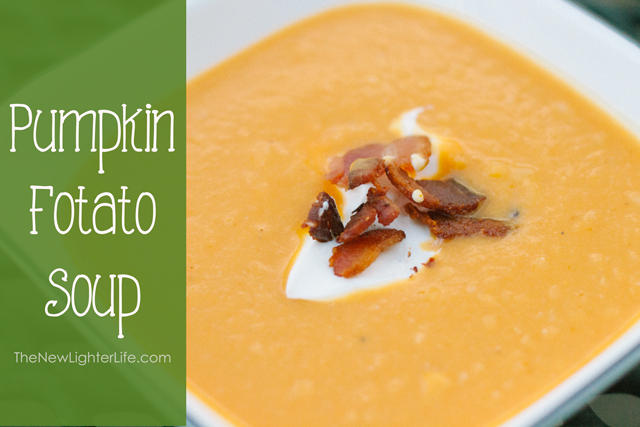 Pumpkin Fotato Soup
1 med onion, chopped
2 Tbsp butter
4 c. chicken broth
2 c. cauliflower, boiled and drained well
2 c. pumpkin, cooked (or 1 can of pumpkin)
2 – 2  1/2 c. almond milk, unsweetened, original
1/2 tsp nutmeg
1  1/2 tsp salt
1/4 tsp pepper
Toppings:
Sour cream
Bacon, cooked and crumpled
Directions
Sauté chopped onion in butter.  Add broth, cauliflower, & pumpkin.  Blend mixture in a blender or food processor until smooth.  Add milk to desired thickness.  Add spices.  Pour into saucepan and heat over medium heat until hot.  Do not bring the soup to a boil.  Add a dollop of sour cream some bacon to soup when serving.
This recipe has been linked up at Gwen's Nest for Trim Healthy Tuesday.