When we were shopping around for an RV, we were specifically concerned about one area, the Kid's bunk room.  Follow along on our tour of our Forest River 365 SAQ bunk room. This is what sold us on buying this particular model.
The Kid's Room
Really I was concerned about 2 areas.  But the kid's bunk room became the most important area in our hunt.
Hey, y'all we got 4 kids you know!  *smile*
Actually, I know MANY families RV with more kids than we have, but still, we really wanted them to have a nice space.
Maybe it had something to do with RVing in South Dakota during freezing winters.  Call us crazy but we really wanted a bigger space for them to stretch out in.
In the end, we chose the Sandpiper 365 SAQ.
The Bunks
There are 4 bunks, two are twin and two are full size.  For all you non-RVers, that is camper size.  Which really is a smaller odd size.
Underneath is a nifty storage area that had a trundle mattress stored in when it came from the factory.  We put that in the storage unit because we didn't need it.   We replaced the mattress with 4 of those flat plastic storage boxes.
We use 1 for legos and duplos, 2 for puzzles & games, & 1 for crafty things.
The girl's side has a full-on top and a twin on the bottom, there is no storage under the bottom bunk because that area is used as part of the outdoor kitchen.  That bottom bunk also can be locked up to allow for extra playing space.
Hanging Storage
We love our hanging storage!  So much so, that you get to see the messy insides.
The Boys
The Girls
I'm very happy with it though, in spite of the disorganization.
For the back wall…on the bottom shelf, we put a bunch of books and the two outer net areas are for toys.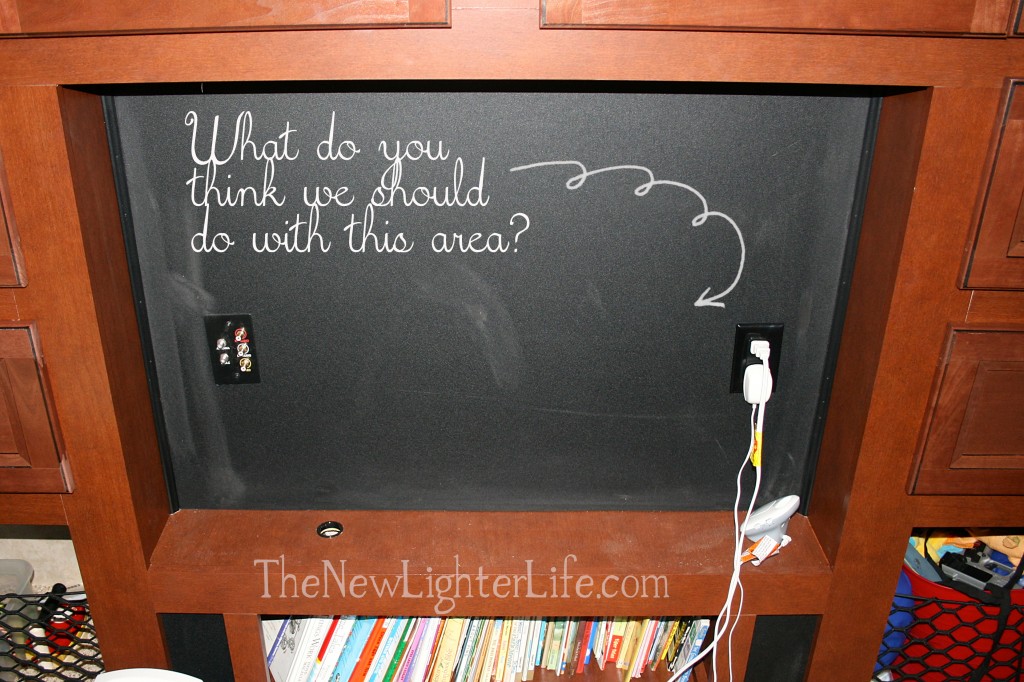 Now our BIG question!   We could really use your help and ideas.  We are NOT putting a TV in the kid's bunk room because we are not big fans of the TV anyway.  So what would you do with this area above??
It is narrow and big enough to fit a 32″ TV.  Any ideas?
We also mounted hooks on the wall leading into the bunk room for the kid's coats, one for each child.
The Bathroom
Lastly, the kid's bunk room has a bathroom.  It's not a huge one, and we've hardly used it because of Z napping and not wanting to disturb him.  I do think we'll use it more in the summertime since it leads outside.
Truthfully, if I could, I'd trade out that bathroom for more kitchen space.  BUT that's not an option.  I really think after being in here for a while, I'd be able to be on the design team for Forest River.
So far they aren't calling me to find out my opinion though.  A girl can dream.
Anyway, that's the kid's bunkhouse of our 365 SAQ Sandpiper.  I hope to get more areas up for "viewing" in the near future.
In order to do so, I need to get over the fact that my cabinets do NOT look neat and they are not perfectly organized. I keep reminding myself that this is a process that we'll improve on as we go.
So there you have it.  Any ideas on the TV area?  For real.