Today I'm sharing with you a family favorite mouth-watering recipe for pan-fried ranch chicken breasts.
One of the first things I ever made for Mark when we were newlyweds was a recipe for ranch chicken.  I can't remember where I even got the recipe, but since then I know I've made adjustments and simplified the seasoning to get to this perfected chicken recipe.
This flavorful ranch chicken is a favorite main dish for our family during a busy weeknight.  Serve with steamed broccoli or veggies, mashed potatoes, and some of my 4-H dinner rolls and you have a winner of a meal!
A couple of notes first:
You may try using chicken thighs instead of breasts. Pretty much all my chicken recipes call for chicken breasts, which is a personal preference for our family.
To cook this chicken I prefer to pan-fry versus bake the seasoned and breaded breasts.  By frying in refined coconut oil, the breasts end up crispy, juicy, and bursting with flavor.
I used to fry this chicken in extra virgin olive oil but switched to frying it in refined coconut oil. Refined means that the coconut flavor has been taken out but it still retains the good properties of coconut oil.
I almost always flatten the chicken breasts with a mallet. By flattening the breast, you have a more consistent thickness of chicken that allows for even cooking and a tender breast.  Flattening also reduces the chance of the chicken becoming overcooked and dry.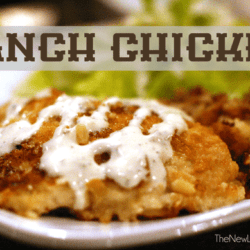 Pan-Fried Ranch Chicken Breasts
Ingredients
4

boneless skinless chicken breasts

1/4

cup

ranch dressing

plus more for serving

1/2

cup

crushed saltine crackers or bread crumbs

1/2

teaspoon

pepper

1/4

cup

unbleached flour

2

tablespoon

refined coconut oil

salt to taste
Instructions
Place one chicken breast in a gallon-sized ziplock bag and pound with a with a mallet to even 1/4 inch to 1/2 inch thickness. Remove flattened breast to a baking dish and repeat for remaining three chicken breasts.

In another gallon-size ziplock bag, mix the crushed crackers and flour.

In a bowl, pour dressing and dip your flattened chicken breasts in the dressing.

Place coated chicken inside the cracker/flour mixture ziplock bag, one at a time, shaking to coat.

Heat a large size skillet with coconut oil over medium-high heat.

To cook, place coated chicken breast in skillet and fry in oil for 8 to 10 minutes, turning once.  Fry until the outside crust is golden brown and the chicken juice is no longer pink.

To ensure chicken is thoroughly cooked, you may cut portion of chicken in center and check sliced area for done consistency.

To serve, drizzle with additional ranch dressing and salt to taste.
This recipe has been linked up to the Old Fashioned Recipe Exchange on Little House on The Prairie Living