Welp, I confess the heat outside is getting to me already.  We haven't even officially reached summer, which is June 20th, but we have had temperatures in the mid-90s.  It's the perfect time to make some rhubarb strawberry lemonade!
If this is your first time reading my blog, you may not know that I have a bit of an obsession with rhubarb.  I shared the most delicious rhubarb bars, rhubarb raspberry ice cream sauce, rhubarb jam, and a guide on growing rhubarb in case you missed it.
This is a PERFECT time to whip up some ice-cold refreshing Strawberry Rhubarb Lemonade Slush.  This drink is tangy and hits the spot for summer.
We like to keep a gallon of this slush in the freezer for those hot days.   To serve the drink, you'll scrape or scoop some of the frozen slushes out and into a glass.  You'll want to add some carbonated drink to your glass.  I prefer proportions of 2/3 slush to 1/3 carbonated drink.  We always used to add Sprite or 7-Up to our rhubarb slush.  More recently, I have switched it up to have a lighter drink that is not syrupy.  If you're like me, you may want to opt to add sparkling water to your slush when serving up a glass (my favorite is lemon-flavored La Croix).
I've seen other rhubarb slush recipes, and they all call for a ton of sugar.  My version has far less sweetener than most through a little trick called True Lemon Lemonade.
We keep our cupboard stocked with a box of these packets, which contain a tiny amount of sugar and stevia.  I also use TrueLemon in my Low Carb Strawberry Lemonade Pie, so check that out if you are looking for a citrus dessert that is low on sugar.  In my humble opinion, this concoction results in the PERFECT level of sweetness.
One more note before I get to the recipe…
You will need to extract the rhubarb juice out of the rhubarb by cooking about 8 cups of rhubarb in 2 quarts of water.  Once the rhubarb is softened, you will strain the rhubarb out, so your slush is pulp-free.  We also have a juicer and I may try using that in the future but this method of extracting the juice is perfect for every kitchen.
Enjoy!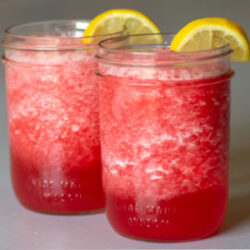 Super Refreshing Rhubarb Strawberry Lemonade Slush
Ingredients
8

cups

rhubarb

cut up

2

quarts

of water

for cooking rhubarb

1 ½

cups

granulated sugar

3

ounce

box of strawberry Jell-O

6

packets of True Lemon Lemonade

Sprite

7-Up, or Sparkling water
Instructions
In a medium kettle, cook the rhubarb and water until the rhubarb is tender.

Strain the rhubarb so only juice/water remains.

Mix in the sugar, Jell-O, and lemonade packets.

Pour mixture into a gallon bucket (we use an old ice cream pail)

Add enough water to the mixture to make 1 gallon of slush.

Freeze at least 24 hours prior to serving.

To Serve: Scrape out the slush to fill a drinking glass ⅔ rds full. Pour your preferred carbonated beverage.
Notes
Sparking water such as LaCroix is my absolute favorite carbonated drink for this.  I recommend you try that if you find that 7-Up or Sprite is too sweet for your tastes.