It's rhubarb season, and the plants are in high production right now which means we have an abundance of rhubarb
My love for rhubarb runs deep.  In fact, when we were closing on our house here, the gal finalizing our title paperwork asked what brought us up to South Dakota.  Mark had good reasons, but I answered that I liked the change of seasons and rhubarb. I'm not even kidding you…I really said that, and I wasn't even embarrassed for my obsession to be exposed.
Being enamored with rhubarb is probably due to growing up with it as a staple for our summer sweets.  Our family enjoyed a whole gamut of rhubarb desserts, rhubarb sauce, pie, crisp jam, cake, bread, muffins, cookies.
Last fall, I started 4 new rhubarb plants from seed last year, so by next summer, I should be up to my ears in rhubarb and have many opportunities to share our family's favorite rhubarb treats with you for years to come!
Today, I'm going to share our absolute favorite rhubarb bars with you that even people who don't like rhubarb LOVE.  These bars are no-fuss and very simple with just the perfect balance of sweet/tart.
Before I get to the recipe, though, you may not know that rhubarb is technically a vegetable.  With just enough sugar, rhubarb makes for some amazingly tangy summer dessert.
But back to the bars…these have the perfect balance of flavor.  They are tangy and sweet with the oatmeal, they are hearty.  These bars are similar to a crisp but definitely have more structure and fall into the "bar" category.
Enjoy!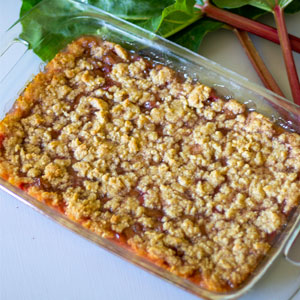 The Very Best Old Timey Rhubarb Bars
Ingredients
Bars
3

cups

rhubarb

1 1/2

cups

sugar

1

teaspoon

vanilla

2

tablespoons

cornstarch
Crust
1 1/2

cup

quick oats

1 1/2

cup

flour

1

cup

brown sugar

1/2

teaspoon

baking soda

1

cup

butter
Instructions
Preheat the oven 375 degrees and grease a 9X13-inch pan.

To cook the filling, in a small bowl, dissolve the cornstarch in 1/4 cup of cold water.

Place cornstarch in a saucepan along with the remaining ingredients and cook over medium heat until thick.

Set aside and let cool while preparing the crust.

To make the crust cream the butter and brown sugar in a medium bowl.

Mix in the quick oats, flour, and baking soda.

Press 3/4ths of the crust mixture into the bottom of the greased pan.

Pour the rhubarb filling onto op fo the crust.

Sprinkle the rest of the crust mixture on top.

Bake for 25 to 30 minutes.

Let cool slightly before cutting.
Notes
These bars best at room temperature and eaten within 2 days.