Today I'm sharing a big time-saving tip with you! How to make your own homemade garlic cubes.
Garlic is so commonly used in recipes, it's always nice to have some on hand. Even if you grow your garlic, preservation and quick use can be a hurdle.
I stumbled across these frozen crushed garlic cubes at Target a few years back.
These little puppies are convenient and easier to pop into a recipe than peeling and mincing fresh garlic. I'm sure you all are experiencing low or no stock of your favorite groceries. This garlic was one of the items I couldn't get for months.
What's the big deal?
It's not like you can't buy prepared minced garlic or grow/buy fresh garlic. Or if you grow your own garlic, you likely have quite the garlic stock. There are some downsides to both options though.
Prepared Minced Garlic – These convenient jars can have added ingredients such as water, oil, salt, sugar, acid regulator, and/or vegetable gum.
Fresh Garlic – You will need to peel, and mince garlic as needed. If you grow your own garlic and properly cure it, it can last up to 6 months. Storebought garlic was picked months ago, so the shelf-life is shorter.
Homemade Garlic Cubes to the Rescue
My tip for you today is very easy and allows you to take advantage of homegrown garlic or bulk garlic.
Making your own homemade garlic cubes will keep you stocked with garlic for up to a year at a time, depending on how much you use.
Supplies
Mold or Tray for Freezing – You will need something that has the right cavity size to pour and pack your blended garlic into for freezing and later use. Personally, I love these lidded silicone trays for this purpose. The exact trays I bought are no longer available but the ones linked above are the right cube size for 1 tablespoon (or 3 teaspoons) which is the equivalent of 3 garlic cloves. I use these silicone trays for my cream of mushroom soup cubes, cream of celery soup cubes, fresh lemon and lime juice, strawberry rhubarb lemonade slush, and garlic.
Blender or Food Processor – I love my Blendtec but you can also use any brand of blender or food processor
Water – In order to get the garlic blended and pourable, you'll need to add a little water.
Garlic – You'll want to use whole garlic cloves. These can be from your garden or you can buy in bulk from your warehouse grocery store. I'm still upping my garlic game so I buy bulk garlic. You will want to make sure you peel your fresh garlic if it is not already peeled.
Freezer – Of course, you will need to be able to freeze these cubes initially and then store them in the freezer once you de-mold them.
Instructions for Homemade Garlic Cubes
Working in batches, place your garlic cloves into your blender or food processor. This is about 6 cups of cloves in my blender.
Add enough water for the garlic to puree and be a thick smoothie consistency.
Pour your garlic into your molds or trays. Cover the trays and freeze them for at least 2 hours.
Remove garlic cubes from trays and store them in a freezer-safe container or freezer bag.
Continue to work in batches until all garlic is pureed and frozen. If you are processing the 3 lb bag of peeled garlic cloves, you should only need to do 2 batches.
Clean your blender or food processor and trays thoroughly after use to eliminate any garlic odors.
As I mentioned before, the garlic pureed and frozen lasts up to a year.
If you need less than 3 cloves of garlic for a recipe, I recommend you remove one of the cubes from the freezer. Let it defrost slightly, and cut it in half. I do this from time to time and it works wonderfully.
I'm trying to find big-fat fresh ginger in the store so I can follow this same process for ginger and not run out so easily.
Do you have other uses for the silicone trays than what I mentioned before? I think it'd be more convenient to freeze cooking wine, orange juice, or baby food. Any other ideas?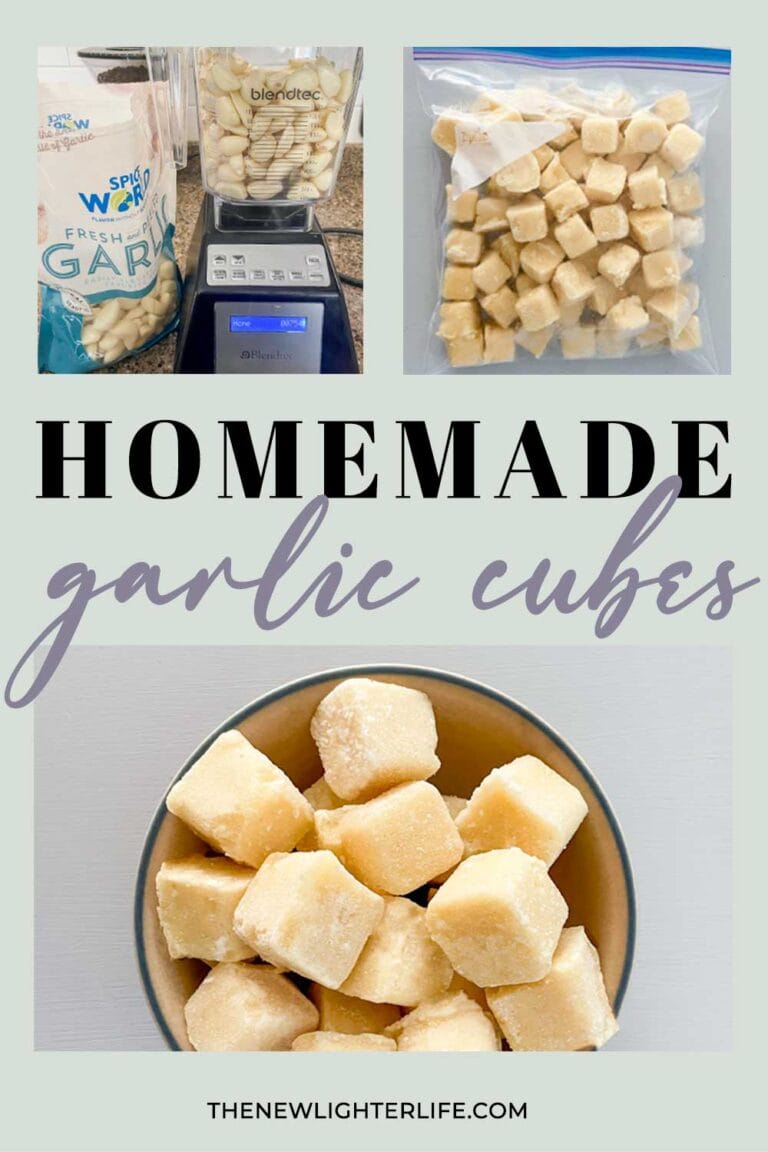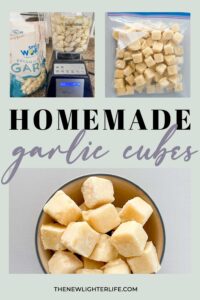 Happy garlic preservation and consumption!