I think I almost died.
Ummm…k.  Maybe not.  But these black bean chocolate chip cookies are amazing!
I dished them out to every member of my family (except Pepper – dogs should NOT have xylitol or chocolate) and EVEN the skeptical hubster LOVED them.  He did!
In fact, everyone loved them.
They don't taste healthy…but they are.  Win-win!
I adapted this recipe to Trim Healthy Mama guidelines and here you have a version of the black bean chocolate chip cookies that is perfect for a S (Satisfying) treat.
Black Bean Chocolate Chip Cookies
Makes 16 cookies
1 can no-salt or low-salt black beans, rinsed well
2 T. almond milk
1 1/2 T. peanut butter/nut butter of choice
2 T. olive oil
2 T. almond flour
¼ c. unsweetened cocoa powder
½ c. + 1 T. xylitol (ground fine in a coffee grinder)
1 t. baking powder
1 t. vanilla extract
pinch of cinnamon
pinch of salt
1/3 c. sugar-free chocolate chips
Preheat oven to 375 degrees.  In a food processor or medium bowl, combine black beans, milk, peanut butter, and olive oil.  Process with food processor or stick blender until smooth.
Since we're in a camper and appliances are minimal, I used the stick blender and it was perfect on the bean mixture.
Add the almond flour, cocoa powder, xylitol, baking powder, vanilla, salt, and cinnamon, and mix until ingredients are fully incorporated.  Stir in ⅓ c. sugar-free chocolate chips.
(You can also use other types of chocolate like a dark chocolate bar cut up, but we like this kind of chocolate that has sugar alcohols and they don't raise your blood sugar.)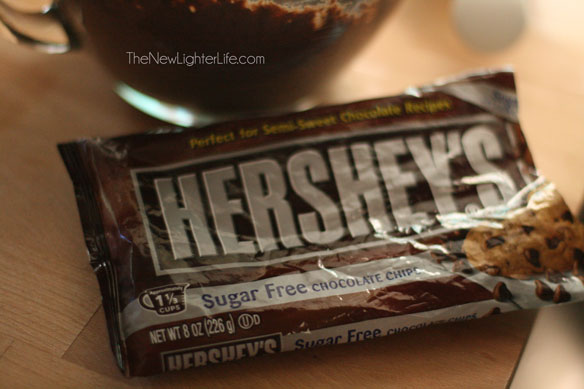 Using a cookie scoop, place cookie batter onto an un-greased stoneware and sprinkle with the extra chocolate chips.  Bake for 10 minutes. Let cool slightly on the pan, and then transfer to a cooling rack.
Store in the refrigerator since there are black beans in them, but also to make them easier to handle.  Straight from the freezer, the no-sugar aspect seems more pronounced so I just refrigerate.
A couple more notes… I tried to make homemade sugar-free chocolate chunks but the chocolate separated from the coconut oil.  I'll keep experimenting with some good homemade chocolate. For now, we are pleased with the Hershey's sugar-free.
This post for black bean chocolate chip cookies was linked up for Trim Healthy Tuesdays.