I've long been eyeing a garden basket or which is more traditionally known as a garden hod.  Hods originated in New England and were used for clam digging.  It turns out the concept is superb for gardening.  Today I'm excited to share with you how to build your own garden hod.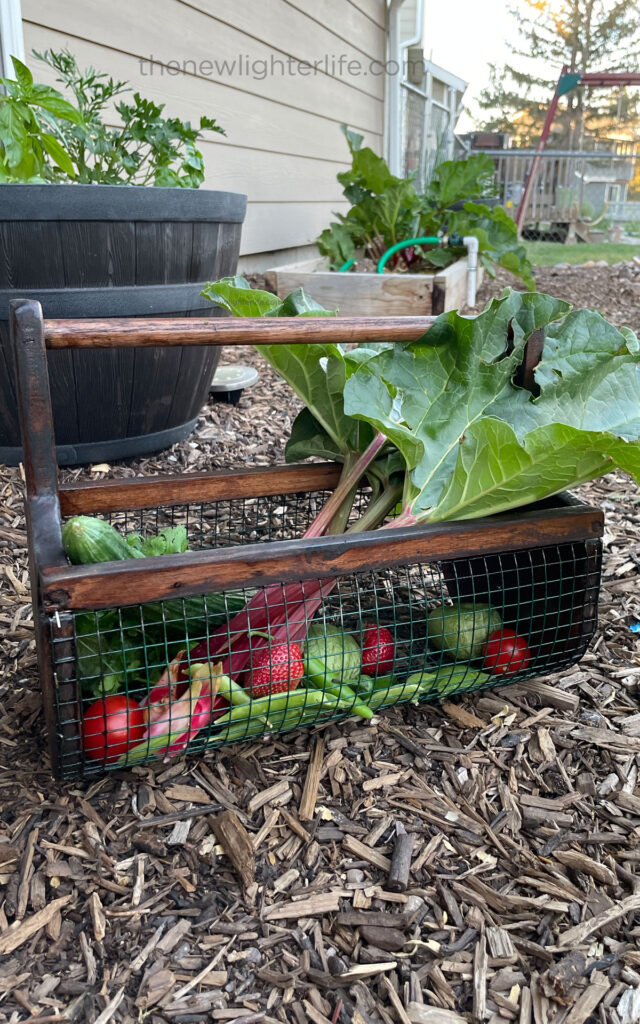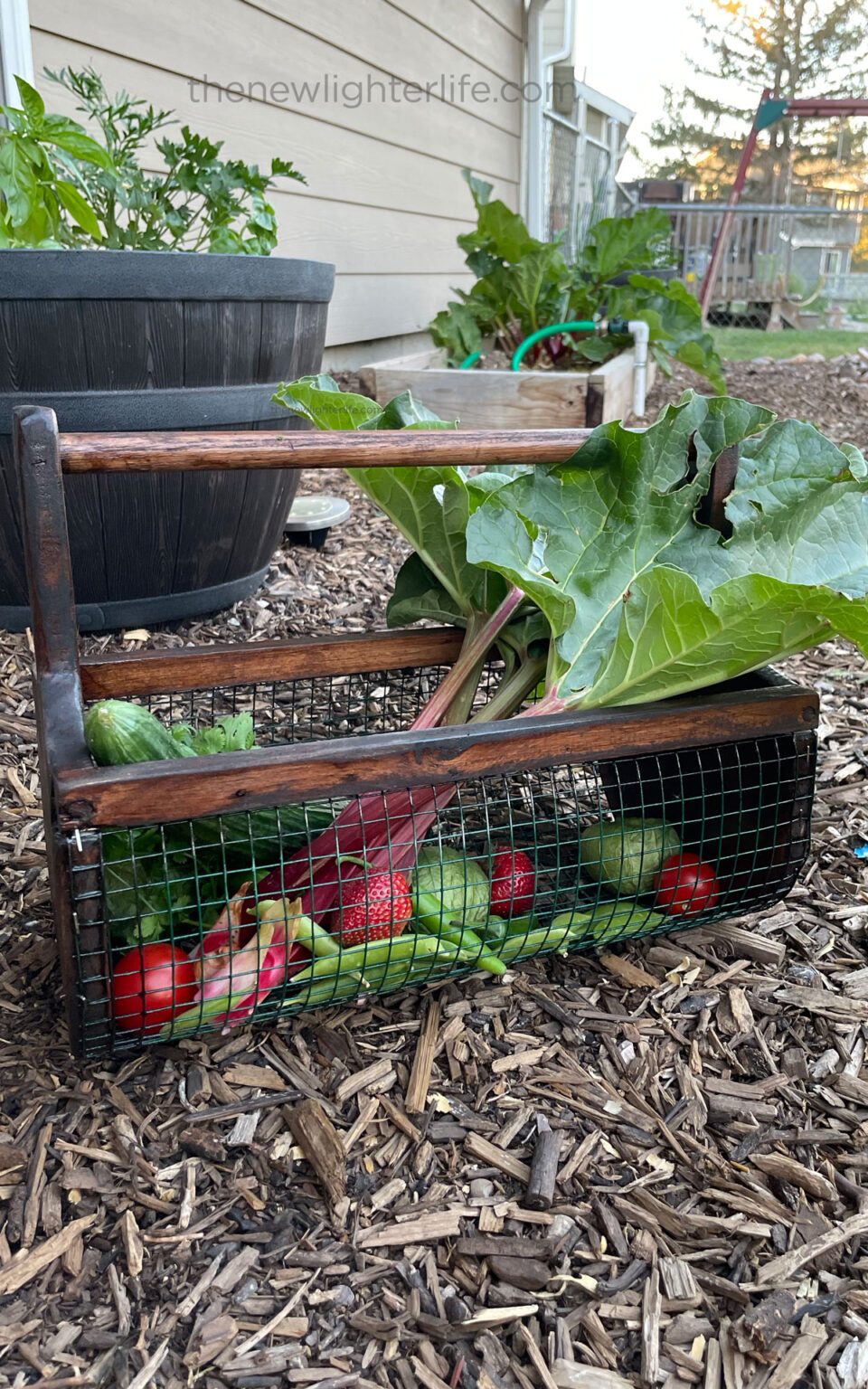 The bottom of the basket is a wire mesh, so you can rinse your produce off before bringing your bounty indoors.  They are super quaint, and you can get one here or here. Fiskars has a plastic garden basket with drainage and serves the same purpose if you don't prefer the traditional-looking style garden hod or garden basket.
If you've read my blog for any amount of time, you know I can be cheap….err…I mean thrifty.  So a few months back, I set out on a quest to build my own garden hob!  I really love doing woodworking/crafty projects, so I was up to figure out how to make one, and maybe more for my gardening friends.  I did find a pretty great tutorial from Grit.com that has instructions for building a hod.  It was a great starting point for my own style of garden hod.
Template – Through the magic of some graphic software, I made you all a Garden Hod Template that is perfectly symmetrical.  When printing the template, I suggest you increase the print size on your printer so that the 1-inch is to scale.  At this size, the finished hod will be 9 inches wide and 12 inches tall.  You can make the length of the hod however long you like.
Freehand Shape – The hod I made was somewhat free-styled, and I used various size cans (paint pails and leather spray can) to get the curved shapes.  The result of my shaping of the wood pieces on the fly is that they are not perfectly symmetrical.
Size of Hod – As I mentioned, my finished hod measures 12″ tall by 9″ wide by 16″ long.  You can adjust all these measurements if you prefer a different size; just adust your cuts accordingly.  Instructions below will produce the size of hod that I have.
Best Practices – I learned quite a few lessons while making my garden hod, so I will only share my recommendation for the entire process with you.  The biggest difference you'll see in my instructions and the result is the staining which I will get to shortly.
Skill Level – I would rate this project as easy and suitable for a beginner woodworker.  I have links to products if you are unfamiliar with what I have listed or want to find an economical choice for the specific tool.
I tried to be VERY detailed in the instruction as if you had never put together a wood project, so keep that in mind as you go through the step.
Cutting Tools – A few words about options for cutting wood…I used a variety of tools for my cuts…here is a quick explanation of your options.
Circular Saw – to cut my pegs, rail length, and handle length, and a rough cut of my hod ends (you can also use to rough cut the shape of the hod basked, but it would be tricky, and you'd need to sand quite a bit more)
Jig Saw – to cut the shape of the hod ends (can also use to cut pegs, rail length, and handle length if you're in a pinch)
Table Saw – to rip the rail pieces (if you have a sled, you can also use it to cut the pegs rail length and handle length)
Handsaw – for hand cutting the pegs off after assembly, (I used a dovetail cut door jamb saw, but you can use any handsaw you have on hand.  ALSO: in a pinch, you can use a handsaw for all these different cuts, but it could be tedious and challenging.)
Staining and Finishing – Most garden hods I have seen are natural finishes.  I used some old scrap wood from my old raised garden bed that was aged and weather-beaten.  For that reason, I decided to stain/seal my wood.  I had a few mishaps along the way, and I ended up staining with a polyurethane stain combination, sanding, and then staining with a dark walnut stain.  The result was a very dark and aged wood look.  My daughter asked me if the basket was an antique, so I think that might have ended up with a winner as I love all things old.
Regardless, you may want to seal your basket.  I used polyurethane spray – which has a 24-day cure.  Personally, as far as food safety, I'm not concerned about produce sitting in my basket for a short period of time before I take it out. However, if that is a concern of yours, this is a great post about food-safe finishes for wood projects.  If you decide to stain or finish your basket, I HIGHLY recommend you seal/stain BEFORE you assemble (unlike what I did).
If you have stuck around with me so far…congrats!  This is far lengthier than I intended, but I wanted to be thorough for the beginner reading this post.  Without further adieu, instructions on how to make your own garden hod.
How to Make Your Own Garden Hod
MISC Tools
Supplies
4-foot length of a 9-inch X 1-inch board (this is the minimum amount needed for 1)
3/4-inch wood dowel (16-inch length minimum)
5/16-inch wood dowel
1/4-inch Hardware Cloth (buy locally if possible)
U-type for Staple Gun OR 1/2″ Narrow Crown for Pneumatic Stapler
Stain/Sealant (optional – see the note above about staining and finishing)
60-grit sandpaper
4 1/2-inch brad nails with nailer (or small nails and hammer)
Cut List
9-inch x 1-inch board  (which is actually 3/4-inch rather than 1-inch)

13-inches long (qty: 2) – End Pieces
16-inches long (qty: 1) – Rail Pieces:

1-inch wide (qty:2) (which results in rails that are 3/4-inch by 1-inch by 16-inches)

3/4-inch dowel – cut 16-inches long (qty: 1) – Handle
5/16-inch dowel – cut 1 1/2-inch long (qty: 4) – Pegs
Hardware Cloth – 16-inch by 20-inch (qty: 1) – WAIT TO CUT THIS.
Directions to Prepare Wood
With your two end pieces, place the template on top and trace each one.  Alternately, you can create your own template on one of the boards and use that as a pattern for the other board. Trace your pattern on the board with a pencil.
Using a jigsaw or some other cutting tool, cut around the template, careful not to cut over the template lines you drew (you will sand the pieces down and make micro-adjustments).
Once both end pieces are cut, sand them with the sander to shape further and smooth the edges.
To measure a cut slot for the rails, with your straight edge, measure from the corner of each end piece 7/8-inch over and 1 1/8-inch up.  There will be two notches marked for each end piece.  (The location is rough sketched on the template – use your measurement instead of a dotted line.)
Carefully cut the marked notch out with a jigsaw or hand saw.  Sand edges slightly.
To cut a hole for the dowel/handle, fit your drill with the 3/4-inch drill bit and cut a hole into the center of each top portion of the end piece (1 hole in each piece).
Give your wood pieces a light sanding and wipe free of any sawdust.
Stain all your wood pieces now and let dry completely before assembly below.  NOTE:  I did NOT do this and had some issues with my stain.  This is why my pictures are unstained until nearly the end of the process.
Directions to Assemble
To attach your hardware cloth to one rail piece, take the stapler or pneumatic stapler and appropriate staples and fasten the outer side of the cloth to the 3/4-inch side (or smaller side) of one of the rails.
Against your work surface, bend the hardware cloth towards the inside of the roll to form a 90-degree angle (you can also use needlenose pliers).
Position the rail with the hardware cloth to the hod end, where the notch was cut out.  Wrap the hardware cloth around the hod's end piece.  With the flush cut plier, cut where the wire meets the inside corner of the notch.  Make sure this is taut, or else adjust your cut to allow you to affix the hardware cloth firmly.  This will allow you to determine the exact size of hardware cloth needed.
Repeat step 1 above for the remaining rail piece.
To attach the rail pieces, assemble all your wood, including inserting the 3/4-inch dowel into the handle hole.
Hold your rail piece in place exactly as you want it attached.  With your drill and 5/16-inch drill bit, drill a hole all the way through the rail piece.  Let the bit kiss the hod end piece so you can drill where needed in step 15.
Repeat for each of the 3 remaining ends of the rail pieces.
With some masking or painter's tape, wrap your drill bit about 1/2-inch away from the tip.  This will allow you to drill into the end piece at the proper depth for the pegs.
Drill into the marked part of the end piece to the depth of the painter's tape.
Drop some wood glue into the hole in the end piece, position your rail piece over the glue-filled hole, place a little glue in the rail hole, and insert the peg.  You may need to hammer lightly to get the peg inserted.  The peg should stick out a little bit and will be cut off soon.
Repeat for each of the remaining ends of the rail pieces.
Flush cut the pegs off, so they are flush with the rail pieces.
With your two clamps, clamp the rails to the hod end, one on each end.
Place some wood glue on the 3/4-inch dowel and insert it into the hole previously drilled for the handle.
With your brad nail, hammer the dowel in place, two nails on each side of the basket.
Let glued basket dry for at least 6 hours.
With your stapler or pneumatic stapler, attach the hardware cloth to the end pieces all around the curve of the end piece.
Congratulations!  You're done!