I don't know about you all, but we get pretty loaded down with desserts during the winter months and look to lighter, more refreshing desserts during this time of year.
Citrus desserts fit the bill, such as my super healthy Strawberry Lemonade Pie.
I try to make most of my desserts completely from scratch.  However, there are times when only a cake mix will do.  A very dear friend of mine turned me on to Gooey Butter Cookies years ago, and they are melt in your mouth divine!  These cookies are baked and do not require icing or frosting.  It cannot get more simple than these cookies, and they are perfect for a beginner baker.
The original recipe is pretty popular and includes a cake mix, cream cheese, butter, egg, vanilla extract, cake mix, and powdered sugar.
Since I was craving a citrus dessert, I revised the common Gooey Butter Cookie Recipe for an orange creamsicle version.
I tell you, my tweaked citrus version came out so yummy!
I discovered this is not a new idea in preparing to write this post and share my tweaks with you.  Ha!  When perusing Pinterest, I saw one popular recipe called for an orange cake mix which I didn't even know existed but YUM!
I usually keep a backup cake mix for emergencies, so I like that the versatility of using a regular cake mix.  I imagine you could try all sorts of different flavors, cinnamon, almond, lemon; the possibilities are truly endless.
A couple of quick notes on this recipe before you make them…
The cream cheese and butter should be room temperature or even melted for easier mixing with a spatula or in your mixer.  If you soften either in the microwave, I HIGHLY recommend you look at the note below.
The batter can be somewhat sticky.  If you opt to refrigerate the dough, it is MUCH easier to handle and roll in the confectioner's sugar.
You can use parchment paper, silicone pan liners, or bake these cookies directly on ungreased pans.
Other flavor options include vanilla, snickerdoodle, almond extract, lemon, sprinkles mixed in, or even a chocolate cake mix.  The possibilities are nearly endless.  You
With that, here are my Creamsicle Orange Gooey Butter Cookies: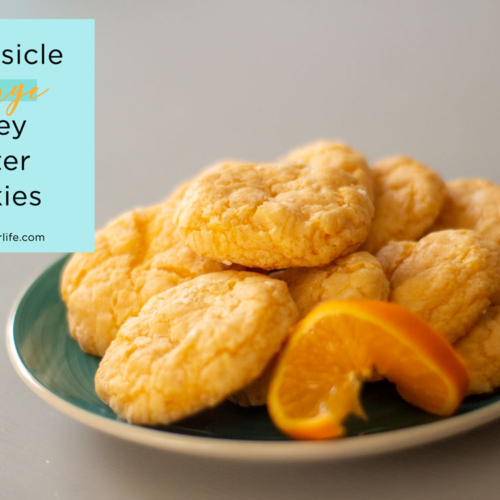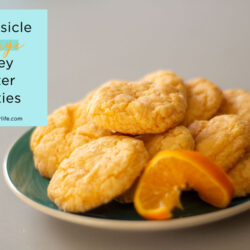 Decadent Creamsicle Orange Gooey Butter Cookie Recipe
Ingredients
1

8 oz package cream cheese, softened

1/2

cup

butter

softened

1

egg

1 1/2

teaspoon

orange extract

1

teaspoon

orange zest

optional

1

package of yellow or white cake mix

food coloring

3 drops red & 3 drops yellow

1/4

cup

confectioner's sugar
Instructions
Preheat oven to 350 degrees.

In a medium bowl, mix the cream cheese and butter

Stir in the eggs and orange extract and zest, and mix until thoroughly incorporated.

Add the cake mix and mix until well blended.

Refrigerate for 30 minutes so the dough is easier to handle.

Shape dough into 1 inch balls and roll balls into confectioner's sugar.

Place dough balls on an ungreased cookie sheet at least 1 inch apart so there is room for them to spread.

Bake for 10 to 13 minutes. Do not let the cookies brown.

Cool on a wire rack.