This is my mom's top-secret recipe. Her original recipe does not include any optional ingredients and it's still oh so delicious!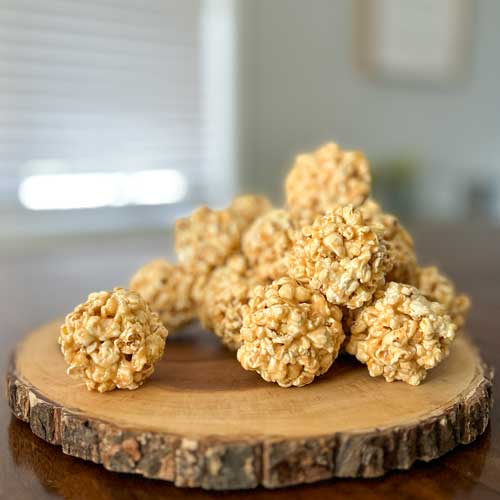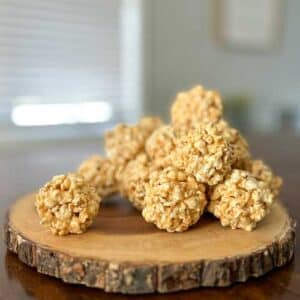 Are you ready to bring back the nostalgic charm of homemade peanut butter popcorn balls? These delicious little treats are not only easy to make but also perfect for parties, holiday gatherings, or simply enjoying with your loved ones, especially this time of year. I've always had a soft spot for my mom's popcorn ball recipe that she's kept hidden under lock and key until a few weeks ago (you can thank me later for my persistence). My mom's popcorn ball recipe includes sugar, corn syrup, peanut butter, cream of tartar, & baking soda. They're unique and oh so delicious…so let's get to popping!
The Allure of Popcorn Balls
Halloween popcorn balls have a special place in my heart. They bring back so many sweet childhood memories indulging in sweet and sticky treats. These delightful confections combine the satisfying crunch of popcorn with the irresistible sweetness of peanut butter caramel, creating a harmonious blend of flavors and textures. The best part? They are incredibly versatile and can be customized with your favorite Halloween-themed ingredients, making them a hit with both kids and adults.
The Traditional vs. Modern Approach
There are two popular methods for making popcorn balls: the traditional stovetop method involving boiling sugar, and the modern approach using melted marshmallows. While both techniques yield delicious results, we'll be focusing on the traditional method, because it is truly the best! But I promise you, even though traditional may sound more complicated, this recipe is super easy and allows you to whip up a batch of popcorn balls in no time.
(if you're looking for a corn syrup-free old old old recipe, I recommend you try this recipe from American Woman Cookbook, which calls for honey)
The Basic Ingredients You'll Need
To make these irresistible Halloween popcorn balls, you'll need the following ingredients:
Popcorn: Use freshly popped popcorn for the best flavor and texture. Approximately 10-12 cups of popped popcorn should be sufficient (but we like a higher caramel to popcorn ratio).
Corn Syrup: I recommend you use light corn syrup which has a less distinct flavor and lets the peanut butter shine through.
Cream of Tartar: This ingredient acts as an acid and prevents crystalization.
Peanut Butter: You can use natural or regular peanut butter, almond butter, or another nut/seed butter. The type of "nut" butter you use will have a big impact on your delicious popcorn balls.
Baking Soda: The addition of baking soda just prior to pouring over your prepared popcorn creates tiny little air bubbles in the peanut butter caramel, which makes a lighter texture.
Optional Ingredients
If you want to get more Halloween-ish, you may also consider these optional "upgrade" ingredients:
Vanilla Extract: A splash of vanilla extract enhances the overall taste of the popcorn balls.
Halloween Sprinkles: These colorful and fun sprinkles add a touch of whimsy and make your popcorn balls even more appealing.
Candy Eyes: These cute candy decorations bring your popcorn balls to life, creating a spooky and playful appearance.
Step-by-Step Guide to Making Peanut Butter Popcorn Balls
Now that we have all the ingredients ready, let's dive into the step-by-step process of making homemade popcorn balls:
Step 1: Prepare the Popcorn
Start by preparing your popcorn.
You can use a stovetop popcorn maker, air popper (this is the one we currently use), or buy pre-popped popcorn from the store. I do NOT recommend you use microwave popcorn.
Also be sure to remove any unpopped kernels, (your teeth will thank you).
You'll need approximately 10 to 12 cups of popped popcorn, depending on your desired ratio of caramel to popcorn. Place your popcorn in a very large bowl that you can mix the popcorn balls together in. You may also split the popcorn between bowls, just make sure you have enough room for mixing.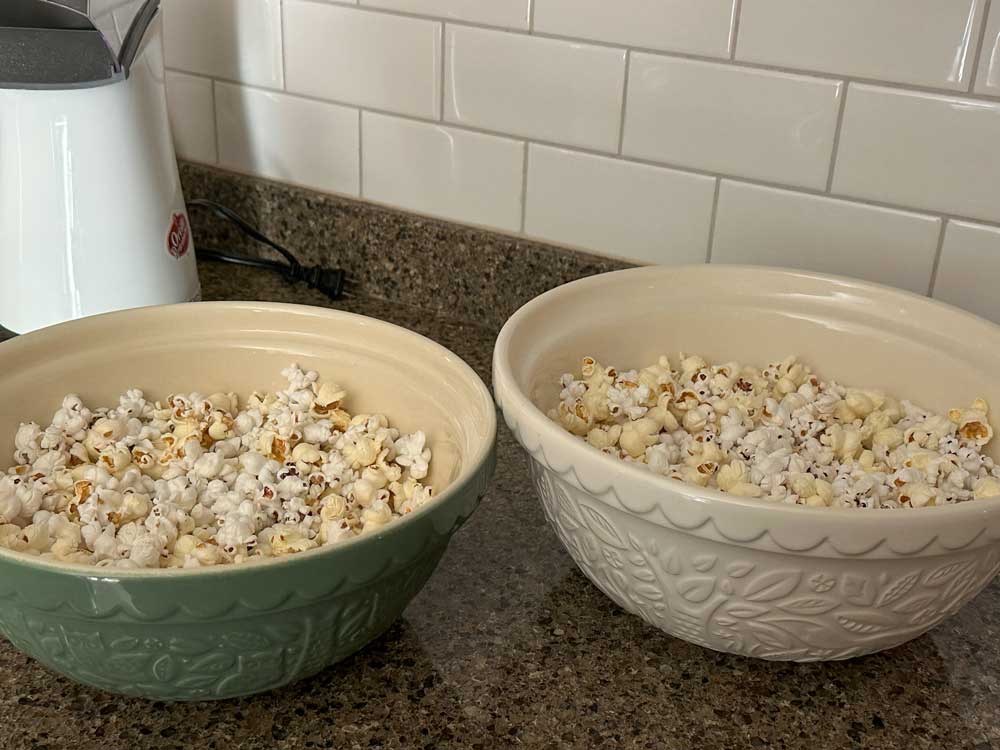 Step 2: Cook the Corn Syrup, Sugar,& Cream of Tartar
In a medium pot, heat the corn syrup, sugar, & cream of tartar. Heat and stir until the mixture comes to a boil. Set the timer for 20 seconds and stir continuously while the mixture boils. The cooking time is key! If you cook them too long, your cooled popcorn balls will be very hard.
Step 3: Add Peanut Butter, & Baking Soda (+ Vanilla if Desired)
Remove the pot from the heat and stir in the peanut butter and baking soda. You may also add vanilla extract at this time. Mix well until the caramel is evenly distributed.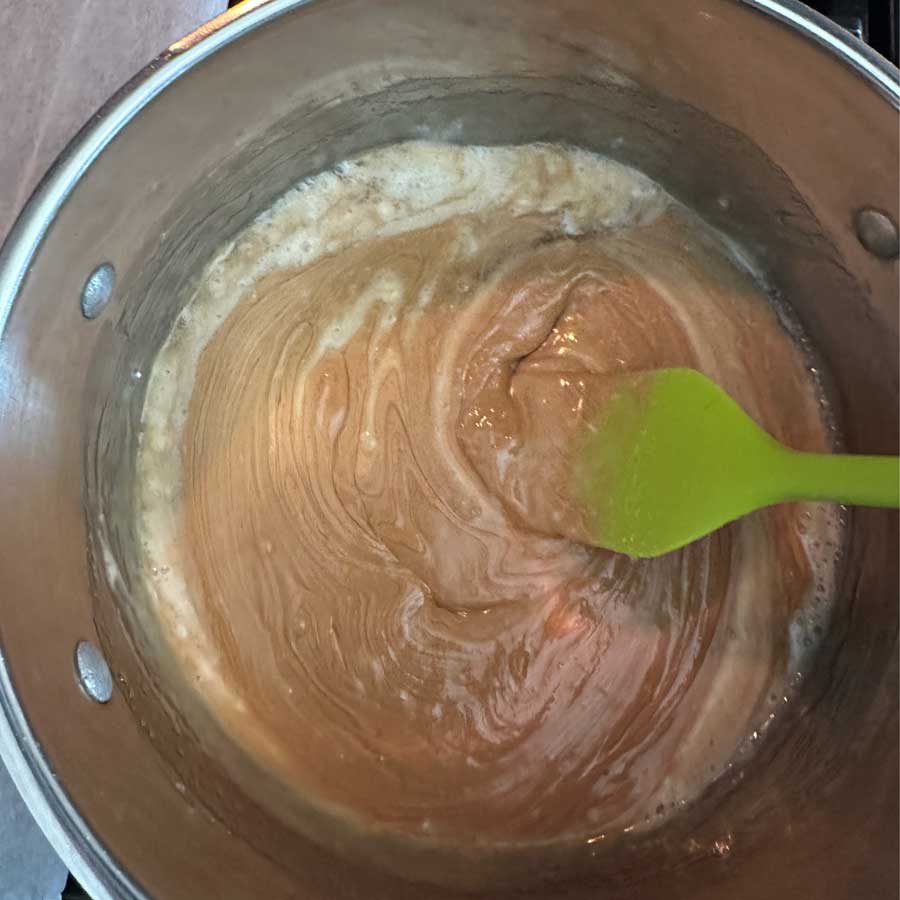 Step 4: Combine the Popcorn and Peanut Butter Caramel Mixture
Pour the caramel mixture over the popcorn in the large bowl. Use a silicone spatula to gently stir and coat the popcorn evenly with the sticky caramel goodness. Be sure to work quickly before the mixture cools and becomes harder to handle.
Step 5: Shape the Popcorn Balls
Once the popcorn is coated with the caramel mixture, it's time to shape the popcorn balls. Grease your hands with butter to prevent sticking. You may also take a very very small amount of water in your hands to prevent the balls you're shaping from sticking to your hands. Take a handful of the popcorn mixture and gently squeeze and shape it into a ball, approximately 3 1/2 inches in diameter. Repeat this process until you have formed all the popcorn balls.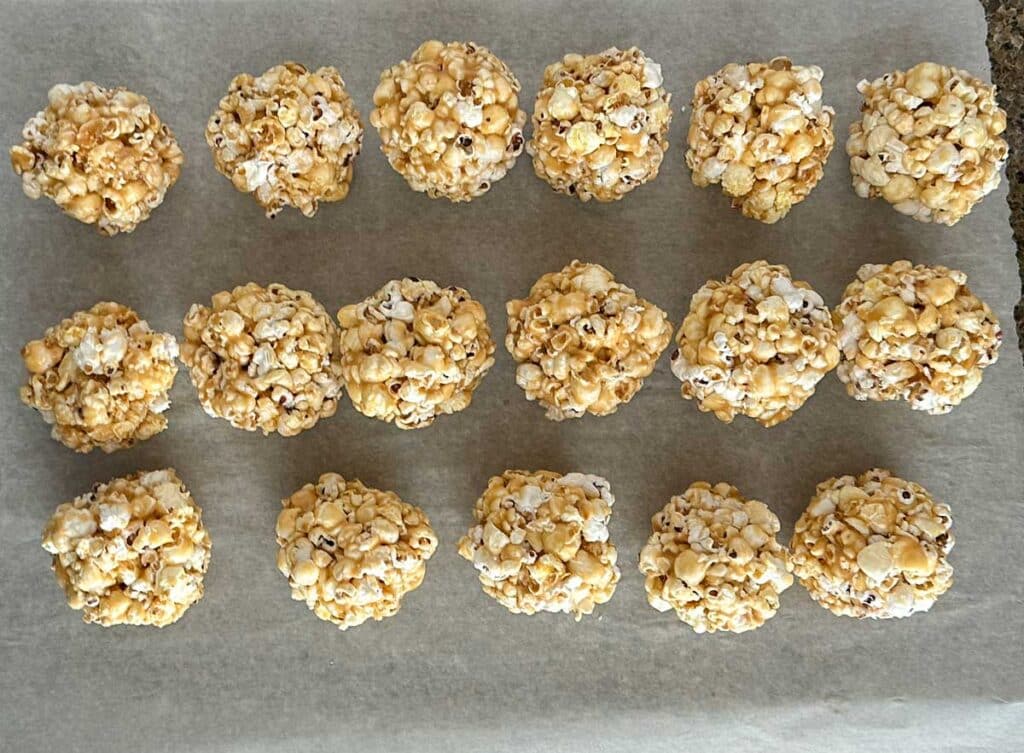 Step 6: Add Halloween Sprinkles and Candy Eyes
To make your popcorn balls even more festive, roll them in Halloween sprinkles. The sprinkles will adhere to the sticky surface, adding a burst of color and texture. For an extra playful touch, press candy eyes onto the surface of the popcorn balls, bringing them to life and creating adorable Halloween characters.
Step 7: Let the Peanut Butter Popcorn Balls Cool
Place the formed popcorn balls on a lined baking sheet or a piece of wax paper to cool. Allow them to sit undisturbed until they have fully cooled and set. This will ensure that the popcorn balls hold their shape.
Tips and Tricks for Perfect Popcorn Balls
Spray a silicon spoon or spatula with non-stick spray before stirring the popcorn mixture. This will prevent the sticky mixture from clinging to the spatula.
Move quickly between forming the balls and rolling them in sprinkles. The popcorn balls should still be warm and sticky for the sprinkles to adhere properly.
Involve the whole family in the process! Assign different tasks to each family member, from shaping the balls to rolling them in sprinkles and adding the candy eyes. This creates a fun and engaging activity for everyone to enjoy.
Storage and Serving Suggestions
Once the popcorn balls have cooled and set, wrap each one tightly in plastic wrap to maintain their freshness. Stored at room temperature, the popcorn balls will stay delicious for up to 5 days. If you want to extend their shelf life, you can freeze the popcorn balls. Wrap them individually in plastic wrap and place them in an airtight freezer-safe container. They can be stored in the freezer for up to 1 month. Before serving, allow the popcorn balls to thaw at room temperature.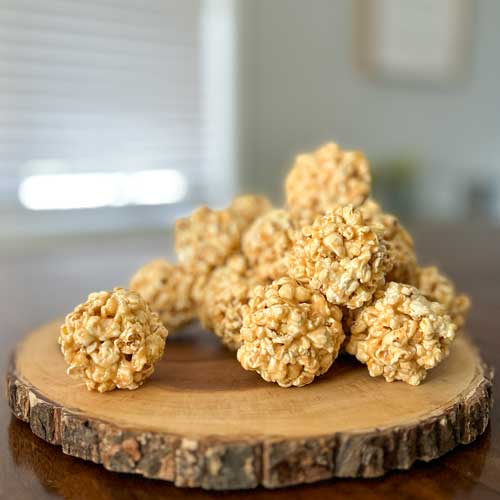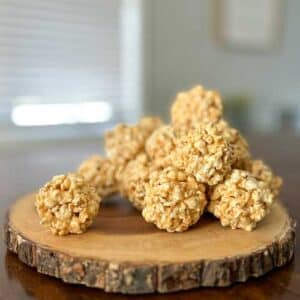 Peanut Butter Popcorn Balls
This is my mom's top-secret recipe. Her original recipe does not include any optional ingredients and it's still oh so delicious!
Pin
Print
Rate
Ingredients
10 – 12

c.

popcorn, popped

1

c.

corn syrup, light

½

c.

granulated sugar

1

tsp.

cream of tartar

½

c.

peanut butter

¼

tsp

baking soda
Instructions
Place the popcorn in a large bowl big enough for mixing in the cooked peanut butter caramel.

Lay out a sheet of parchment or wax paper.

In a medium pot, on medium heat, cook the corn syrup, granulated sugar, and cream of tarter.

Stirring constantly, bring the mixture to a boil and boil for 20 to 30 seconds.

Stir in the peanut butter and baking soda until an even consistency is acheived.

Pour the peanut butter caramel mixture over the cooked popcorn and stir quickly to evenly incorporate.

Using a little butter or tiny bit of water on yoru hands, quickly shape the popcorn balls into balls approximately 3 ¾-inch diameter. As you shape, lightly squeeze the popcorn together.

Place on wax paper to cool undisturbed.

Once cooled, wrap popcorn individually in plastic wrap and store at room temperature for 5 days or up to a month if frozen.
Nutrition
In Conclusion
My mom's peanut butter popcorn balls have been a hit for many many years. Countless friends/family members have asked for the recipe so I'm super thankful she let me finally share them here. THANK YOU MOM!
These festive little treats are not only delicious but are also super fun to make with kiddos. So, gather your ingredients, put on your apron, and create some unforgettable memories by making these classic popcorn balls. Enjoy the perfect combination of sweet and crunchy flavors as you savor each bite.
Happy Halloween!
By the way…if you like these peanut butter popcorn balls, you should definitely check out my peanut butter caramel dip! It's perfect for fall with tart apples or drizzled over cheesecake and/or ice cream!