I LOVE a good steak but this kicked up steak rub recipe is so yummy and spicy – it'll knock your socks off! But before I go there…
Somehow almost a whole year has passed since I posted to this blog! That was one serious hiatus!
Good news is…it's over!!  And I'm back to regular posting.
Kicked Up Steak Rub
For my celebratory post back, I'm sharing with you our very favorite steak rub.  We used to eat steaks out at restaurants, but this rub is so good, I rarely even want a restaurant steak anymore.  This is far better than some of the upscale steaks we've had out.  It's our absolute favorite!  I got this from a friend years ago, and we've made it ever since!
It is fantastic!
It is tasty!
It will kick you in the hiney!
My kids, who do not like spicy foods, even like this rub but I use less rub for their steak.

Note:
Adjust the amount of the rub to you preference.
Ingredients:
2 teaspoons salt
1 teaspoon paprika
1/2 teaspoon black pepper
1/4 teaspoon garlic powder
1/4 teaspoon cayenne pepper
1/4 teaspoon coriander
Directions:
Mix the spices in a bowl.  Sprinkle mixture over steak. Rub the seasoning into the steak. Flip, repeat for the other side.  Grill steaks according to your preferences.
Click the image below to print this recipe.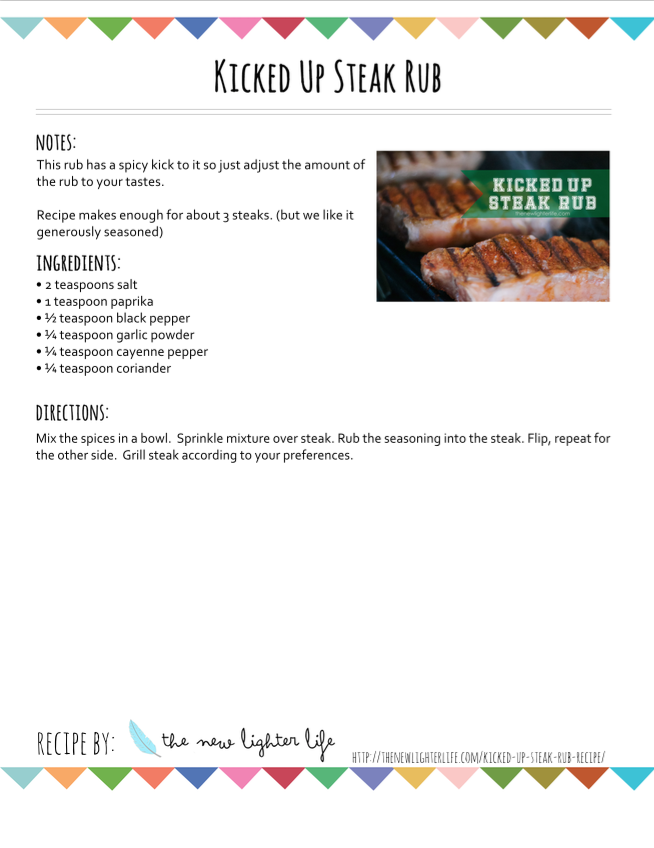 This post may contain affiliate links. These affiliate links help support this site. For more information, please
see my disclosure policy
. Thank you for supporting The New Lighter Life.