Today I'm sharing with you how to make Peanut Butter Cookies that are low-carb, no sugar and completely healthy.  These peanut butter cookies are  Trim Healthy Mama approved for a (S) Satisfying treat.
I've shared my Peanut Butter Coconut Balls recipe and oh they are yummy.  They are probably one of my top 5 favorite recipes.  But today, it's all about Peanut Butter Cookies.
These Peanut Butter Cookies are sugar, dairy, & grain-free.  You will need 2 special ingredients, Xylitol and almond flour.  I order them from Swanson Vitamins (that is a referral link), but check local sources, (you may find a better deal).
Xylitol.  This stuff is no joke!  It doesn't make your body's insulin spike, is good for your teeth, bad for your dog, and can cause….ummm…flatulance or gastrointestinal issues if eaten in large quantities.  I LOVE xylitol in my no-sugar baked goods.  But some people CANNOT tolerate xylitol.  Know your body.  If you want to use a more natural sweetener you can.  But if you do decide to  make these cookies with xylitol, WARN your husband/wife/children not to overindulge.

Grain, Sugar, & Dairy Free Peanut Butter Cookies
1 c. natural peanut butter, (we like the chunky, no-sugar kind)
3/4 c. xylitol (you can sub in regular sugar, honey, maple syrup, etc.)
1 egg
1 tsp vanilla
1/2 c. almond flour
1/4 tsp salt
1 tsp baking soda
Preheat the oven to 375 degrees.
Mix the peanut butter, xylitol, egg & vanilla.  Add almond flour, salt and baking soda and stir until throughly mixed.
Take a cookie scoop and scoop batter onto an ungreased cookie sheet (I use stoneware).  Press down the scooped dough with the palm of your hand.
Bake for 10-12 minutes or until the edges are slightly brown.  Remove from oven and let them sit on pan for a few minutes to make easier to remove.  Let cool on a wire rack.
 Now let's talk about texture.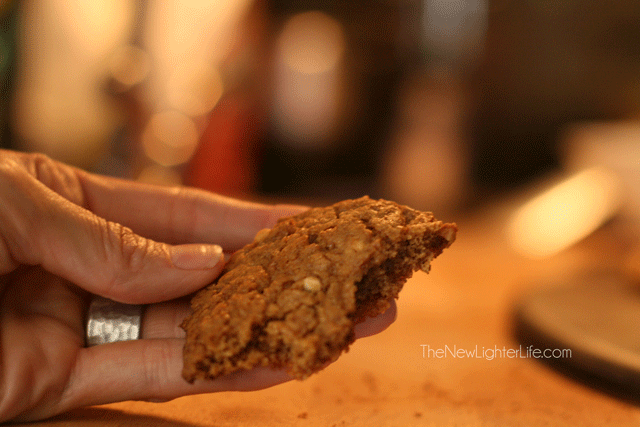 Since there is NOT an ounce of sugar in these, they end up being a little more cake-like in consistency.
Sorry.  I don't know any way around this other than by using sugar.  But trust me when I tell you, they are so delicious!  The man of the house called them "little morsels of goodness".  And he is a hard sell on anything sugar-free.
This post has been linked up for Trim and Healthy Tuesdays at Gwen's Nest and Stacy Makes Cents.