This shortcut homemade lefse recipe uses instant potato flakes!  The result is a time-saving and easy lefse recipe that you can whip up alone or with friends and family. Tender and sweet, this is perfect!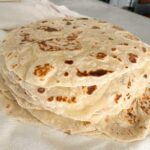 It's lefse today friends!! This shortcut homemade lefse recipe is so so delicious! For those of you who are traditionalists, I also have a link to my favorite recipe using fresh potatoes.
However, if you are pressed for time, this lefse has been a winner amongst my friends and family for many many years!
What is Lefse?
If you're not familiar with lefse, it is a round Norwegian flatbread and a staple at Thanksgiving and Christmas. This delightful blog, Life In Norway goes into all the details about lefse.
As stated in that blog post linked above from Life In Norway, you'll see that there are MANY different kinds of lefse. The kind I grew up with was sweet, tender, and predominately potatoes.
Since lefse was considered super labor-intensive, we only had it at Thanksgiving and Christmas. My mom's side of the family would get together and make lefse together. When my mom was growing up, they'd have a huge stack of lefse during no-meat Fridays of Lent.
My dad's side of the family always bought lefse from the neighbor who sold lefse during the winter. Countless times I have shared about how everyone in my family shamelessly asks for recipes from friends and family. My grandma pried this one from our sweet neighbor. I don't think she ever actually made it. She just wanted the recipe. Ha!
Ways to Eat Lefse
Regardless of your application, we prefer lefse slightly warmed in the microwave for 10 seconds.
Sweet Ideas
butter
cinnamon/sugar
brown sugar
granulated sugar
jam
whipped cream
honey
canned fruit with whipped cream
Nutella
cranberry sauce
applesauce
Savory Ideas
butter
wrapped around a sausage
deli meat with cream cheese
egg, tuna, or chicken salad
scrambled egg wrap
lutefisk
Details on My Shortcut Homemade Lefse
The recipe I'm sharing with you today is the same one my grandma pried out of our lefse-making neighbor many many years ago.
This lefse is slightly sweeter than other traditional potato-based recipes.
It is very fragile and tender.
Most often, we enjoy this lefse all on its own without any additional toppings aside from butter.
This lefse can be made right after mixing but seems to have a better consistency if you let it rest for 1 hour.
If any of you read my original post on this shortcut homemade lefse, you might recall that Mark was not a fan. Mark's family is not Scandinavian so lefse was completely unfamiliar to him.
I made my first batch of lefse just a few years after we were married. Since he was unfamiliar, I described it as a sweet, tender, Scandinavian tortilla. One bite of it and he was clearly not a fan. Now many years and countless batches later, he enjoys lefse with cinnamon and sugar.
Future Lefse Posts
It's been many years since I originally posted this recipe back in 2012. But I'll be delving into the lefse-making process, and specialty equipment, and share a video of the process. Today, it's just about the recipe.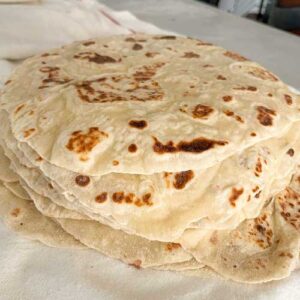 Shortcut Homemade Lefse – with Instant Potatoes
This shortcut homemade lefse recipe uses instant potato flakes!  The result is a time-saving and easy lefse recipe that you can whip up alone or with friends and family. Tender and sweet, this is perfect!
Print
Pin
Rate
Ingredients
5

c.

instant potato flakes

or more as needed

2

c.

all-purpose flour

1

tsp.

salt

½

c.

sugar

2 ¼

c.

water

cold

1

c.

evaporated milk

cold

1 ¼

c.

sparkling beverage

Sprite, 7-Up, Ginger Beer, or Sparkling Water

½

c.

oil

avocado or non-flavored oil
Instructions
To Prepare Dough
In a medium mixing bowl, mix the potato flakes, flour, salt, and sugar.

To the dry ingredients, pour in the water, milk, soda, and oil.

Test to see if you have enough potato flakes by forming a ball of dough slightly larger than a golf ball. Add more potato flakes if the dough sticks to your fingers or is tacky.

Shape the dough into golf-ball size balls (I prefer 60 grams per ball). Slightly flatten the balls so they are disc-shaped and place them in a baking pan.

Cover the pan and refrigerator for at least 30 minutes but up to 3 hours.
To Roll and Cook
Heat the lefse griddle to 400°F.

On a well-floured lefse board or pastry cloth, roll out a ball of dough with a cloth-covered, corrugated lefse rolling pin so the lefse is thin and semi-transparent.

Slide your lefse turning stick between your lefse and the pastry board to ensure you can remove it to the hot lefse griddle.

With your turning stick, transfer the lefse to the heated lefse griddle and cook for about 1 minute on the first side or until there are light brown spots on the cooked side. Turn the lefse with the lefse stick and cook the other side for about 30 seconds or until brown spots appear on that side.

Remove the cooked lefse and place it between two flower sack towels to prevent drying out.

Repeat with the remaining discs. Let the lefse cool completely and fold each piece into half and then quarters.

Store the folded lefse in freezer-safe bags in the refrigerator or freezer. Lefse can be stored for up to 1 year in the freezer.
To Eat:
Heat a defrosted or refrigerated lefse quarter for 10 seconds in the microwave.

Open the piece of lefse and tear it in half or prepare a full circle with desired toppings.
Nutrition
Serving:
60
grams
|
Calories:
112
kcal
|
Carbohydrates:
18
g
|
Protein:
2
g
|
Fat:
4
g
|
Saturated Fat:
1
g
|
Monounsaturated Fat:
2
g
|
Cholesterol:
1
mg
|
Sodium:
85
mg
|
Potassium:
20
mg
|
Fiber:
1
g
|
Sugar:
5
g
So please tell me, if you eat lefse as a savory food, what is your topping/application of choice? I'd love to hear!
Nyte! (or enjoy)