Today, I've got my family's old-fashioned rosette recipe.  If you're looking for other Nordic Christmas treats, I've also shared my krumkake and lefse recipes.  They are all so good!
Back to these rosettes…
Growing up, Thanksgiving and Christmas were the two holidays that much of our food was influenced by our Swedish heritage. In fact, the North Dakota population is comprised of approximately 38% Scandinavian, with the majority of that number being Norwegian (33%).  Christmastime especially, the Nordic came out of everyone.
Suffice it to say, it wasn't Christmas without Rosettes! So today, I'm going to share with you step-by-step on how to make these crispy goodies.
Before I go there though, to make rosettes you must have a special iron.  There are several brands but I have the Norpro Rosette Iron, which is the best price.  It's really important that you make sure the prongs are bent straight, which you can check by placing the iron flat on your counter, and adjusting it as needed.
How to Fry Rosettes – Step-By-Step
Mix the batter together.  It will look like there is not nearly enough batter to make roughly 25 rosettes, but there is plenty of batter.
Heat your oil.  I use refined coconut oil for this which has a high smoke point and doesn't have flavor.  You can view other options of oil for frying, here. Your oil should be between 365 to 375 degrees F.
Before you start frying these puppies up, you need to make sure your iron is nice and hot.  Heat for about 2 minutes and drain off any excess oil before the next step.
This step is SUPER important!  Make sure you do NOT dip the iron so the batter goes over the edge of the iron.  If you do, the batter will cook on the iron and your pretty rosette will be an unhappy accident.  Plus it's messy and you have to wash your iron before you can use it again.
Place your coated iron in the hot oil for about a minute or until it is golden brown.
Drain the rosettes open-end down on a cooling rack placed on a baking sheet lined with layers of paper towels to soak up the grease.
Store your fried rosettes in an airtight container until ready to serve.
To Serve an Old-Fashioned Rosette
If you are freezing your rosettes for later, wait to dust with the confectioner's sugar or dip them into the following cinnamon/sugar mixture.
Cinnamon & Sugar – Mix granulated sugar and cinnamon (proportions about 1/4 cup granulated sugar to 1 teaspoon cinnamon).  Place the sugar mixture in a shallow bowl or on a plate and place the cooked rosette on top, wiggling it around to coat it.
Confectioner's Sugar – Simply dust the fried rosettes with confectioner's sugar.
Soggy Rosettes?
Your rosettes should be crispy.  There are two main reasons why rosettes get soggy.
They are undercooked. To correct this, simply cook longer in the oil.
Humidity in the air softens them.  Once your rosettes are fried, store them in an airtight container in the freezer for up to 2 months.
With that all out of the way, let's get to the recipe…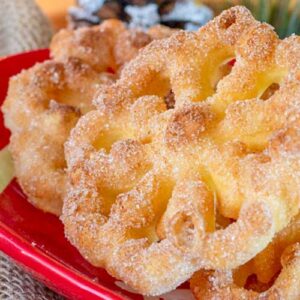 Old-Fashioned Rosette Recipe
These Scandinavian crispy fried cookies are a favorite Christmas treat. Be sure to wait for coating in sugar until within a day or two of serving. Uncoated rosettes can be stored in an airtight container in the freezer for up to 2 months.
Ingredients
2

eggs

1

tbsp.

granulated sugar

¼

tsp.

salt

1

c.

all-purpose flour

1

c.

milk

1

tsp.

vanilla extract

oil for frying

refined coconut oil or flavorless oil
Cinnamon Sugar Topping
¼

c.

granulated sugar

1

tsp.

cinnamon
Instructions
Prepare a cookie sheet by placing several layers of paper towels and a cooling rack on top of the cookie sheet.

Combine the eggs, sugar, and salt in a medium bowl. Mix well.

Add the flour and milk and beat until smooth.

Heat the oil to 365° to 375°F.

Place the ends of the rosette iron in the oil for a minute or two so it is nice and hot.

Lift your iron out of the oil and let the oil drip off the iron.

Immediately dip the hot iron in the batter. Make sure to not allow the batter to cover the top of the iron. Immediately place the battered iron into the hot oil.

Fry rosettes until golden brown.

Lift the fried rosette out of the oil.

Turn the rosette, open ends down, onto the prepared cookie sheet. This will allow the oil to drain off easier.

Ensure the iron is hot before redipping it into the batter and repeating the frying process.

Store cooked rosettes in an airtight container at room temperature or in the refrigerator. You may freeze them for up to 2 months.
When Ready to Serve:
Coat with the cinnamon/sugar mixture or lightly dust lightly with the confectioner's sugar.
Notes
For the best options of oil to fry in, click here.
Nutrition
Serving:
1
rosette
Calories:
40
kcal
Carbohydrates:
7
g
Protein:
1
g
Fat:
1
g
Cholesterol:
16
mg
Sodium:
33
mg
Potassium:
25
mg
Sugar:
3
g
Enjoy!