Today, I'm sharing my absolute favorite savory recipe to use up some of that zucchini, my zucchini sausage dressing casserole.  We had a massive abundance of zucchini and yellow squash this year! In truth, I'm questioning my sanity in planting FIVE (yes…5) summer squash plants.  We're near the end of our summer and I'm relishing the slowing harvest before our long winter months.
If you're like me, and you need a savory use for all your prolific zucchini, I have a gem for you today!
Before I get to that – you HAVE to try my zucchini pickle recipe which is a perfect substitute for cucumbers.
But let's get back to this concoction of yummy deliciousness…
This casserole is the perfect early fall treat.  Since the casserole has dressing and sausage, it is excellent as a side for Thanksgiving.  Still, we are loving it right now.  I like to heat up a small serving of the leftovers of this casserole with some scrambled eggs for breakfast.  Delish!!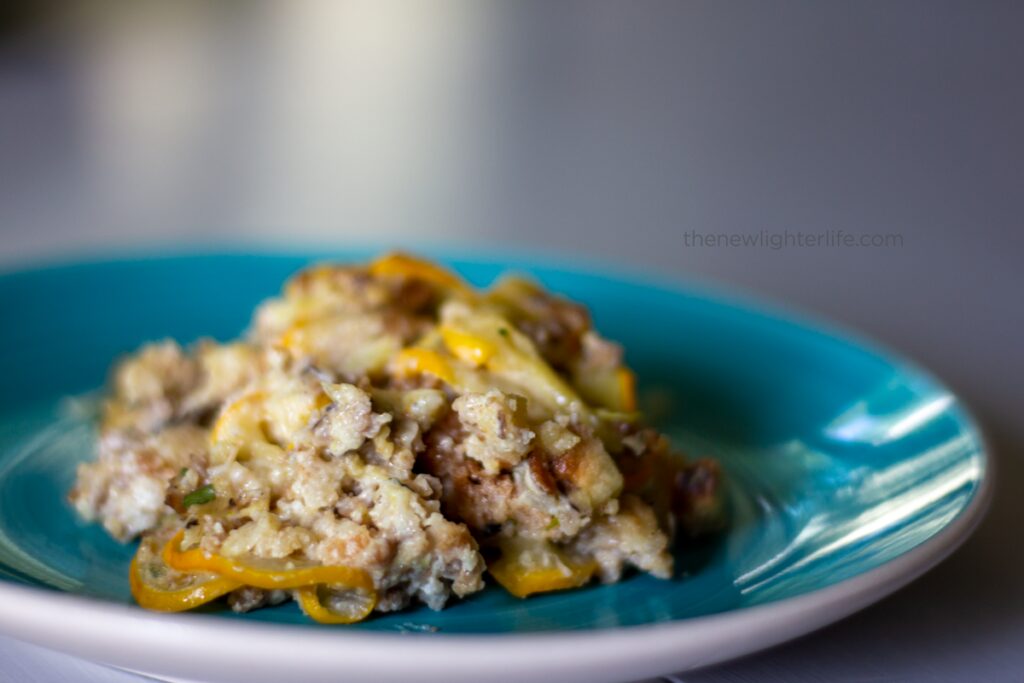 In fact, I just brought this casserole to a brunch with friends and it was a massive hit!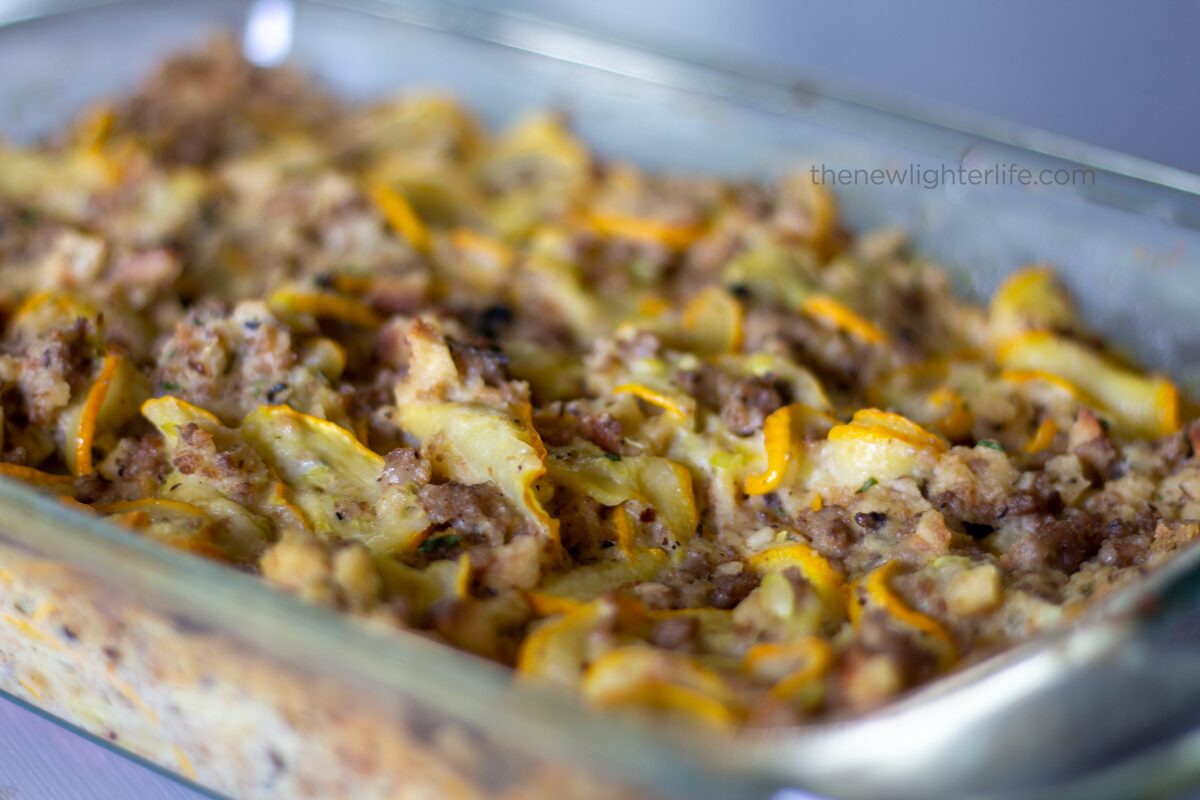 NOTE:  You'll see that the recipe calls for cream of mushroom soup or prepared mushroom soup cubes.  Nearly 10 years ago, I came across Gwen's Nest's concentrated mushroom soup cubes.  And I have faithfully used these soup cubes since and I always keep a batch in my freezer.  Gwen's cubes are far superior to the canned cream of mushroom soup available in the store.  However, if you are in a pinch, the canned version works as well.
To see how easily these concentrated cubes are to make for recipes, I have this short video.
Enjoy!
Savory and Hearty Zucchini Sausage Dressing Casserole
Ingredients
2

Tbsp

butter

1/2

cup

diced onions

6

cups

sliced zucchini or yellow squash

1 - 12

oz

pkg of sausage

browned

1

can cream of mushroom soup OR prepared cream of mushroom soup cubes

(see NOTE)

1

cup

sour cream

1 - 8

oz

box of Stove Top Stuffing Mix

(chicken or turkey)
Instructions
Preheat oven to 350 degrees.

Lightly spray a 9 x 13-inch pan with cooking spray.

Melt butter in a large skillet, add onions and zucchini/yellow squash to the pan.

Cook until squash is tender.

Transfer the onion/zucchini mixture to a large bowl.

Stir in sausage, cream of mushroom soup, sour cream, and stuffing mix.

Mix thoroughly.

Pour mixture into prepared pan.

Bake uncovered at 350 degrees for 35 to 40 minutes.
Notes
For the cream of mushroom soup, I always have a batch of Gwen's Nest's concentrated cream of mushroom soup cubes.  To prepare your soup cube concentrate into a canned equivalent, followed the instructions linked above.
If you prefer to use canned cream of mushroom soup, that works as well.