This dinner roll recipe is over 50 years old and is absolutely my favorite recipe for white dinner roll or bun (for you northerners).
If you're looking for an oatmeal dinner roll recipe, this is the one I make every Thanksgiving, Christmas, and special occasions.
But back to these rolls…the texture is soft and chewy, and the flavor is perfect!  These are amazing for sliders or just to go along as a side with a meal.
This recipe has been baked by my family for many, many years.  Rumor has it my aunt got this recipe while in 4-H back in the 1960s.  The recipe that has been passed around my family did not have many directions at all.  If you click to view the recipe below, you'll see the original recipe and scant instructions.
Today, I included my slightly updated version with more detailed instructions. Below are a few notes:
Yeast – The original recipe did not specify whether to use active dry yeast or instant yeast, but we can surmise active dry yeast was the one originally used for the following reasons.
Instant yeast came out in the 70s.
The instructions state to dissolve the yeast in water, which is necessary for active dry yeast.
Flour – Regarding the flour, I suppose you could try subbing some whole wheat flour or bread flour in for the unbleached white flour.  We prefer the unbleached white flour.
Mixer – If you have a stand mixer fitted with a dough hook, you don't have to knead by hand.  Or go for it by hand a get a mini-workout.
This is an enriched bread/roll recipe, which means it is a heavy dough and contains butter/lard, eggs, and/or sugar.  This results in a wetter dough. Below is a view of the dough before adding all the flour.
Once you've added the necessary flour and kneaded your bread dough, you can cover the bowl with plastic wrap or a moist towel and let it rise.
After your first rise, your dough should look like this…
Since it is heavier, it requires more time for rising (I generally allow double time).  If you rush it and don't let these rolls rise enough, they will not be as airy or chewy.
Trust me, though, these rolls are worth the wait.
One last note – the original recipe did not call for an egg wash.  I prefer the shiny look and have included it on my instructions.  You can omit and they are just as delicious.
Enjoy!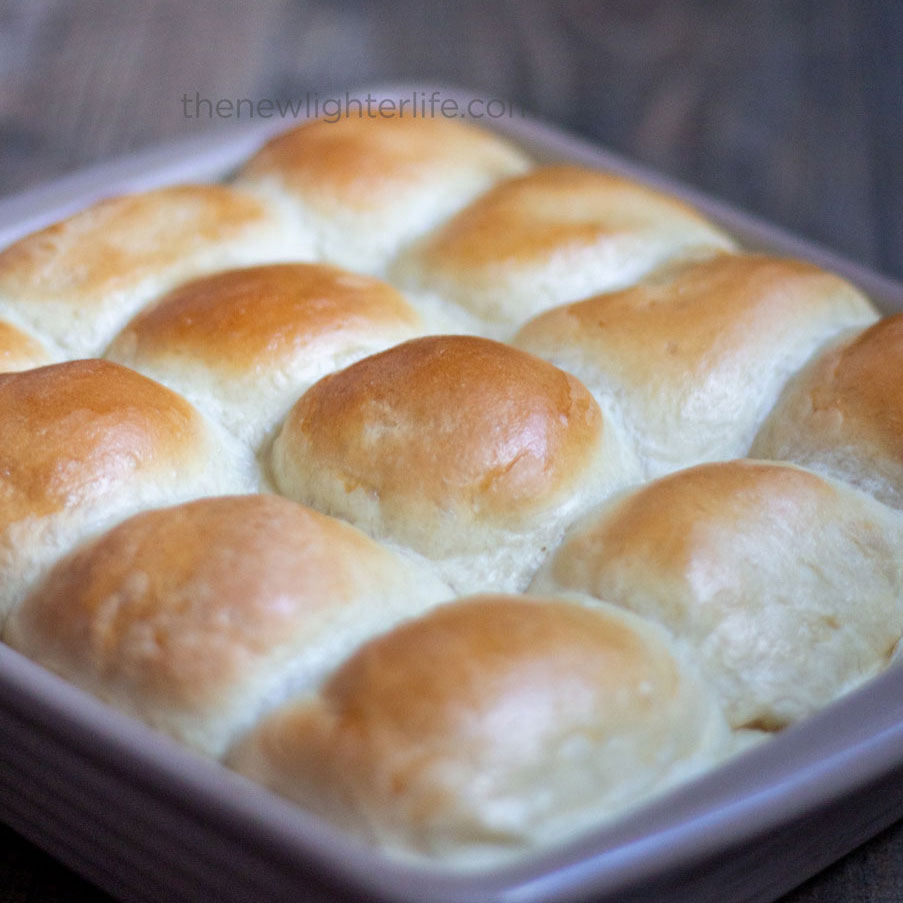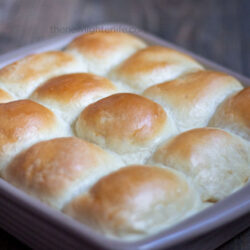 Vintage Recipe - Soft & Chewy 4-H Dinner Rolls
Ingredients
Original Version
1

pkg yeast

1/4

cup

110 degree water

1/2

cup

milk

2 1/2

cup

flour

1/4

cup

sugar

1

teaspoon

salt

2

tablespoons

lard

1

egg
Updated Version
1

pkg

(or 2 1/4 teaspoon) active dry yeast

1/4

cup

water

105 to 110 degree

1/2

cup

scalded milk

see directions below

2 3/4

cup

flour

1/4

cup

sugar

1

teaspoon

salt

2

tablespoons

of melted butter or refined coconut oil

1

egg

Egg Wash: 1 egg and 1 Tablespoon cream/milk/or water
Instructions
Original Version
Dissolve yeast in water. Scald milk and add sugar & salt, dissolve when cool. Add 1 cup of flour, lard, egg, and yeast mixture, add remaining flour and let rest. Knead, let rise until double. Punch down. Pan. Bake at 350 degrees.
Updated Version
Pour milk into a microwave safe bowl, and 2 minutes, this works to scald the milk. (Alternatively - you can heat in a saucepan.) Add sugar and salt to the scalded milk and mix. Set aside until warm.

In a separate mixing bowl, dissolve yeast in water, let set for at least 5 minutes to ensure it is activated.

Once the milk mixture is cooled enough (check temperature with a thermometer)add milk mixture to the mixing bowl with the yeast/water.

Add 1 cup of flour to the mixing bowl and mix throughly.

Mix in the melted butter or oil and the egg.

Add the remaining flour or enough so that the dough is not sticky. Knead for 5 to 10 minutes or until the dough is smooth and elastic.

Pour a small amount of oil in the bowl and turn to coat the dough with smooth side face up.

Cover dough with a damp towel and let the dough rest for about 2 hours or until the dough is doubled in size.

Punch down dough and divide in portions into 12 equal rolls. Shape and place into a greased 9-inch square pan.

Cover and let rise for an hour or until rolls are doubled in size.

Once rolls are risen, preheat oven to 350 degrees.

In a small bowl, whisk egg wash ingredients together and using a pastry brush, carefully coat the tops of the risen rolls with the egg wash.

Bake for 15 to 20 minutes or until golden brown.
Notes
The original version of this recipe is the vintage recipe that has been used in my family for many years.  I've also included my revised version that omits lard, allows for more flour, has an egg wash, and includes more detailed instructions than the vintage recipe.