French toast has long been a favorite at our house.  One thing we haven't always enjoyed is the high carb/low protein aspect.  Well, I've fixed that and have developed a protein french toast recipe to share with you.
This recipe was posted many years ago when I was religiously following Trim Healthy Mama (THM).  I've since moved on but this would have passed for an E if you use the sprouted wheat and egg whites under THM.  With that, I've included some added information for making protein french toast regardless of whether you are following Trim Healthy Mama or not.
In going through my older posts, I made this french toast and I had forgotten how unbelievably delicious it is.  You see, when I stopped following THM, I went back to traditional french toast.  But let me tell you, they are so so good and add some substance and health to sweet breakfast food that is generally guilt-ridden.
Let's cover a few of the ingredients for these french toast before we get to the actual recipe…
Ingredients in Protein French Toast
Bread – I've successfully used sprouted wheat bread and normal sandwich bread.  Bread has different levels of protein content so just be mindful of that when choosing bread if you're aiming for a certain amount of protein.
Protein Powder – I highly recommend a protein powder that does not have aspartame or is low/no sugar such as this protein powder.  My absolute favorite protein powder is the Plexus Lean Vanilla protein, which has palm sugar and stevia.
Eggs – You'll find both options of using the whole egg or just the whites only.  Both work, it just depends on if you're trying to keep your fat content down.
Milk – for a lower carb/sugar content, unsweetened almond milk is your best option.
Syrup – some delicious toppings for this french toast are berries, low-sugar jam, or my favorite – a no-sugar maple syrup such as Lakanto.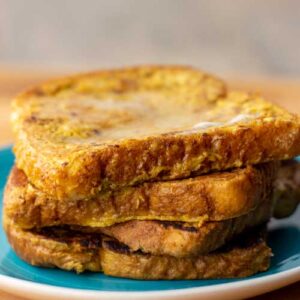 Delicious Protein French Toast
You can use many different types of bread, depending on your protein needs. I've successfully used sprouted whole wheat bread and even regular white bread. These are so delicious and VERY filling.
Ingredients
2

egg whites

or 1 whole egg

1

scoop

protein powder

½

tsp

cinnamon

1

tbsp

almond milk, unsweetened

2

slices

bread

sprouted, wheat, or white
Instructions
Mix egg, protein powder, cinnamon, and almond milk in a bowl.  

Mix well to break up the protein powder.

Pour mixture into a plate or pie pan.  Let each slice of bread soak for about a minute.  Flip bread to soak up most of the remaining protein mixture.     

Place soaked slices into a hot skillet that is coated with a little bit of butter so they don't stick.

Pour the remaining protein mixture over the frying french toast and puncture the toast with a fork so it can absorb the remaining protein mixture.

After frying for a couple minutes, flip toast and fry the other side.

Serve with your syrup, jam, or fruit of your choice. 
Notes
You can multiply the quantities of these ingredients depending on the number of servings needed.  However, if you are trying to stick with a specific amount of protein, it is best to mix one serving at a time so you can incorporate the proper amount of protein in your two slices of bread while they are frying.