These timeless cinnamon twists are a classically sweet breakfast treat that is super easy for beginner bakers. My recipe strays slightly from the 1960s original to adjust for buttermilk instead of sour cream.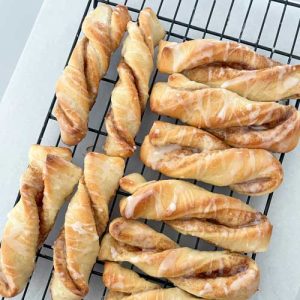 Old-fashioned cinnamon twists were one of my mom's favorite breakfast treats. I've been looking to revive some of the foods my mom made for me lately. She makes the best caramel and cinnamon rolls, but I wanted to go for something a little lighter. (swimsuit season is around the corner after all). I got to looking at her cinnamon twists recipe and was inspired to make some changes to account for my love of buttermilk and the tenderness it adds to the final product. If you're looking for a sweet treat to add to your breakfasts, this one is for you!
Origins of Cinnamon Twists
Did you know this breakfast dessert is actually an old Betty Crocker recipe from the 1950s? This old-fashioned breakfast bread is perfect for those lazy weekend mornings when you want to indulge in something sweet but not be comatose from sugar overload. This is an easy recipe for yeast bread and an excellent choice for beginner bakers since there is only one rise.
Equipment Needed
Before we dive into the recipe, let's take a look at the equipment you will need.
Sour Cream or Buttermilk for Your Dough?
I am always looking for ways to use my cultured buttermilk and this recipe is no different. The original old-fashioned rendition of this recipe called for sour cream. Since sour cream has a much higher fat content and less water, you must adjust your dough's butter and flour content if you decide to use sour cream instead of buttermilk as I've instructed.
Sour Cream Conversion
Adjust the following quantities
Butter – 2 tablespoons
Flour – 3 cups (approximately)
If you're into food science, (especially as it pertains to baking), I highly recommend you check out Chainbaker. I've learned so much from his website and refer to it often in developing my recipes.
Now that you have all your ingredients and equipment ready, let's get to the recipe.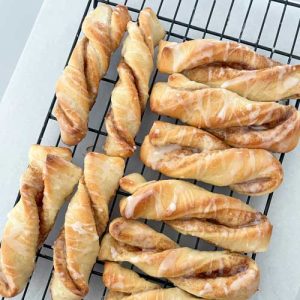 Old-Fashioned Cinnamon Twists
These timeless cinnamon twists are a classically sweet breakfast treat that is super easy for beginner bakers. My recipe strays slightly from the 1960s original to adjust for buttermilk instead of sour cream.
Pin
Print
Rate
Ingredients
Dough
¼

c.

warm water

2 ¼

tsp.

active dry yeast

¾

c.

buttermilk

3

tbsp.

granulated sugar

¼

tsp.

baking soda

1

tsp.

salt

1

egg

3

tbsp.

butter

2 ½

c.

unbleached flour
Cinnamon Filling
2

tbsp.

butter

softened

⅓

c.

brown sugar

1

tsp.

cinnamon
Glaze
1 ½

c.

confectioner's sugar

½

tsp.

vanilla extract

3-4

tbsp.

milk
Instructions
To Make the Dough
In a mixing bowl, combine the warm buttermilk, warm water, sugar, and yeast.

Let this mixture sit for about 5 minutes until it becomes frothy.

Then, add in the melted butter, egg, salt, and half the flour. Mix.

Gradually add in enough of the remaining flour until the dough becomes smooth and is no longer sticky.
Kneading & Resting the Dough
Once your dough is no longer sticky, turn it out onto a floured surface and knead it just a few times.

Cover the dough with a tea towel and let it set for 5 minutes while you move on to preparing your sugar and cinnamon filling.
Mix Cinnamon Filling
While your dough is resting, place the brown sugar and cinnamon in a small bowl, and stir.
Assemble the Cinnamon Twists
Turn your rested dough out onto a lightly floured surface.

Roll the dough into a 6 X 24-inch rectangle about 1/4-inch thick.

Spread the rectangle with 2 tablespoons of butter.

Sprinkle the cinnamon sugar mixture evenly over the dough, leaving about 1/2 inch of space around the top and bottom edges.

Fold the top half of the rectangle down to meet the bottom half edge.

Crimp the edge along the length so there is a seal.

Cut 1-inch strips along the length of the folded dough, resulting in 24 cut strips.

Pick the 1-inch strips, one at a time, and twist the top and bottom edges in opposite directions to form the twisted shape.

Place the spiral onto a silicone or parchment paper lined baking sheet, leaving about 1 1/2 inches between twists.

Cover and let rise for about 1 hour.
Baking the Twists
Once your cinnamon twists are almost done rising, preheat oven to 375°F.

Bake them for about 12 or 13 minutes, or until they are a light golden brown.
Glazing the Twists
While the twists are baking, prepare the glaze by mixing together lump-free confectioner's sugar, vanilla extract, and milk.

Continue mixing until there is a smooth consistency.

Once you remove the twists from the oven, let them cool slightly for a few minutes.

You may remove them to a wire rack or leave them on the baking sheet to drizzle the glaze over them.
Notes
Cinnamon Twists Serving Suggestions
Your delicious cinnamon twists are now ready to enjoy! These taste slightly sweet and are the perfect breakfast treat paired with a warm cup of coffee or tea.
You may store any leftover cinnamon twists in an air-tight container for up to 3 days. To enjoy them later, simply microwave them for a few seconds and enjoy.
Sweet Variations on the Cinnamon Twists Recipe
If you're feeling adventurous and want to stray from the classic cinnamon sugar, there are many variations you can try with this classic and easy recipe.
3/4 teaspoon cinnamon, 1/4 teaspoon ginger, & 1/8 teaspoon allspice

add chopped nuts and/or raisins to the cinnamon filling

add 1/2 cup of cocoa powder to the dough for chocolate twists

Nutella filling instead of butter/sugar/cinnamon

1/2 cup of jam mixed with 1 1/2 teaspoon flour for filling and cream cheese glaze (4 ounces of cream cheese, 1/2 cup confectioner's sugar, 1 teaspoon vanilla, & 3 tablespoons milk)

lemon curd

cookie butter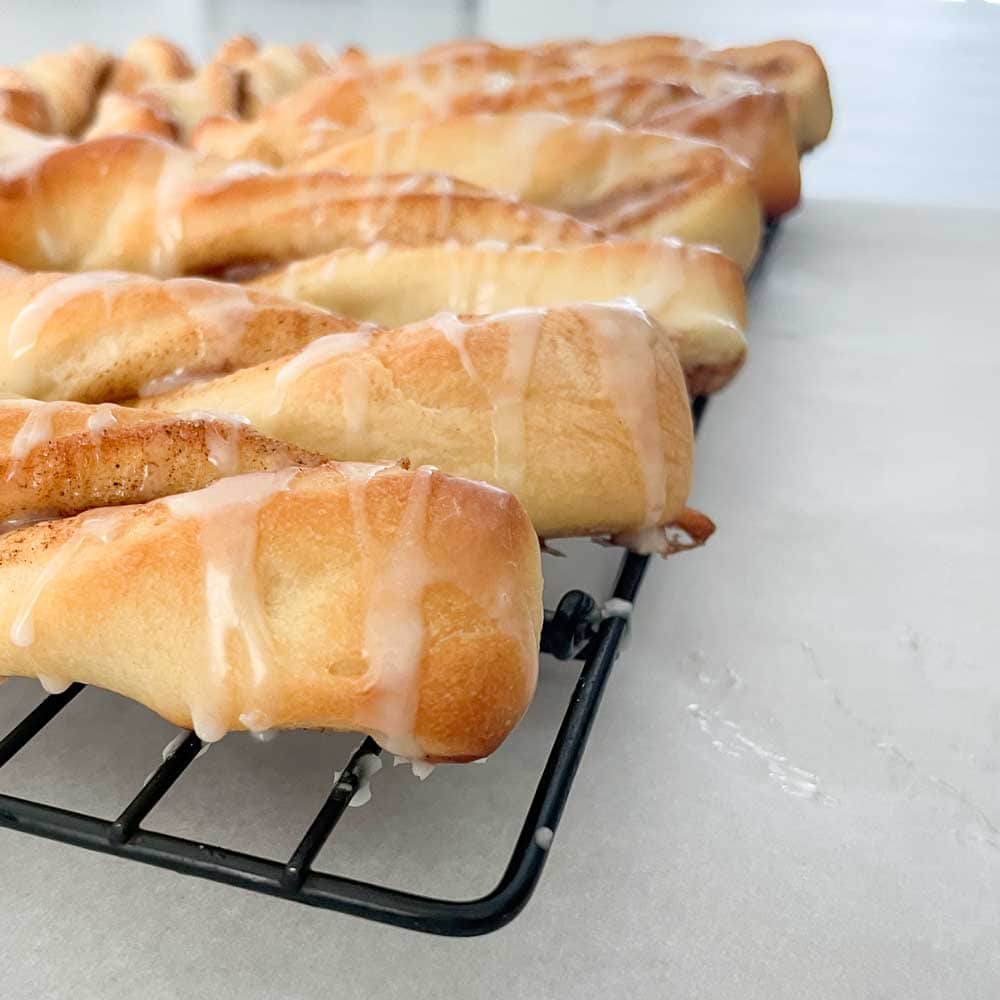 Something Different Than Cinnamon Sugar Filling?
Check the recipe for some other ideas for filling besides the classic cinnamon/sugar combination. If you all have tried other fillings, I'd love to hear.
The sky truly is the limit on filling. You could even go to savory fillings such as garlic butter, pesto, pizza sauce, etc. I challenge you to get creative and come up with some new flavor combinations!
Conclusion & Final Tips for Making Cinnamon Twists
This cinnamon twist recipe is a must-try for any baking enthusiast. With its simple ingredients and easy-to-follow instructions, you can impress your family and friends with this delicious old-fashioned breakfast bread. Just remember to knead the dough slightly, let your twists rise in a warm place, mix your glaze thoroughly, and drizzle your glaze over the twists for that extra touch of sweetness.
And if you're looking for more bread-baking recipes, I highly recommend you check out my recipes for oatmeal dinner rolls and no-knead cinnamon raisin bread.