If you've been following along with our blog, you'll notice a trend.  Embarrassingly, I've admitted over and over again that we have some open projects to complete.  One of those projects was the need to do some touch-up paint throughout our RV.
We are extremely happy with our Nuvo Cabinet paint but drawers get slammed and they rub when you're lifting them to pull out, (which is standard for RVs).  6 people living in 300 square feet dictates that paint WILL be scuffed and need a touch-up paint here and there.
Touch Up Paint Can Be Easy
The task of opening a paint can, mixing it, and getting out a brush that will need to be cleaned up is too messy.  I don't want brush strokes and I want this touch-up paint to be as painless as possible.  Enter Shur-Line touch-up painter (I have no affiliation with this product or brand – just my opinion).
I have to admit that Pinterest was once again my inspiration for this product.  These Rubbermaid paint sticks looked promising to alleviate the issues mentioned above.  But I couldn't find the Rubbermaid ones locally.  Instead, I found the Shur-Line Touch Up Painters at our local Lowes for about $8.  The roller refills were just under $4.
To get my paint into the Paint Stick without pouring it all over the counter, I used a funnel.
Now here is my word of caution.  Please listen to me, friend…
Do you see how this painter is squeezable?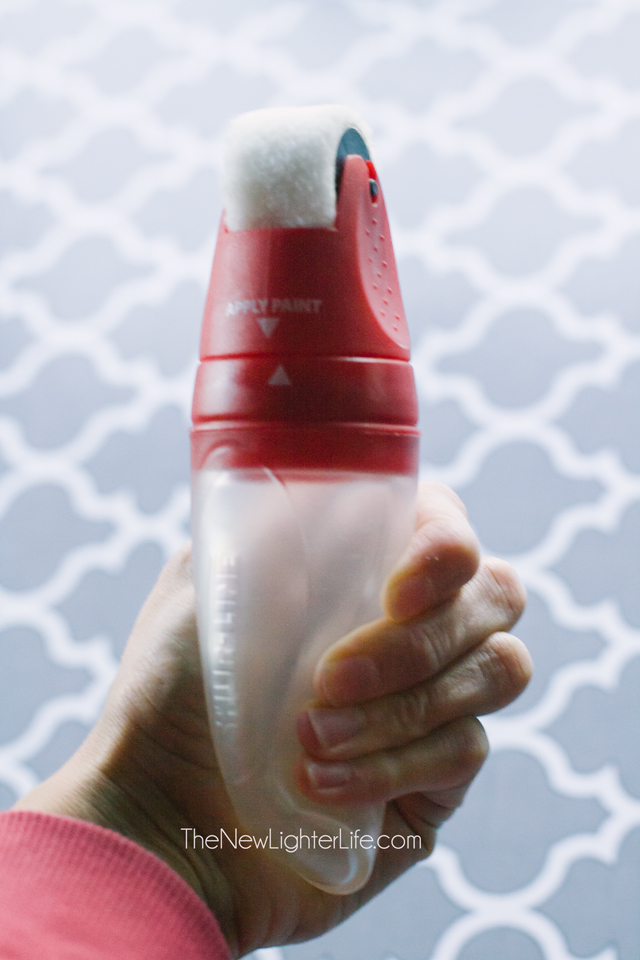 Pretty nifty huh?
Um…yes, it is neat.  But please proceed with caution.  I love that it is squeezable, don't get me wrong.  It's a great feature but you MUST practice restraint.  It is possible to be overzealous in your squeezing which WILL result in drips.  (I had to do a bit of cleanup which is an entirely different matter)
Basically, you squeeze a little and roll a little.  This little baby is very convenient and I was pleased with the results.
Now in the interest of full disclosure, Mark did NOT care for this roller.  I think it was because he squeezed too hard.  He's strong.
And you, my friend, have been warned.
When You're Done…
Near the roller part of the painter, you'll see "Apply Paint".  If you rotate the top 180 degrees it clicks to close.  This function seals the touch-up painter to stop the paint from drying up.
We finally painted the plywood panel that sits behind the TV we installed.  The railing for the top of our closet bunk now matches the rest of the bunks.  And last but not least our cabinets and walls are fresh and the chipped and scuffed paint is as good as new.
IF you can control yourself, this little tool is sweet and makes touch-ups a breeze.