This cinnamon raisin bread is no-knead and it is the easiest thing you'll do all week!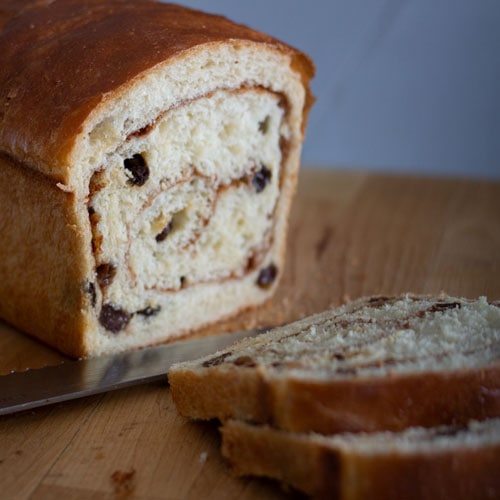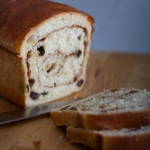 If you've read my blog for any amount of time, you know that I love collecting family recipes and my grandma made the best cinnamon raisin bread!  It is delicious!! I come from a long line of excellent bread bakers and this no-knead cinnamon raisin bread is adapted from her traditional recipe.  No-knead means that it is simple enough that even if you are completely new to making homemade bread, you can tackle this recipe.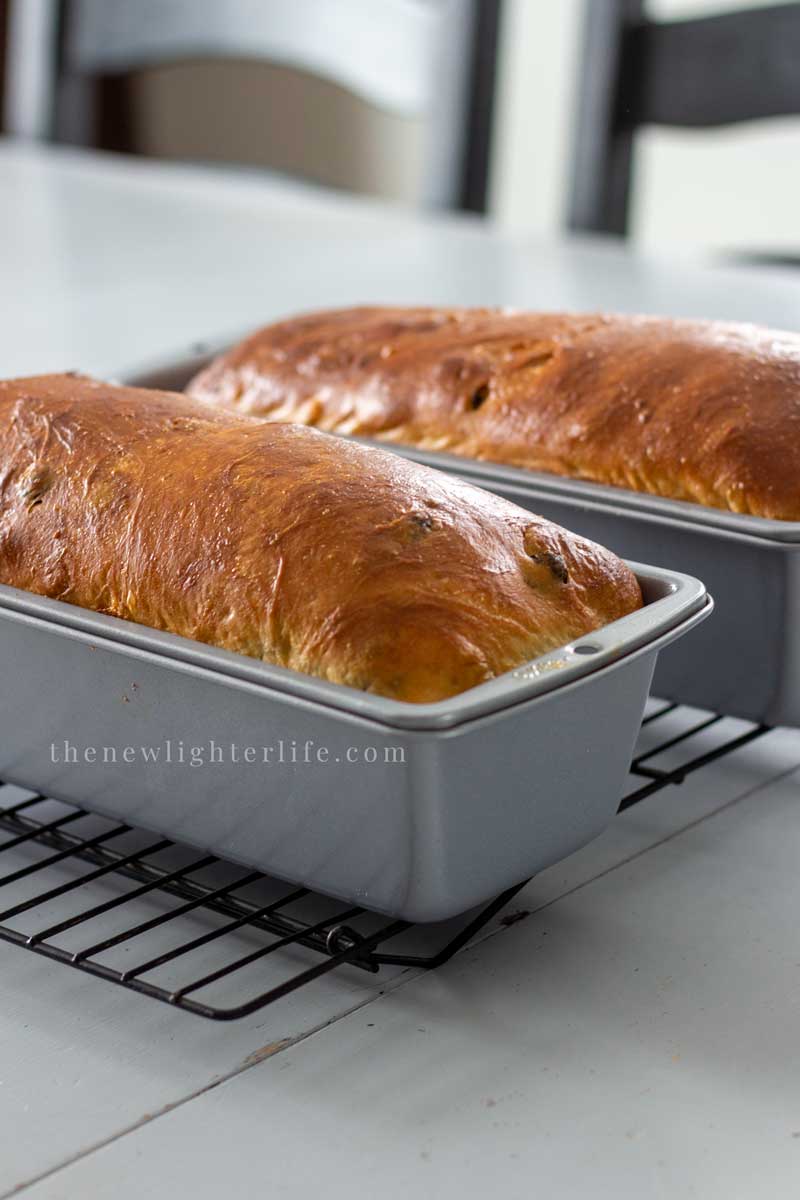 If only grandma knew about no-knead bread, she sure could have saved a ton of time in the kitchen!
A few tips for you on making no-knead bread before we get into the recipe.
No-Knead Bread Equipment & Tips
1.  Weight or Measure Flour
I'm a huge fan of weighing my flour for no-knead bread instead of the traditional American way of measuring.  The reason for this preference is that weight is more accurate of measurement versus strict cup measurements.  I picked this tip up from Artisan Bread in Five Minutes a Day and recommend you pick up a digital scale that can accommodate at least 10 lbs.  If you'd like to measure your flour as well, I have the weighed measurement in parenthesis.
2.  Temperature of Water
The most common mistake people make when baking bread is either to kill the yeast by proofing it in water so hot it kills the yeast or water that is too cold that the yeast is not activated.  The ideal temperature to mix no-knead bread is lukewarm water that is no more than 100 degrees.  To be on the safe side, I always use a meat thermometer since I do not trust my temperature feelers in my hands.
3.  Get the Tools for No-Knead Bread Baking
Here is a list of all the tools I like to use when I make artisan bread.
Digital thermometer – This is useful to make sure your water is cool enough (not more than 100 degrees) when you are mixing your yeast in it. You may also use this for testing the internal temperature of your baked loaf.
Food Container – I prefer this larger container which has a loose-fitting lid and is large enough for the dough to expand.  I can fit enough dough in this container to make 4 loaves of bread, (this recipe for no-knead cinnamon raisin bread makes 2 loaves).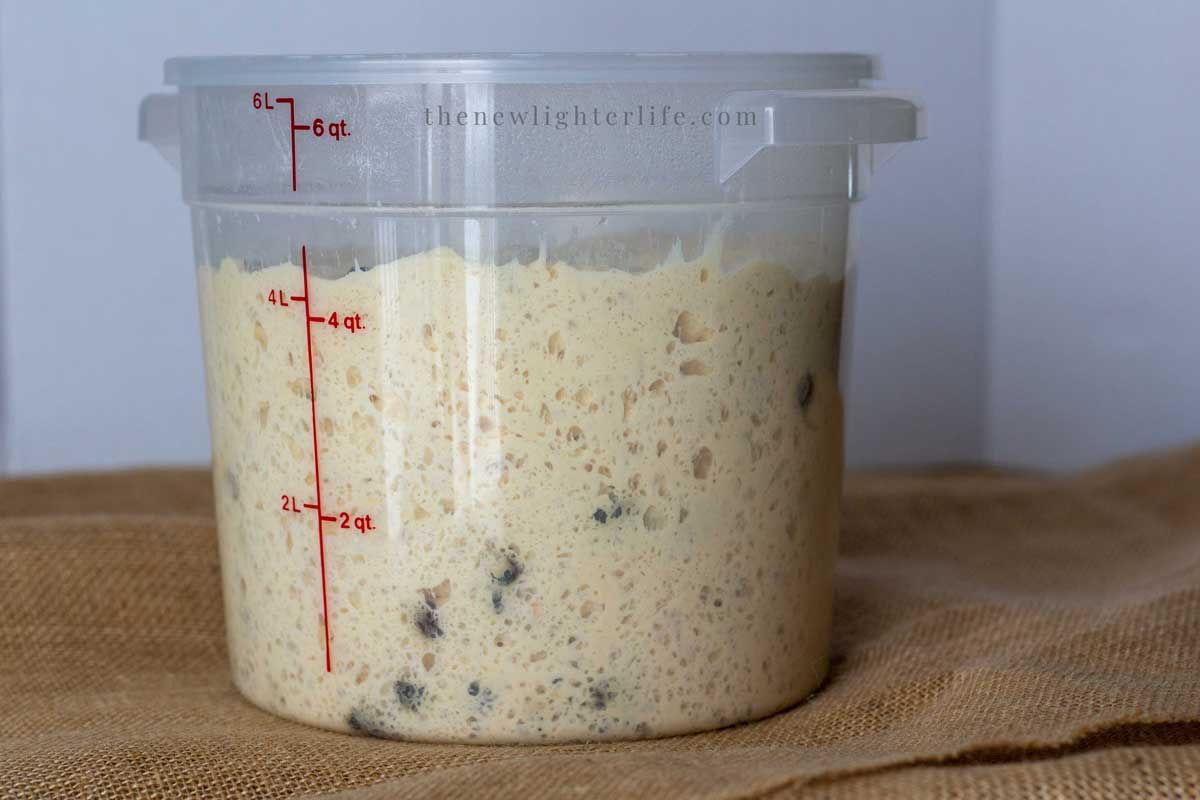 Bread Dough Whisk – This is my favorite way to mix the dough, especially no-knead dough.
Pastry Scraper – A pastry scraper is needed to roll up your dough for the cinnamon raisin bread.
Bread Pans – I prefer these longer and skinner bread pans for my bread since they fit in the toaster better. They bake the same amount of dough as a standard bread loaf pan (9.5 X 5-inch).
Pastry Brush – A simple pastry brush works perfectly for applying your egg wash to your finished loaf
4.  Baking Temperature for No-Knead Dough
As a general guide, you want to bake no-knead dough as follows
Enriched Dough (like this recipe with eggs) is 350 degrees
Non-Enriched Dough is 450 degrees
5.  Internal Temperature to Test for Doneness
If you'd like to test for doneness, you can take a digital thermometer and measure the internal temperature as follows.
Enriched Dough is 190 degrees
Non-Enriched Dough is 210 degrees
Before we get to the recipe, let's talk about buttermilk.
Is Buttermilk Necessary in this No-Knead Cinnamon Raisin Bread?
No, it's not. If you do not have buttermilk, you may want to consider culturing your buttermilk.  In a pinch, you may substitute milk for the buttermilk, but let me tell you, this recipe is SUPER-DELICIOUS with cultured buttermilk, which I talked about here.
In case you didn't know, buttermilk tenderizes the gluten and gives the bread a much softer, fuller-bodied texture.
Now let's get into this super yummy recipe for No-Knead Cinnamon Raisin Bread…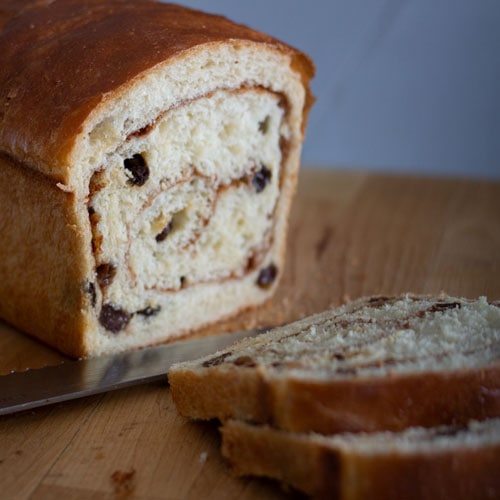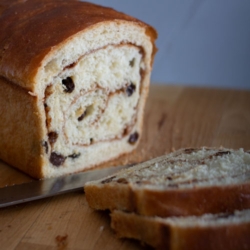 No Knead Cinnamon Raisin Bread
This cinnamon raisin bread is no-knead and it is the easiest thing you'll do all week!
Pin
Print
Rate
Ingredients
2

cup

water

warm, less than 100 degrees

1

cup

buttermilk

1

tbsp.

yeast

½

cup

granulated sugar

2

eggs

6½

cup

flour

or 920 grams

1½

tbsp.

salt

1½

cup

raisins
Cinnamon Sugar Filling
⅔

cup

sugar

2

tbsp.

cinnamon
Instructions
In a large food-safe container (at least 4-quart capacity), mix the water, yeast, buttermilk, eggs, sugar, and salt.

With a dough whisk, mix in the flour without kneading.

Loosely cover the container and allow the dough to rest at room temperature for about 2 hours.

You may use your dough right away or store it for up to 24 hours.
To Bake
Spray your bread loaf pans with non-stick cooking spray.

On a lightly floured surface, dump dough out of the bowl.

Lightly dust your ball of dough with flour and roll dough into a rectangle that is about 1/2 inch thickness.

Sprinkle the rectangle with mixed cinnamon and sugar filling.

Roll the dough up along the long edge of your rectangle.

Pinch the edges of your rolled dough together to seal your seam together.

Cut your rolled dough in half to form two rolls.

Place 1 roll into each pan with the seam side down and tuck your ends under

Let rise for about an hour or until doubled in size.

Preheat oven to 350 degrees.

Mix your eggwash ingredients together and brush over tops of loaves just before placing them in the oven.

Bake for 45 minutes or hollow sound when tapped.

Remove from pan and let cool on a wire rack. Wait to slice until cooled.
Notes
The recipe makes 2 loaves and can be halved if desired.
Nutrition
Serving:
1
slice
|
Calories:
195
kcal
|
Carbohydrates:
37
g
|
Protein:
8
g
|
Fat:
2
g
|
Saturated Fat:
1
g
|
Monounsaturated Fat:
1
g
|
Cholesterol:
54
mg
|
Sodium:
482
mg
|
Potassium:
129
mg
|
Fiber:
4
g
|
Sugar:
17
g