These cookies are a family favorite!  Most no-bake cookies have peanut butter in them but my version has NO peanut butter.
Before I get into that, if you are a lover of mint sweets, check out my Frosted Peppermint Shortbread Cookies, Mint Hot Chocolate, Mint Chocolate Protein Shake, and my Grasshopper Mint Truffles
Back to these bundles of goodness…
I grew up with my mom following a recipe similar to this recipe, which she called Fudge Kisses.  She always made them without any extracts.  You can follow her example and omit all extracts or you can try them with either peppermint or vanilla.
If you want to try them with vanilla instead of peppermint, have at it. They are very good that way as well.  In my opinion, these are better than their peanut butter counterparts.
NOTE:  It is important to cook the mixture long enough. There are instructions in the recipe, but I just want to show in the photo the difference you can see before you start testing for the soft-ball stage.
You don't want to test when your mixture looks like the following photo.  It's really thin and the hot fudge will just spread apart in the bowl of water.
When the mixture begins to look like the photo below, start testing it.
You can use a candy or digital thermometer like the recipe below states.
To test for doneness without a thermometer, fill a small bowl with cold water and drop a small amount of the fudge sauce in the bowl.  If you can dip your fingers into the bowl and clump the fudge mixture together like a little ball of fudge, it is ready and you can move on to step 3 below.
Overcooked, these cookies will be crumbly, but they still taste yummy.  If they don't set and stay gooey, they are undercooked.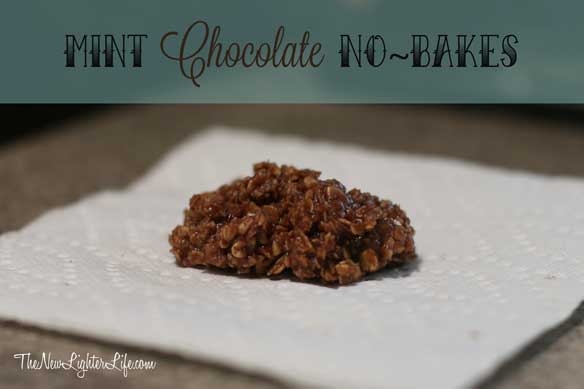 Mint Chocolate No-Bake Cookies
Ingredients
1

cup

granulated sugar

1/2

cup

butter

unsalted

3

tablespoon

cocoa powder

2/3

cup

milk

1/4

teaspoon

salt

3

cup

oats

quick

1/2

cup

coconut flakes

unsweetened

1

teaspoon

peppermint or vanilla extract

optional
Instructions
In a medium saucepan, mix together sugar, butter, cocoa, milk, & salt.

Stir and heat over medium heat until in the early soft-ball candy stage (230 degrees), about 5 minutes.

Immediately remove from heat and stir in oats, coconut flakes, and vanilla or peppermint extract if using.

Using a small cookie scoop, drop small mounds of cooked mixture onto a sheet of wax paper.

When cooled, store in an airtight container.