This recipe for No-Bake Fudge Cookies is a long-time family favorite of ours.  I first posted this recipe back in 2012 and have made them probably hundreds of times.
If you've ventured into the realm of no-bake cookies, you probably have noticed that most recipes call for peanut butter.  However, these are fudgy yummy goodness without peanut butter.
I originally posted this recipe with a variation I love, which was mint.  If you are a lover of mint as well, you'll want to check out my Frosted Peppermint Shortbread Cookies, Mint Hot Chocolate, Mint Chocolate Protein Shake, and my Grasshopper Mint Truffles
But I wanted to update this recipe to my mom's original recipe in all its glory.  Fudge.
She always called these cookies Fudge Kisses.  But I think that name causes confusion with that popular kiss candy.
You'll note that this recipe has flaked coconut in it.  The coconut provides a chewy texture and amazing flavor.  If you hate coconut, I suppose you could omit it but you should up your oatmeal by 1/2 cup.
Cooking Time for No-Bake Fudge Cookies
It is SUPER important to cook your chocolate mixture (before you add the oatmeal and coconut) long enough.  I'm unable to give you a specific time for cooking your chocolate mixture because it has to reach the soft-ball stage (in candy-making terms).
The soft-ball stage is technically between 235 and 245 degrees.  You'll want to cook this mixture until you are before soft-ball stage, at about 230 degrees.
You can test the temperature with a candy thermometer, infrared thermometer, or meat thermometer.
Old-Fashioned Candy Test
Personally, I prefer to test for doneness the old-fashioned way.
To do this:
Take a small bowl of very cold water.
Drop a small amount (scant teaspoon) of the mixture into the cold water.
Try to roll the mixture around in the water and pick it up with your fingers.
If you are able to pick it up and the "glob" flattens in your fingers when out of the water, you are roughly at soft-ball stage.
For the purposes of this recipe, your mixture is done cooking.
At this point, you'll want to remove the saucepan from the heat and add your oatmeal and coconut flakes.
Below are some old pictures I put up in the original post to show you what you want to start testing for doneness.
The first picture below is when the mixture is in the early stages of cooking. It is very thin and not ready to start testing for soft-ball stage.  If you were to test the hot mixture, you'd find the chocolate would spread apart very thinly and you would not be able to pick it up out of the water.
When the mixture begins to look like the photo below it is getting close but probably needs a few more minutes.  Still, you can start testing it to make sure you don't miss your window and overcook the mixture.
Whether you overcook them or undercook them, they taste delicious.  You'll know you overcooked them if they are drier and crumble.  They are undercooked if they do not set and they remain gooey.
No matter what, they are delicious!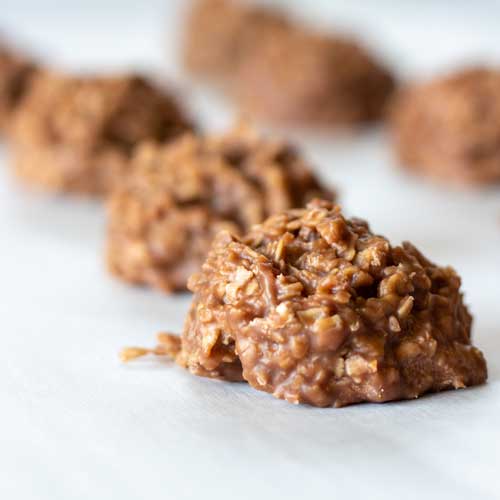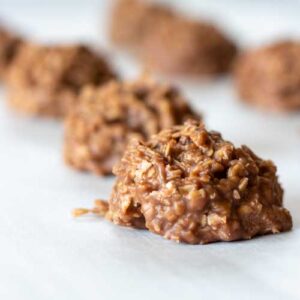 No-Bake Fudge Cookies
No-Bake Fudge Cookies are a long-time family favorite. No peanut butter in these puppies and there is coconut included. You can omit the coconut if you prefer, just up your oatmeal by 1/2 cup.
Ingredients
1

c.

granulated sugar

½

c.

butter

salted

3

tbsp.

cocoa powder

⅔

c.

milk

3

c.

oatmeal

quick

½

c.

coconut flakes

unsweetened
Instructions
In a medium saucepan, mix together the sugar, butter, cocoa powder, and milk.

Stir and heat over medium heat until the mixture is just before the soft-ball candy stage (230 degrees).

Immediately remove from heat and stir in oatmeal and coconut flakes.

Using a small cookie scoop, drop small mounds of the cooked mixture onto a sheet of wax paper.

When cooled, store in an airtight container.
Nutrition
Serving:
1
g
Calories:
216
kcal
Carbohydrates:
27
g
Protein:
3
g
Fat:
12
g
Saturated Fat:
3
g
Monounsaturated Fat:
2
g
Cholesterol:
13
mg
Sodium:
77
mg
Potassium:
68
mg
Fiber:
2
g
Sugar:
17
g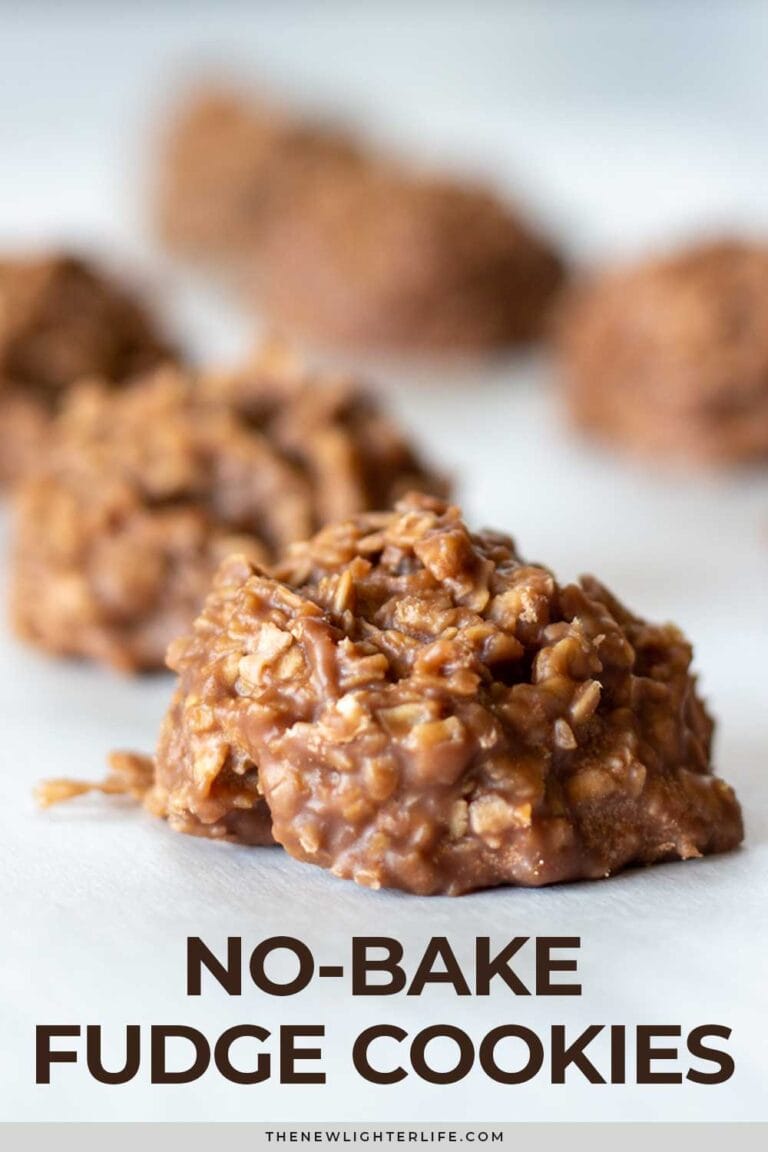 Enjoy!