You all probably didn't realize I was famous.
Surprised?!
Well, I'm famous.
Okay, not really.  But I did get my Grandma's stolen no-bake cookie recipe published in the Farmhouse Kitchen Gooseberry Patch cookbook.
They are a favorite in our family.
I remember making these cookies with my Mom when I was VERY little.  I was so little that I had to stand on a stool.  Even with the stool, it was a challenge to reach the bowl.
The cookies came into the family over a "Party Line" that my Grandma had to share with the neighbors.  Since they lived so far from town they didn't yet have their own dedicated phone line, thus the party line.
My Grandma was a little nosy inquisitive and heard the line ding the right number of times to signal a call for the neighbor's house.  She picked up the receiver and eavesdropped on the call.
** By the way, up until a year ago, I believed the story as it was published in the cookbook – that it was an accident.  Turns out I was wrong and the eavesdropping was intentional.  Naughty grandma!  I love you regardless.
Anyway, there was also a plunger on their phone, (which she conveniently left down so they couldn't hear her breathing – sneaky).  The story is that the call was to one of the neighbor ladies (who was a great cook) and she was giving a recipe out to someone on the other line.  My grandma caught the ingredients and instructions but not the name of the recipe.
So for over 60 years, these have been called Telephone Cookies by our family.  What is funny to me is that we totally could have come up with something different like "Peanut Butter Coconut Balls" or "Snowball Cookies".  Like really, how hard would that have been!?
My sister has been annoyed with the name Telephone Cookies for years but it just seems like we shouldn't call them anything else after so long.  I tried renaming them but just can't do it.  This past weekend, we brought a plate over to a friend's house and I heard our friend ask my 10-year-old what they were.  Her response, "Telephone Cookies."  So the name sticks and they can try to rename them with their children, I failed.
For years, these have been mixed by hand.  Just this year, I realized the kitchen aid mixer is my best friend.  It is WAY easier to mix in there.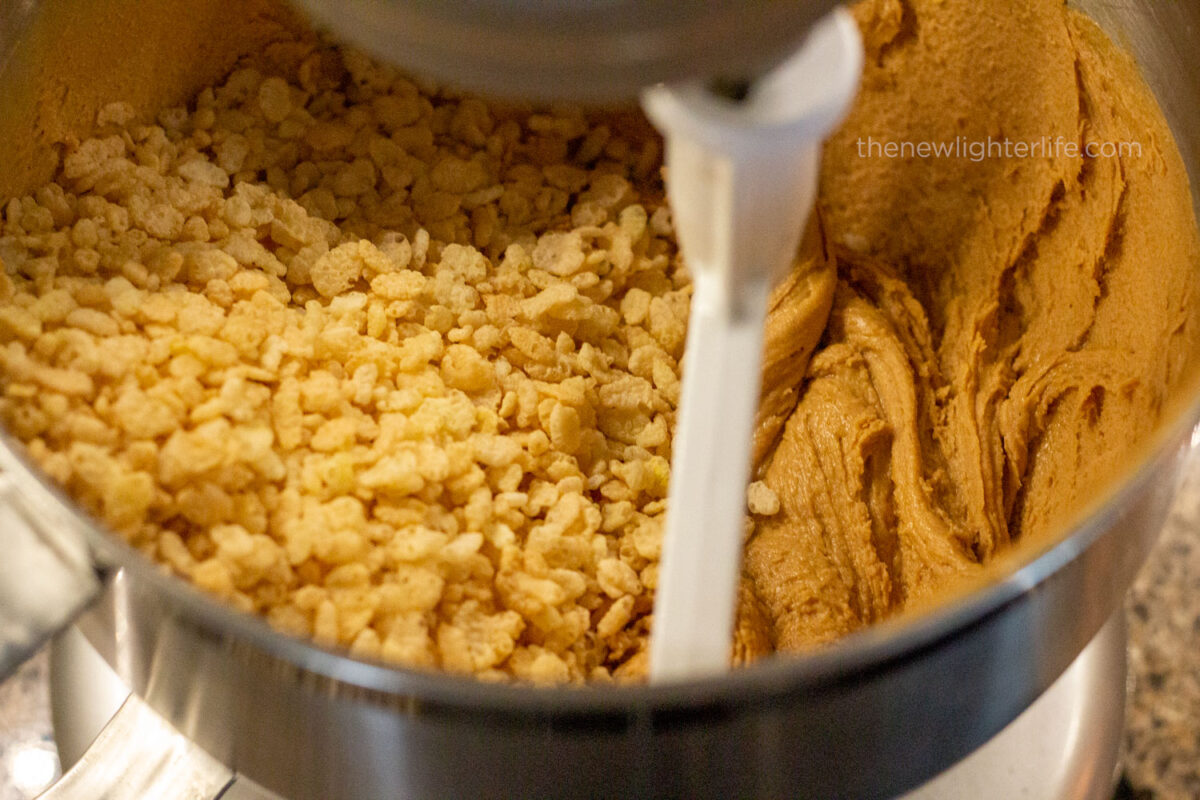 You can also use a cookie scoop and refrigerate your scooped dough.
Just make sure you roll them into balls before you coat them in the icing and coconut.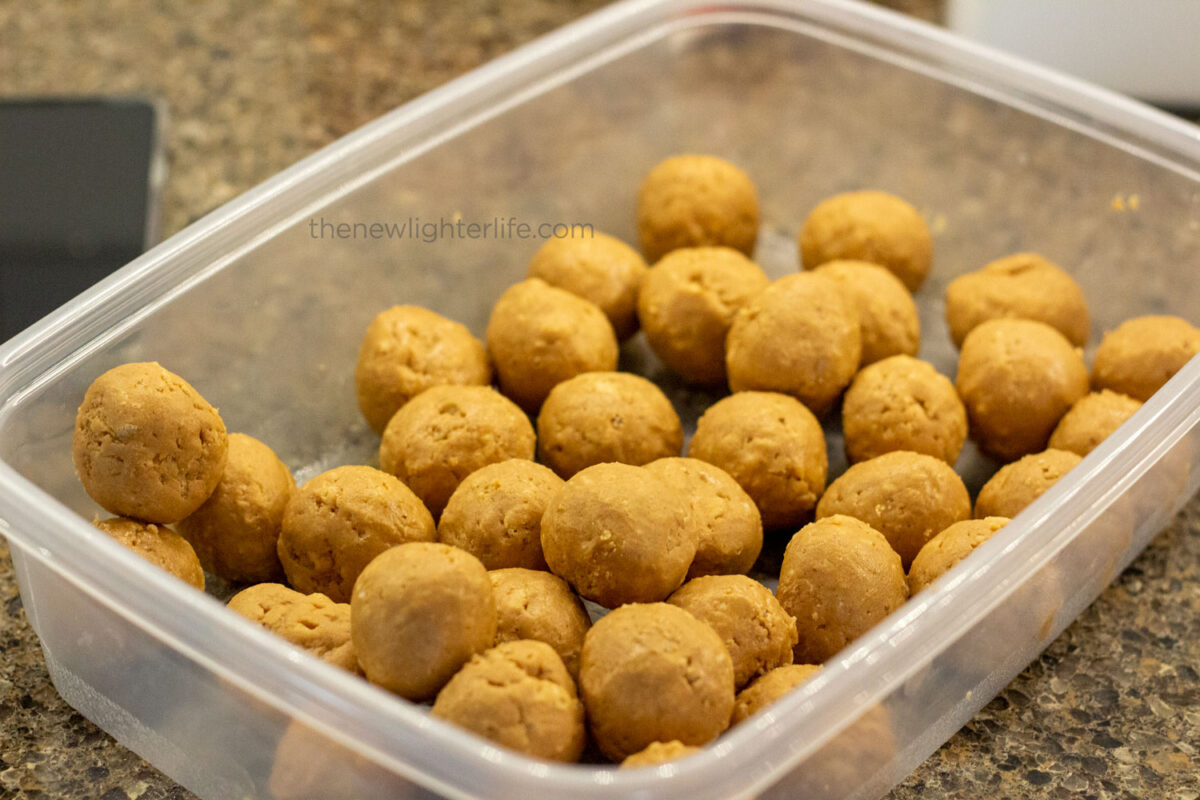 They are scrumdiddlyumptious and best right out of the freezer.
 Please at least chill them – they are so different at room temp and not as tasty.
I like them rolled in the powdered sugar frosting, coated with flaked or chipped coconut.  They are also great without any frosting at all or coated in chocolate completely.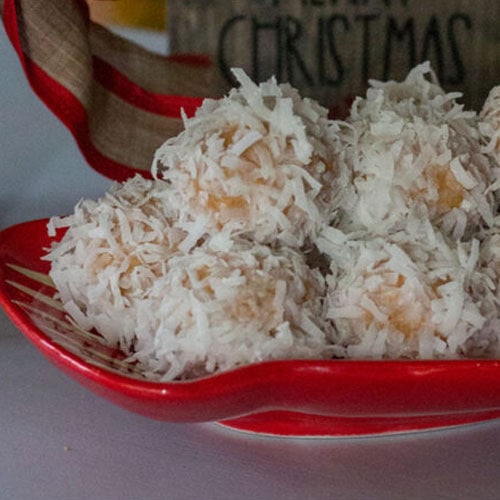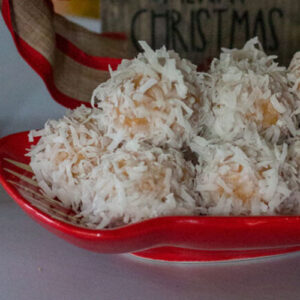 Ingredients
Cookies
1

cup

powdered sugar

2

tbsp.

butter

softened

1

cup

peanut butter

2

cups

Rice Krispies
Glaze
1

cup

powdered sugar

3

tbsp.

milk

1 1/2

cup

flaked coconut
Instructions
To Make Cookies
Mix the sugar, butter, and peanut butter until smooth and creamy.

Mix in the rice krispies.

With a cookie scoop, scoop cookies into plastic container and refrigerate for 20 minutes.

Remove from refrigerator and shape into balls.
To Make Frosting & Assemble
Stir together the powdered sugar and milk.

Add more milk if desired.

Coat cookies in glaze and roll in flaked coconut.

Refrigerate or freeze until ready to serve.
Notes
These no-bake freezer cookies have been made in my family for 60 years.  They have a funny story behind the funny name.
Nutrition
Serving:
1
g
|
Calories:
166.67
kcal
|
Carbohydrates:
18.12
g
|
Protein:
3.33
g
|
Fat:
9.91
g
|
Saturated Fat:
3.9
g
|
Trans Fat:
0.06
g
|
Cholesterol:
3.28
mg
|
Sodium:
18.67
mg
|
Fiber:
1.2
g
|
Sugar:
13.84
g
|
Vitamin A:
4.53
IU
|
Vitamin C:
2.08
mg
|
Calcium:
1.03
mg
|
Iron:
6.56
mg