Jump to recipe
If you love peppermint, you are in for a treat today!  
I'm hoping to post a lot of my favorite holiday treats this week and next so stay tuned and consider subscribing.  
But for today, I'm sharing a super delicious frosted peppermint shortbread cookie.
These are not your average shortbread.  There are little candy bits baked into the shortbread, peppermint extract, and candies sprinkled on top…you can't miss the peppermint. 
The dough is very quick to mix up and not fussy.  I measured out 1 tablespoon balls to make my cookies uniform in size.  Bake them until just a very very light brown on edges.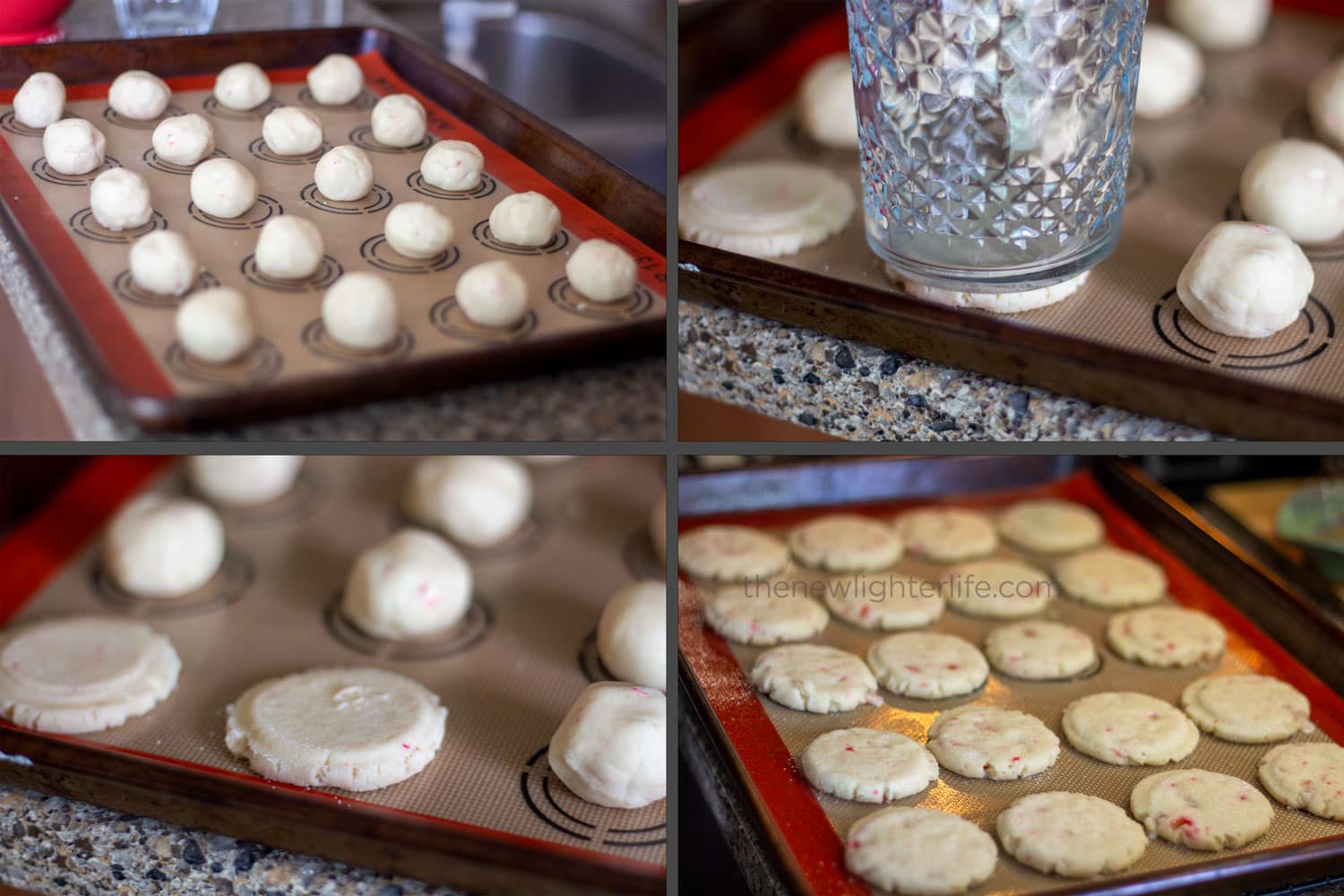 Once they are baked you will want to do a quick coat of frosting on the tops.  I let the cookie kiss my frosting and flipped them over to dry.  
Make sure you sprinkle your crushed peppermint candy/candy canes on top quickly before you frosting glaze sets.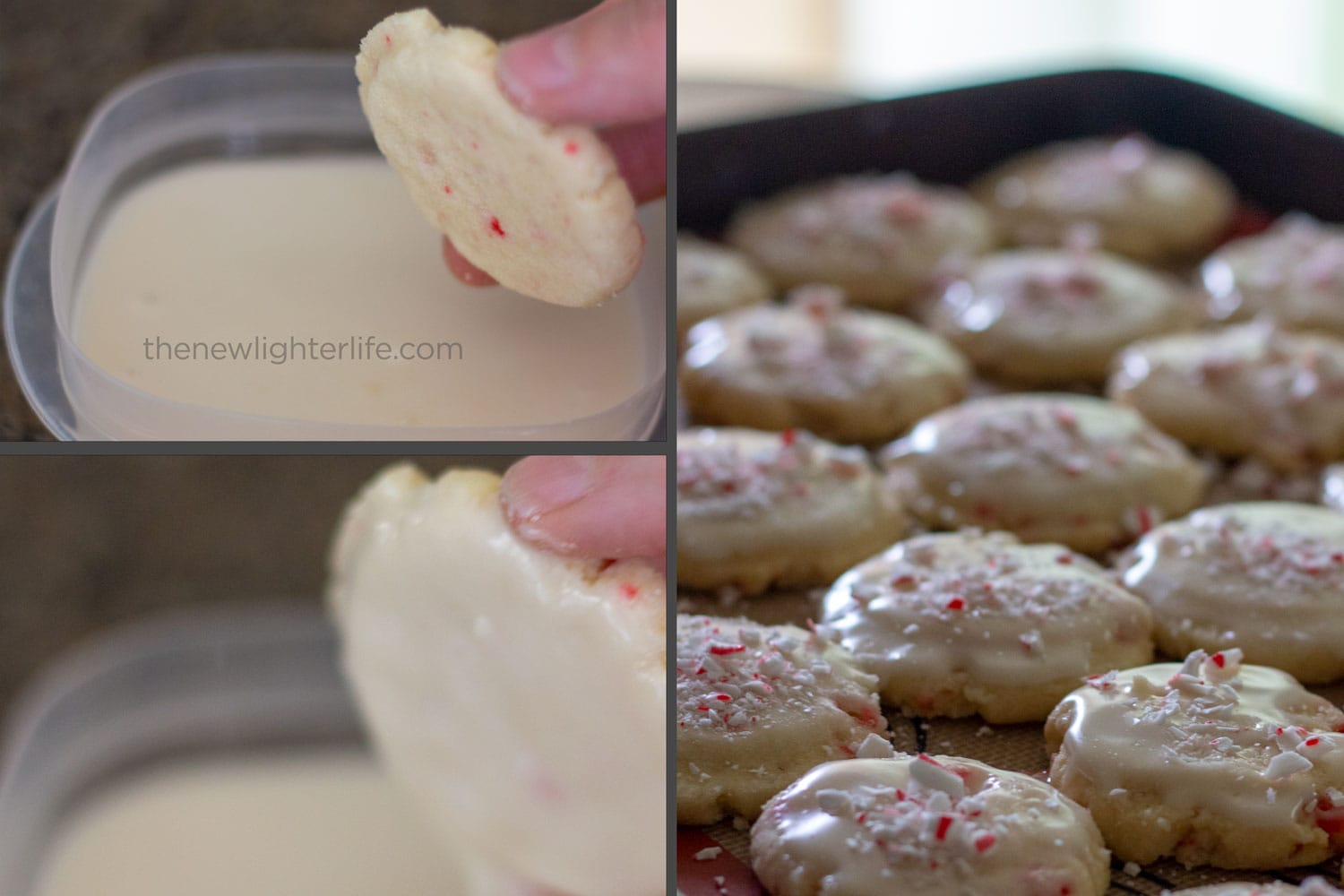 These cookies are great for a cookie exchange.  Not only are they delicious, they are so pretty so you can feast with your eyes before your tastebuds.
Frosted Peppermint Shortbread Cookie Recipe
Save to BigOven
© 2021 Copyright The New Lighter Life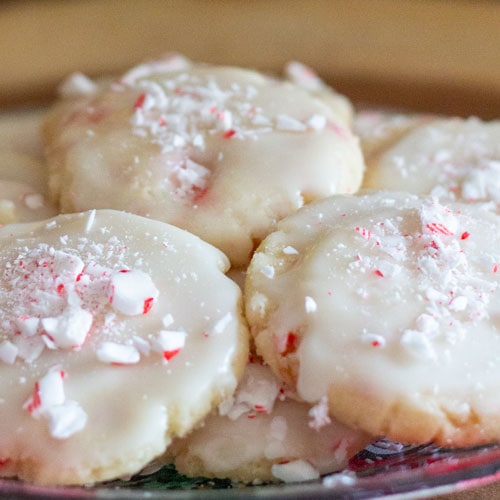 Notes
These shortbread cookies have a great peppermint flavor and are even better the 2nd day.

Ingredients
Cookie
1 cup butter
1/4 cup sugar
1/4 cup crushed peppermint candies/candy canes
1 tsp vanilla
2 cups flour
1/4 cup cornstarch
Frosting
1 cup confectioner's sugar
1/2 teaspoon vanilla extract
1/4 teaspoon peppermint extract
1 to 2 tablespoons of milk
crushed peppermint candies/candy canes
Instructions
To Make Cookies
Mix together the butter and sugar.
Add peppermint candies and vanilla.
In a separate bowl, mix flour and cornstarch together.
Add flour/cornstarch mixture to mixing bowl, thoroughly combine.
Drop cookie dough on a cookie sheet by the tablespoonful.
Roll dough into a ball and press flat with a glass dipped in granulated sugar.
Bake at 350 degrees for 10 to 12 minutes.
To Make Frosting
In a shallow bowl, mix confectioner's sugar, vanilla extract peppermint extract and milk.
Add enough milk to have a consistency to dip/glaze cookie tops.
To Assemble
Dip tops of cookies in frosting and flip over to dry, (frosting on tops).
Shortly after dipping cookies, sprinkle with crushed peppermint candies/candy canes.
Nutrition Facts
Frosted Peppermint Shortbread Cookie Recipe
Serves: 34 cookies
Amount Per Serving:

1 cookie

Calories

104.69 kcal

% Daily Value*
Total Fat

5.89 g

9.1%
Saturated Fat

3.68 g

18.4%
Trans Fat

0.22 g

Cholesterol

14.42 mg

4.8%
Sodium

1.49 mg

0.1%
Total Carbohydrate

12.33 g

4.1%
Dietary Fiber

0.28 g

1.1%
Sugars

5.69 g

Protein

0.89 g
Vitamin A

5.11 %

Vitamin C

0.0 %

Calcium

0.4 %

Iron

0.75 %
* Percent Daily Values are based on a 2,000 calorie diet. Your daily values may be higher or lower depending on your calorie needs.