Growing up, my mom frequently made this coffee cake.  I loved it as a kid and have been making it since having a home of my own.  I think it's one of those timeless recipes.
When we moved into the camper, I got rid of nearly ALL my cookbooks.  One of the cookbooks had the recipe for this delicious coffee cake.
The coffee cake was the only recipe I ever made from the cookbook and so I copied the recipe and purged my old trusty red-checkered Better Homes & Garden cookbook.
But I'd made a fatal error.  Okay, maybe not *fatal*, but I was actually pretty bummed when I found out that I'd lost the recipe somewhere in the move.
I asked my mom for it, but something was off in the measurements she gave me because it didn't turn out like her old trusty one.
I even tried to find a substitute coffee cake, but it was nowhere near as good as this one.
No amount of Google searching would bring up the right recipe.
Thank God for Facebook friends!  After sending out a plea via Facebook, my friend, Kerri, came to my rescue and typed up the recipe for me.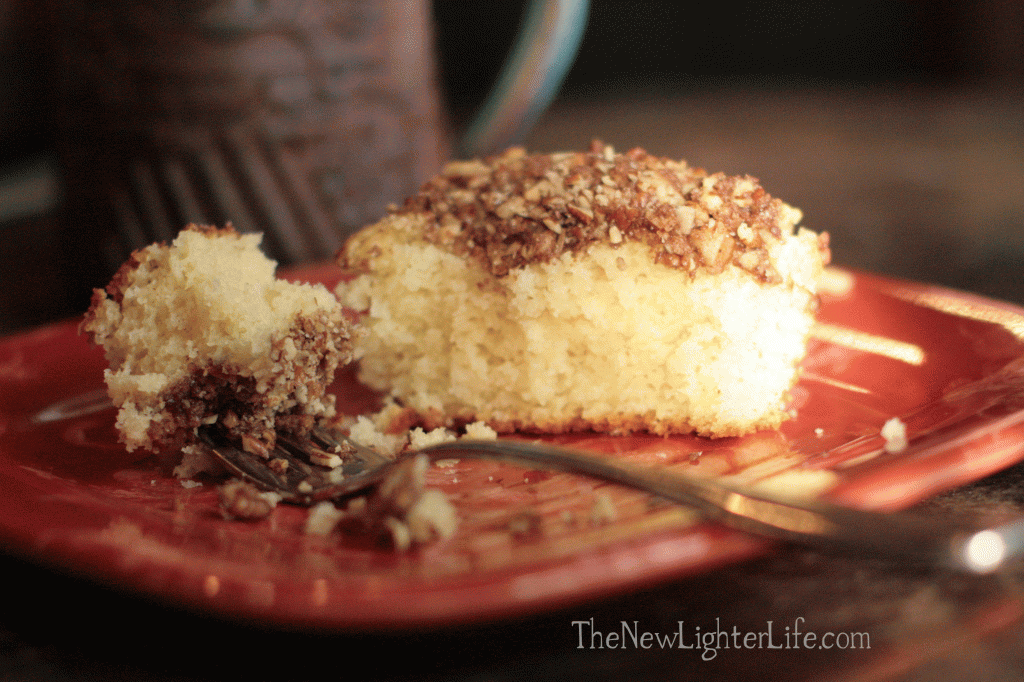 So here you have it friends, THE Cinnamon Streusel Coffee Cake recipe.
It's sweet but not overly so I don't feel guilty feeding it to my kids for breakfast.  It's pure comfort food and we all LOVE it!
It's pretty painless to make too, I just dump all the batter ingredients into a bowl.  Mix, pour, and mix the streusel topping and sprinkle on top, and bake.  Love simplicity!
NOTE:  The original recipe called for adding either 3/4 c. raisins or semi-sweet chocolate chips to the cake batter, I've never done so but you may want to give it a try.
I usually double this recipe and bake it in a 9 X 13-inch pan.  It is best served warm with a dab of butter on top.  Mmmmm!
 Ingredients
1 1/2 c. flour
3/4 c. sugar
2 tsp baking powder
1/4 tsp salt
1 egg
1/4 c. butter, melted
1/2 c. milk
2 Tbsp brown sugar
1 Tbsp flour
1 tsp cinnamon
1 Tbsp butter
1/2 c. nuts, chopped
Directions:
In a bowl, combine the 1 1/2 cup of flour, 3/4 cup of sugar, salt, egg, milk, & melted butter. Mix well.
Pour mixture into a greased 9-inch square baking pan.
To make the streusel topping: In a small bowl, combine 1 Tbsp flour, 2 Tbsp brown sugar, cinnamon, 1 Tbsp butter, and chopped nuts.  Sprinkle topping on top of cake batter.
Bake at 375 degrees for 30 minutes or until a toothpick inserted near the center comes out clean.  Serve warm.