Today, I have a super cute freebie for you all. I'm sharing my latest printable cookbook category dividers with a cover and back to match.
Last year, I shared some free printable covers. But as I've been refining my cookbook, I wanted to add cute matching graphics for the category divider pages.
Before I get to that though, I have quite a few posts about cookbook creation that you may be interested in looking through. Below is a complete list of cookbook posts I've published so far:
I have even more ideas that I'd like to post for cookbook creation. Please submit questions or suggestions because I'd love to help you all have the tools you need for your cookbook. Either way, you'll want to stay in the know, so I invite you to subscribe!
But let's get back to this cover and dividers.
Details on the Printable Cookbook Category Dividers
These watercolor design dividers are muted and classy.
The most common categories are included for you all. Those categories are:
Breakfast & Brunch
Drinks & Beverages
Bread
Soup & Stew
Salad & Dressing
Side Dishes
Main Meals
Dessert
Canning & Preserving
How to Download
To download these dividers, just click here.
The pdf file should automatically start downloading to your computer's download folder.
However, if you have any pop-up blockers set for your web browser, you may need to shut the blocker off temporarily.
To Use These Dividers
To keep the formatting correct on this cover and dividers, I created the document in Adobe.
One of the reasons I like using Microsoft Word for my cookbook template is that it is very easy to manipulate the margins and print settings. This is not so easily done in Adobe.
The resulting print from Adobe is very small with wide margins.
I'm working on making this actual print more consistent on these but for now, I have some details and workarounds to print them for your specific cookbook size.
If you decide to have a professional print shop, such as OfficeDepot, print and bind your cookbook, I suggest you provide them with the pdf file so they can sort out the sizing and assembly for you.
For you DIYers, see below…
Letter-Size Print Details
To print on a full sheet of letter-sized paper (8.5″ x 11″), I suggest you print each page, single-sided on cardstock.
To use them in this size for your cookbook, a 3-ring binder is also great for binding. You may want to use clear sheet protectors to tuck your cover and category pages into.
1/2 Letter-Size Print Details
If your cookbook is half-sized, which is 8.5″ X 5.5″, you will have to do some cutting on the dividers and cover once you print.
I suggest you still print each page on one sheet of cardstock. You will need to custom-scale your print size to be around 50% to 60% of the original size.
Next, you will need to trim your pages down for whatever binding method you select.
If you decide to do a mini 3-ring binder, you can use clear sheet protectors for all your categories and slip your printed cover into the front pocket.
If you are binding your cookbook with the Happy Planner or TUL discs, you just want to trim everything down, assemble, and punch.
Summary
I know I touched on different binding methods in the printing details. But if you want a better explanation of the four most economical ways to bind your cookbook, be sure to check out my post that explains them in detail.
That's it for today with the printable cookbook category dividers! Any other suggestions you'd like to see me discuss, please let me know!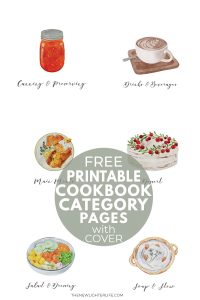 Blessings!