Preparing meals for 6 people in a tiny kitchen is a challenge!  Fitting all that you need to prepare those meals is interesting.  Today I'm sharing with you my spice organization solutions for my tiny kitchen. Every little bit of space you can save is huge!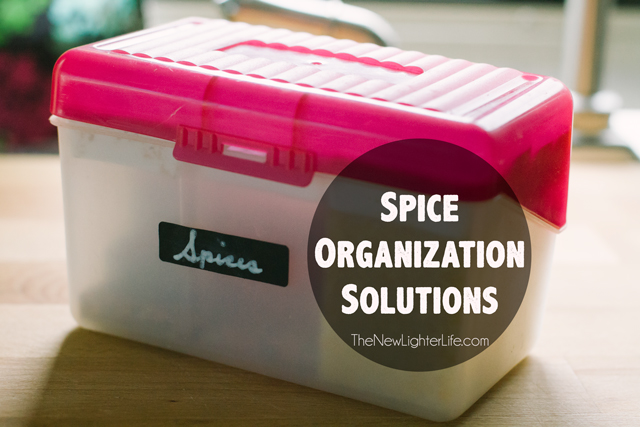 Spice Organization Solutions
Previously I shared about our zero gravity wall-mount spice rack.  It worked great and I loved it but we have so much less wall space in our remodeled '96 Winnebago, I needed to find other spice organization solutions.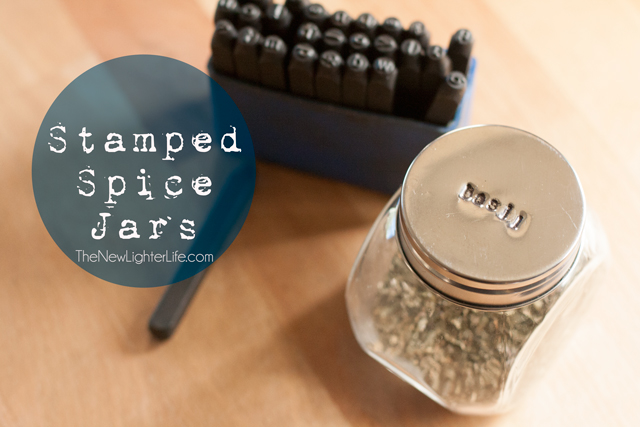 Stamped Spice Jars
I buy bulk spices, even with my limited space.  But what to do with such big quantities of spices?
I bought smaller glass jars for spices I use more frequently.  The large plastic containers I bought the bulk spices in are stored in the back of very inaccessible, deep, narrow cabinet for refilling as needed.
But back to those glass jars…
If you decide to buy jars at Hobby Lobby, wait till glass is 50% off to save quite a bit of money.
The metal punch set came from Pick Your Plum. The deal is over but they do repeat their offerings from time to time. You can also buy a punch kit from Amazon. Mine is 1/8″ tall, to do over, I'd get a bigger punch kit to make the wording more readable.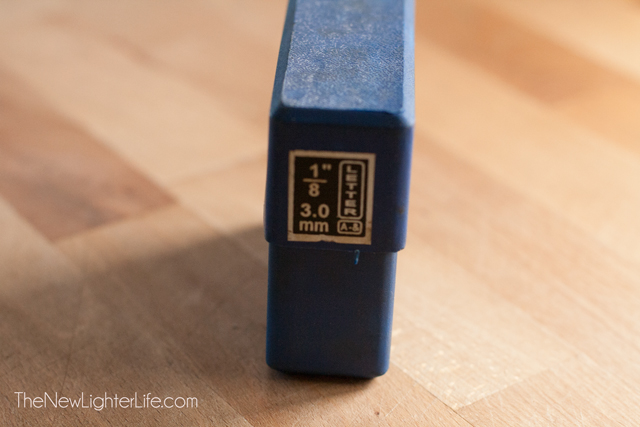 To stamp the lid, I used a block of wood and set the lid on top and firmly pressing it against the wood block. Then I gave 2 HARD taps on the punch with my hammer for each letter.
Some of my lids are not the prettiest for 2 reasons:
I didn't start out using the block to keep the metal surrounding the punched letter from warping.
I didn't hammer hard enough and had to use the punch several more times to get the impression.
Basil turned out the best and that was toward the end of my learning curve on figuring the metal punch process out on my own.
After I punched the name on the lid, I colored the lettering in with sharpie. I let the marker dry and then wiped away the excess with a paper towel. I store these spices snug in a drawer in the kitchen.  I have my other odds and ends spices that fill in the empty space.
On the smaller jars that are not metal, I write the name of the spice on the lid with a sharpie. I tell you, anything to save me from having to search around for the right spice.
Clearly I need to buy several more jars for spices.  But the nearest Hobby Lobby is in Pensacola and we rarely get there But just like every other unfinished project in the camper, it will get done someday. 🙂
Recipe Box Spices
There are spices that I rarely use but I still want to keep. For instance, I had some sprinkles for cookie and cake decorating with the kids. I don't want to take up a bunch of space because I rarely use them and don't need large quantities. I found the most compact way to store these spices was to use a recipe card box and empty TicTac boxes.
To make my Recipe Box Spice organizer, I bought the value pack of TicTacs from the local warehouse store (Sam's Club).
For the labels, I sprayed a sheet of Avery labels (they are the smallest return address labels you can buy # 5267/8167) with chalkboard spray paint.
I'm a sloppy DIYer and the package still has remnants of the chalkboard spray.
To mark my chalk labels, I used a chalk pen which is way less mess than regular chalk.  Bonus on the chalk pen is that the writing doesn't rub off unless it gets wet.
With this recipe box spice organizer, I can fit 12 spices in a very compact space.
That is it friends, the two best spice storage solutions I've found our tiny kitchen.