For over 20 years, I've baked this quick, easy, and super delicious cream cheese danish.  Interestingly enough, I got this recipe from the same friend I got the oatmeal dinner roll recipe from.  Just like that recipe, this one has proven to be a keeper.
Now, can I admit that we've had this for a breakfast dessert for years?!  I don't know, is a danish supposed to be for dessert or breakfast.  But I shamelessly will admit that we have only ever had this cream cheese danish for breakfast.
In fact, this danish is so yummy it is the birthday breakfast request for several family members.  The other popular birthday breakfast request at our house is my homemade cinnamon rolls, and everyone loves my cinnamon streusel coffee cake, so I guess it should be no surprise that we are fans of sweet breakfast treats.
There are just a few ingredients in this danish, and the crescent rolls (a rare buy) are a definite shortcut that's worthwhile.
This recipe is super simple, and the trickiest part is arranging your crescent rolls.
Once you unroll the rolls, you'll want to separate the triangles.
Next, you arrange the triangles with the short side down the center of the baking-sheet, offsetting the ends, like so: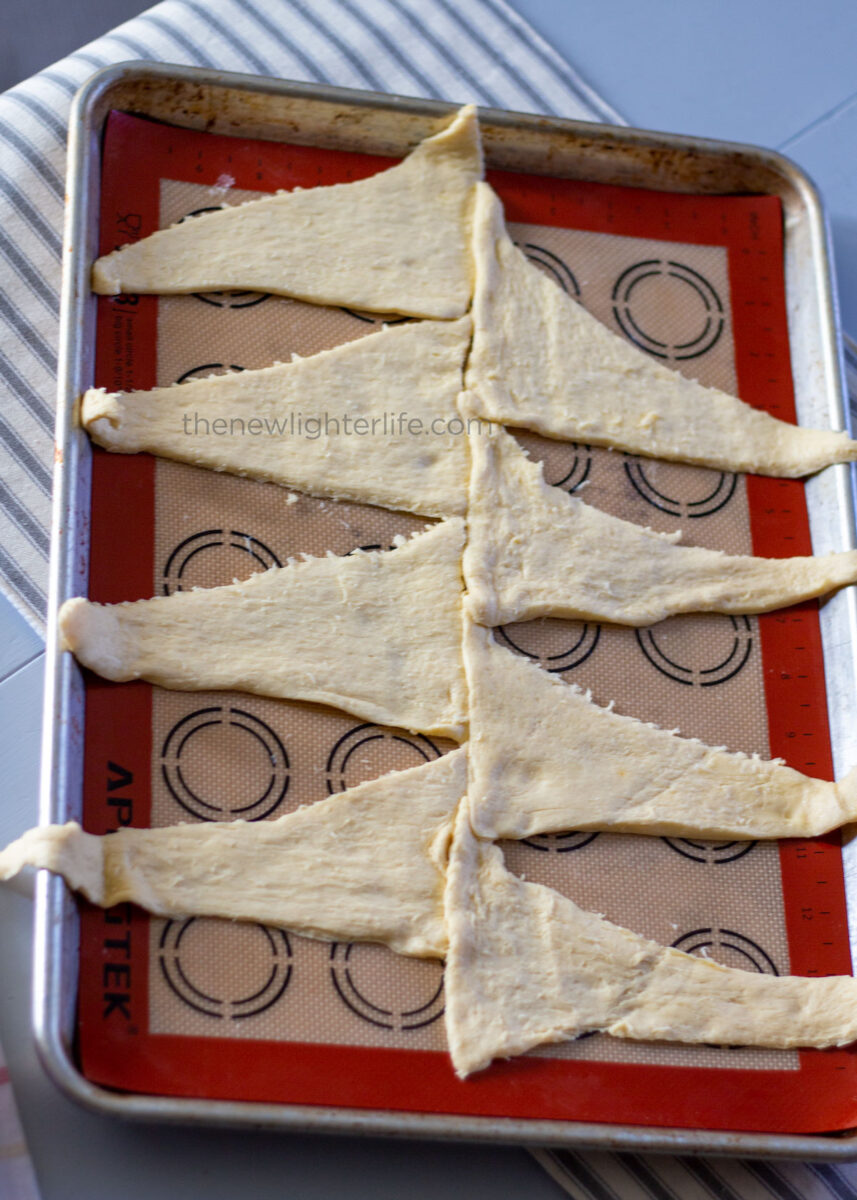 You can use a stand mixer, hand mixer, or spatula to mix your cream cheese batter.  Once that is complete, you'll spread your batter over the top of the middle seam of your dough.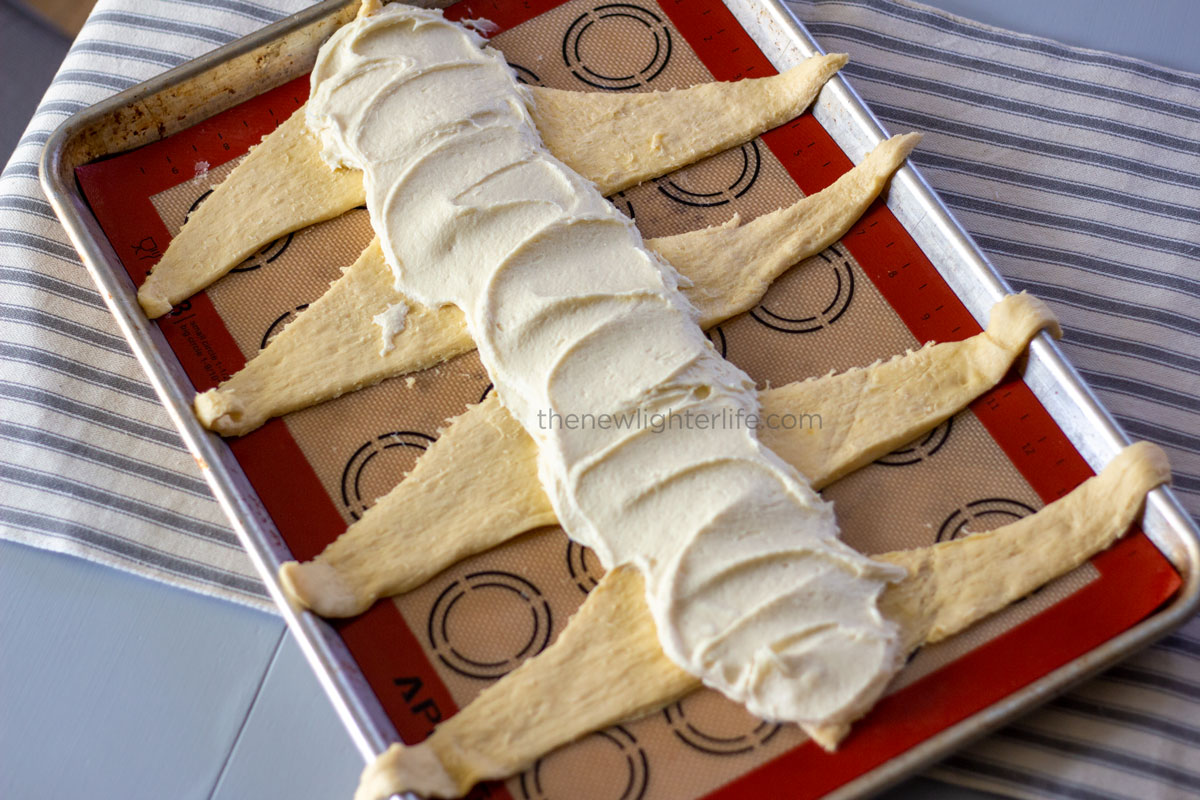 Before you bake the danish, you lightly pull the ends of the "flags" over the center log, and that is it.
You'll want to bake the danish until the crescent rolls are golden brown.
Immediately after baking, I evenly sprinkle with cinnamon/sugar, and it is delightful.  I suppose you could drizzle a simple powdered sugar/milk icing over the top, but I think our time-tested cinnamon/sugar way is perfect.
This danish is best eaten warm, so if there are any leftovers, be sure to refrigerate them and heat them for about 15 seconds in the microwave before you indulge.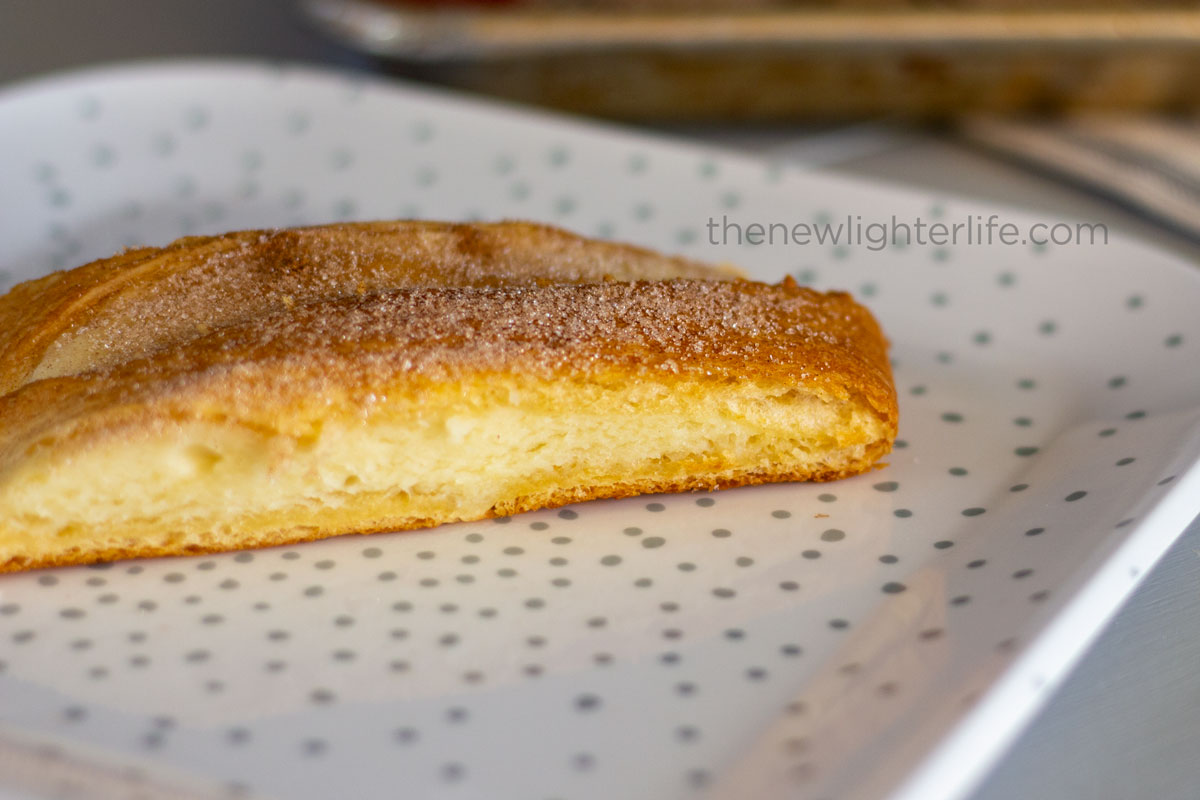 Quick, Easy, & Delicious Cream Cheese Danish
Ingredients
1

8 oz. pkg cream cheese, room-temperature

1/2

cup

flour

1/2

cup

granulated sugar

1

egg

1/2

teaspoon

vanilla extract

1

tube crescent rolls
Cinnamon/Sugar Sprinkle
1/8

cup

granulated sugar

1/2

teaspoon

ground cinnamon
Instructions
Preheat oven to 400 degrees.

Mix cream cheese, flour, sugar, eggs, and vanilla extract until smooth, about 1 minute.

Spray a cookie sheet non-stick spray or line sheet with a silicone mat or parchment paper.

Arrange crescent rolls so that the short side of the triangles are in the center and lined up. Arranged rolls will look like little staggered flags, alternating left/right down the center of the pan.

Pour cream cheese mixture over the center of the arranged crescent rolls.

Pull "flags" over the mixture to cover, leaving some gaps.

Bake for 10 to 15 minutes or until the cream cheese mixture is set.

While baking, mix cinnamon sugar sprinkle ingredients.

Once danish is removed from the oven, sprinkle with cinnamon/sugar.

Best enjoyed warm.