It's that time of year!
The holidays are over and we have some downtime before we can get outside and sow seeds in the garden. Now is a great time to start thinking about your 2021 garden.
There are so many benefits to germinating your own seeds from packets and growing your seedlings versus buying plants ready to transplant from a nursery. I may delve into those benefits in another post. But for today, I want to give you a quick and economical option for pots to start your seedlings in.
Seed propagating kits such as the one I have, are convenient and definitely have their benefits. However, depending on how many seedlings you plan to start, it can be quite costly to buy enough kits.
With very little cost, you can make hundreds of newspaper pots.
You will simply need the following:
A tray for the recycled newspaper pots to sit in and catch the water.
A growing medium such as potting-soil, (which can contain compost, fertilizer, and some soil) or seed starting mix (Garden Betty has a great post about how to make your own mix which is equal parts sphagnum peat moss, perlite, and vermiculite)
Plastic wrap to cover trays for humidity).
Sunlight or grow lights. I have these exact grow lights and they work perfectly to sprout and grow sown seeds.
With these supplies, you'll be well on your way to sprouting hundreds of seeds and growing transplants indoors in time for outdoor sowing in springtime.
So back to the ready-made seed germination set…
I found that the 2.25″ square cells of my trays were just not enough soil to sustain my long-growing seedlings. Some of those seeds need plenty of time to sprout and grow before transplanting such as rhubarb and asparagus. I decided to germinate those seeds directly in the newspaper pots and let them go without worrying about them getting too big and becoming root-bound.
This fall, I also tried my hand a propagation. I read up on geraniums and decided they would be easy to propagate from my porch containers. With my newspaper pots, my cuttings sit in enough soil that there has been a decent amount of plant growth and the geranium cuttings are actually flowering. That is a win for me!
I also recently germinated a bunch of onion seeds and plan to just transfer them to the garden when the time comes.
Years ago, I made round newspaper pots by wrapping newspaper around a can or jar. Today, you can even buy tools to make those circular pots. While these work well, they produce a smaller newspaper pot that is not as sturdy and can be difficult to keep the soil damp. Also, these circular pots cannot be made in advance without taking up much space.
Why Use Newspaper Pots
There are quite a few reasons why you will want to consider making recycled newspaper pots for your seedlings, (and more specifically, this style):
They are inexpensive.
Use a standard-size sheet of newspaper.
Make them ahead of needing them and store them flat.
They are sturdy.
Easily label seedlings by writing on the side with a ballpoint pen.
Plantable and biodegradable.
Recycled materials.
Less dry-out risk and less frequent watering
Prevent disturbing the roots when planted in a garden or containers.
Reduced need for transplanting due to the size of the newspaper pot.
Proper drainage through newspaper material
Tips for Using Newspaper Pots
If you are making newspaper pots to start your seedlings, you can simply cover your pot tops with plastic to immolate a greenhouse effect. To transplant your newspaper-potted seedlings in the garden, just dig a hole in the garden and place your pot in the hole.
How to Fold Newspaper Pots
A very good friend of mine's mom has a gardening channel on YouTube, SuburbanHomesteaderWy. Sandy is a master gardener in Wyoming and shares all sorts of homesteading and gardening advice on her channel, (check out her Gardening Together series). In rummaging through her channel, I came across a great video explaining how to make these very same pots.
If you prefer a printable, I created an instruction sheet that you can access by clicking, here.  In it, I illustrate step-by-step, how to make newspaper pots.
You can also see more photos of making a pot below.
NOTE: One of these sheets is used for a pot.
The printable instructions are pretty self-explanatory.
The picture below shows the final steps of making the pot, (see steps 12 & 13).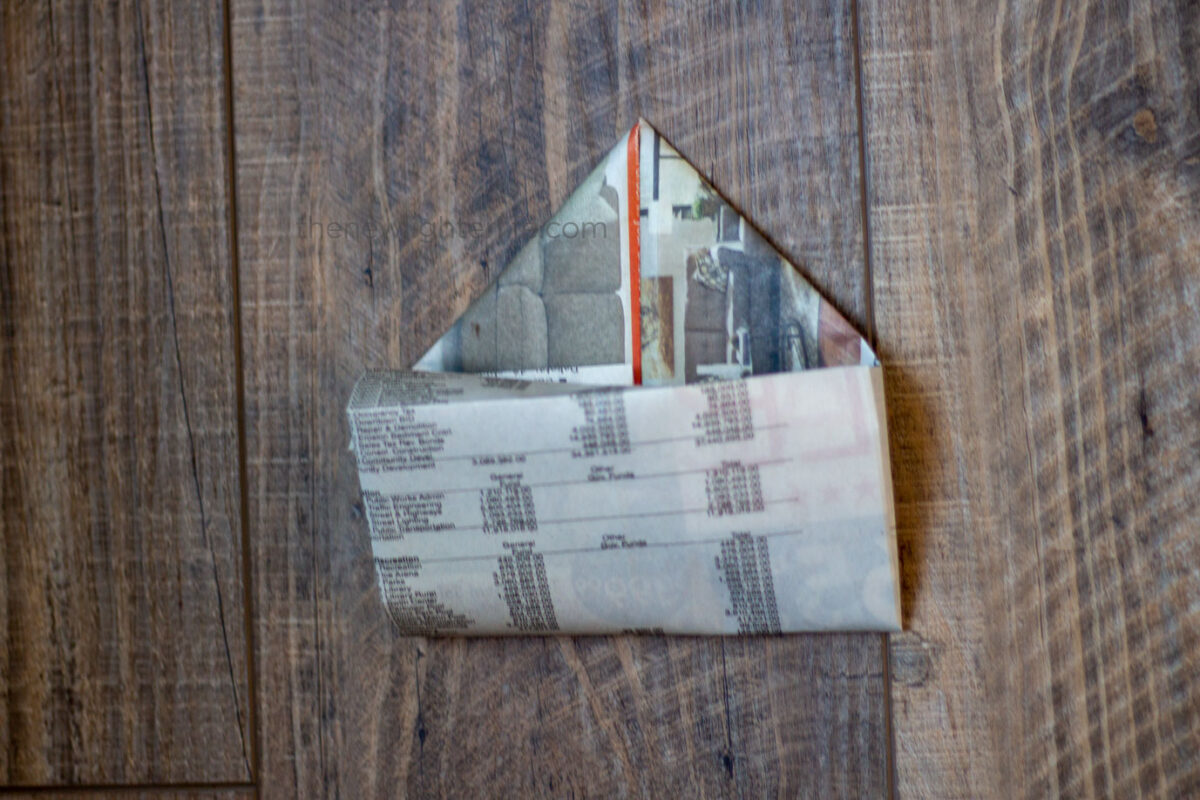 Below is just part of my stash of newspaper pots.
When you are ready to use the newspaper pot, you can write the name of your plant/seedling on the side. Sandy and I both recommend you use a ballpoint pen.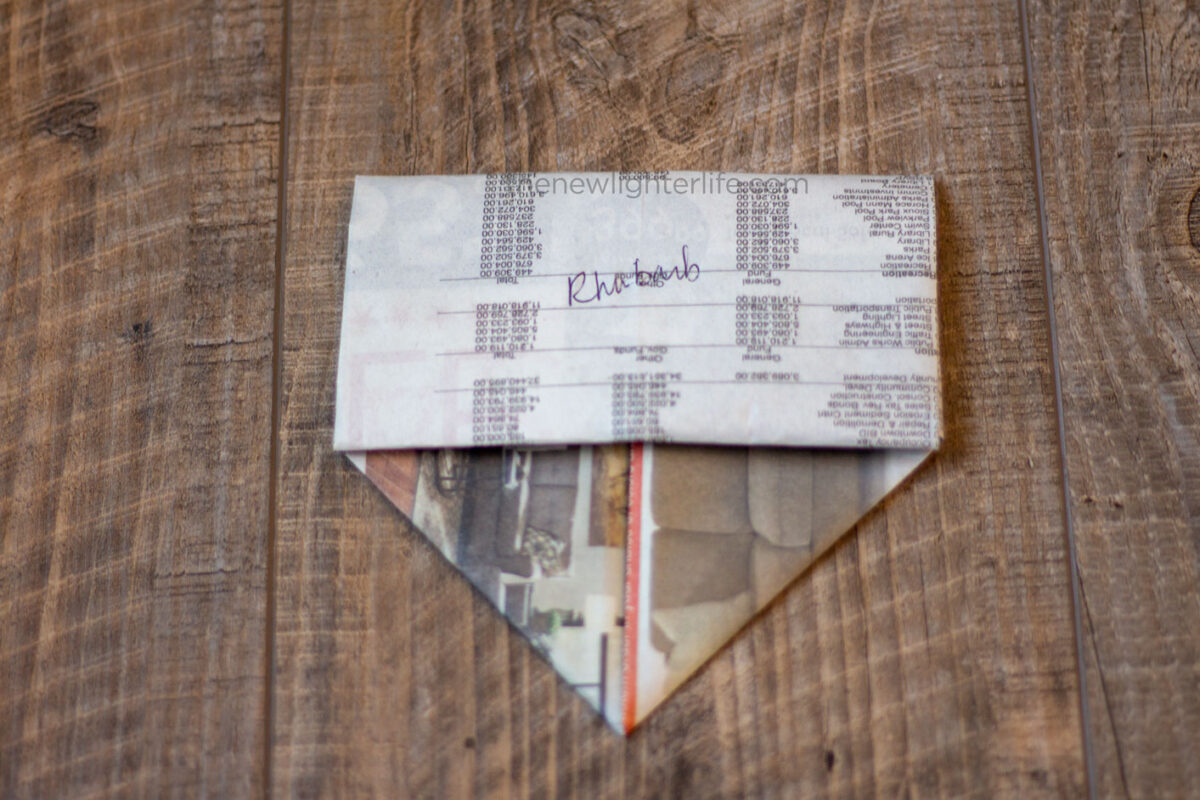 When you open the pot, part of that triangle tip will naturally move to one side of the pot.
This is the view from the top down.
For this tray, I transplanted some rhubarb seedlings (that are a little worse for wear) and some of my geranium cuttings.
Happy planting!