Jump to recipe
I do believe I have you guys covered as far as hot chocolate recipes go!
First Ellie showed you how to make hot chocolate without powdered milk.  Next it was a gourmet hot chocolate ~ mint edition.
Today, I have my Mexican Hot Chocolate recipe.  Seriously, we live in San Antonio now…so it was bound to happen!
It is delicioso!  But in the interest of full disclosure, my kids don't care for this one.  Rest assured they are normal kids and never heard of cinnamon in hot chocolate till this year.
Now if you are not into homemade,  you can buy Abuelita's Mexican Hot Chocolate in the grocery store.
All you need to do is heat the Abuelita chocolate with milk and sugar.  It's yummy and perfect for a crowd!

Mexican Hot Chocolate Recipe
Save to BigOven
© 2021 Copyright The New Lighter Life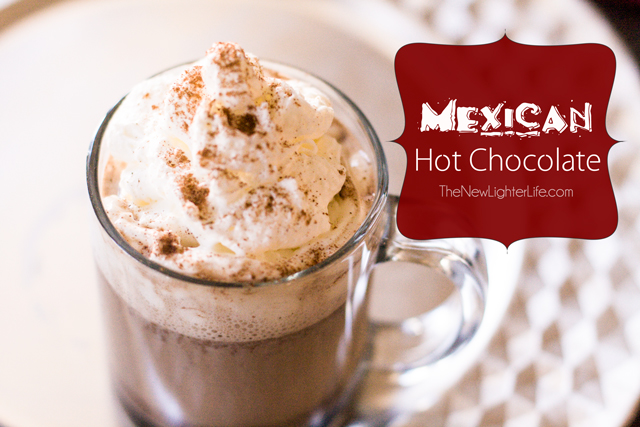 Ingredients
1 cup milk
1 1/2 tablespoon sugar
2 teaspoon cocoa powder
teeny pinch of salt
1/2 teaspoon ground cinnamon
1 pinch chili powder (or cayenne if you like heat)
whipped cream
Instructions
Heat the milk in a cup in the microwave for 1 1/2  to 2 minutes.
Stir in the sugar, cocoa powder, salt, cinnamon, & chili powder.  Top with whipped cream.
Nutrition Facts
Mexican Hot Chocolate Recipe
Serves: 1 person
Amount Per Serving:

1 cup

Calories

233.25 kcal

% Daily Value*
Total Fat

8.46 g

13%
Saturated Fat

4.85 g

24.3%
Trans Fat

0.0 g

Cholesterol

24.4 mg

8.1%
Sodium

258.13 mg

10.8%
Total Carbohydrate

33.66 g

11.2%
Dietary Fiber

2.07 g

8.3%
Sugars

31.14 g

Protein

8.46 g
Vitamin A

12.77 %

Vitamin C

0.06 %

Calcium

29.42 %

Iron

3.99 %
* Percent Daily Values are based on a 2,000 calorie diet. Your daily values may be higher or lower depending on your calorie needs.