Howdy, fellow campers! We finally camped in our RV for the first time this summer and I figured it was high time for me to share my RV meal planning tips and free printable meal plan template. I firmly believe that a well-planned camping meal plan can make all the difference in your trip. With a little preparation and creativity, you can move your focus off of that never-ending question of, "What's to eat?" and go on enjoying your camping activities. Today, I'll be sharing with you my top tips and tricks and a printable meal plan template for you to use.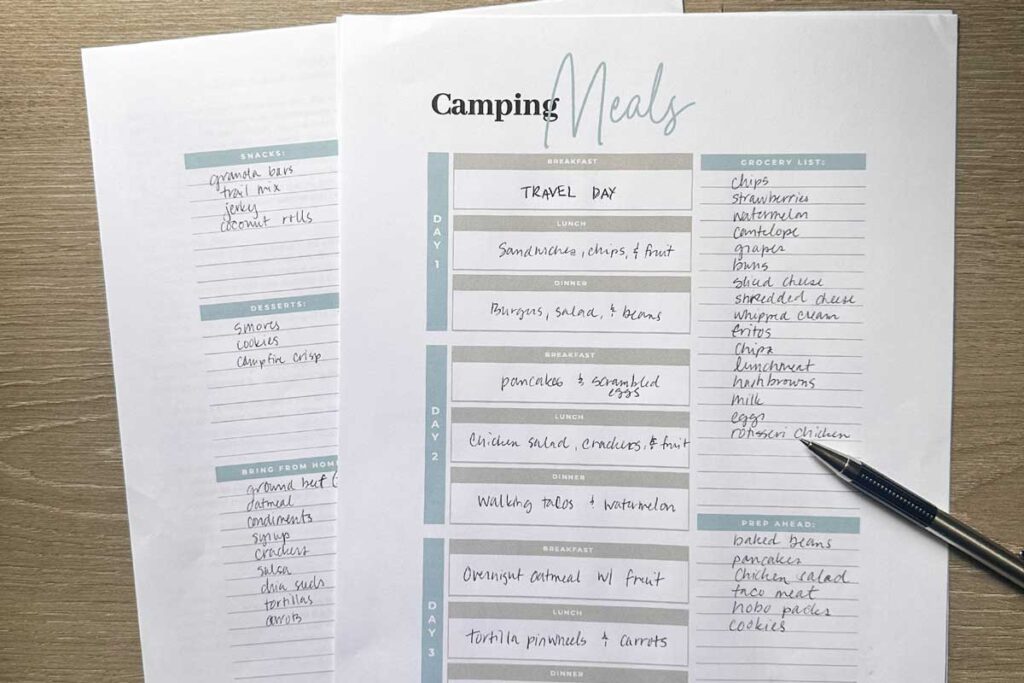 The Importance of a Well-Planned Meal Menu
Before we dive headfirst into planning your RV meal planning, let's take a moment to explain why it's so important to have a well-thought-out camp menu. For starters, the food you eat on your camping trip can directly impact your energy levels and overall camping experience. A nutrient-rich meal plan will ensure that you have the energy to tackle all the outdoor activities you have planned.
Additionally, a well-planned camping menu can save you time, money, and stress. I don't know about you, but I hate not having a plan and winging meals. By planning ahead, you can efficiently shop for groceries, pack your supplies and avoid the dreaded last-minute scramble for meal ideas. Plus, knowing what you'll be cooking each day means you can focus more on enjoying your camping trip and less on meal prep.
Lastly, a thoughtfully planned menu allows you to adjust to the tastes and dietary needs of your family and friends. With a little creativity and customization, you can create a camping meal plan that everyone will love and enjoy.
Factors to Consider When Creating a Camping Meal Plan
When it comes to creating your plan, there are several factors to take into account. Here are some key considerations to keep in mind:
The size of your camping party: The number of people you're cooking for will determine the quantity of food you'll need to pack and prepare. Make sure to account for everyone's needs and accommodate preferences if possible when planning.
The duration of your trip: Your meal plan should be tailored to the length of your camping trip. Be sure to have enough meals and snacks planned for each day you'll be away.
Cooking equipment and facilities: Your available cooking equipment and facilities will impact the types of meals you can prepare. Plan your camping menu based on the cooking methods and tools you'll have access to, such as an RV kitchen, pressure cooker (my favorite time saver at home and while camping), camp stove, grill, or open fire.
Food storage and preservation: Consider how you'll store and preserve your food during your camping trip. With most RV refrigerators, space is limited so consider how to reduce what needs to be refrigerated or your access to grocery stores on your trip.
Camping activities: Your camping activities can influence the types of meals you'll need to plan. If you'll be hiking, fishing, or doing other energy-intensive activities, plan for meals that provide ample nutrients and energy.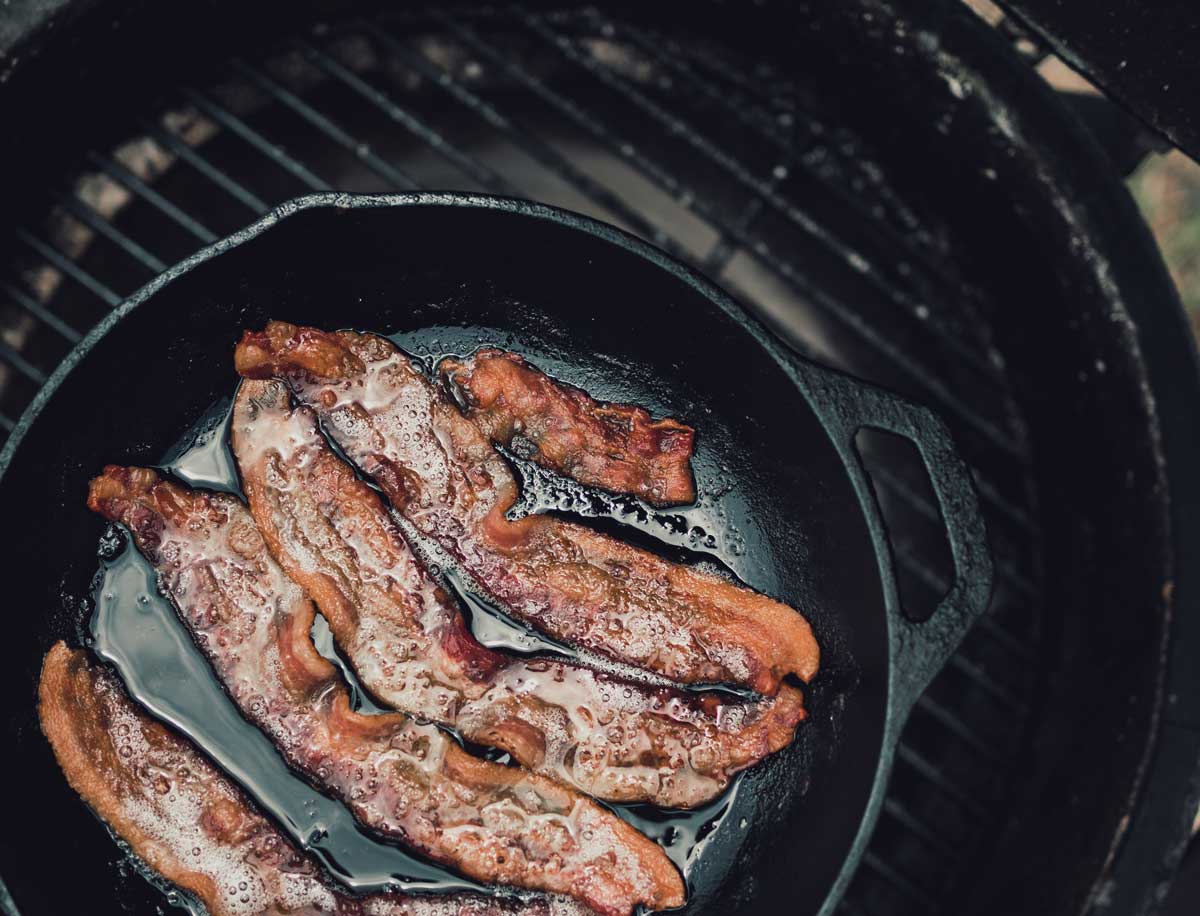 Essential Camping Meal Plan Categories
A well-rounded meal plan should cover all the essential meal categories to ensure you have a variety of options for your trip. Here are the key categories to include in your meal plan:
Breakfast
Lunch
Dinner
Snacks
Desserts
I will tackle all five of these categories in separate posts but you'll likely want to plan for all of these major meal categories
RV Meal Planning Tools & Resources
To make your camping meal planning process easier, there are several tools and resources you can use. Here are some helpful resources to consider:
1. Meal Plan Template
I've created a 2-page Camping Meal Plan Template for you to use. This template includes places for breakfast lunch and dinner over the course of a 6-day trip. You'll also see a section for snacks, desserts, groceries, items to bring from home, and meal prep ahead section. This template helps to get it all down so you have a complete handle on meals.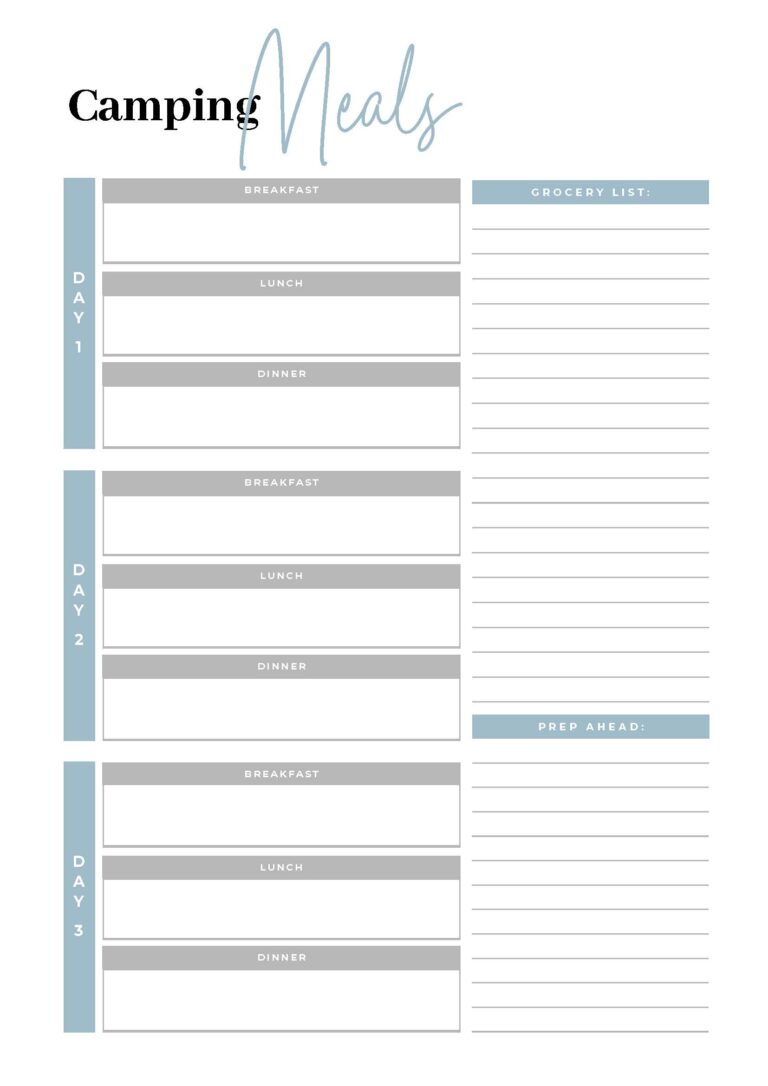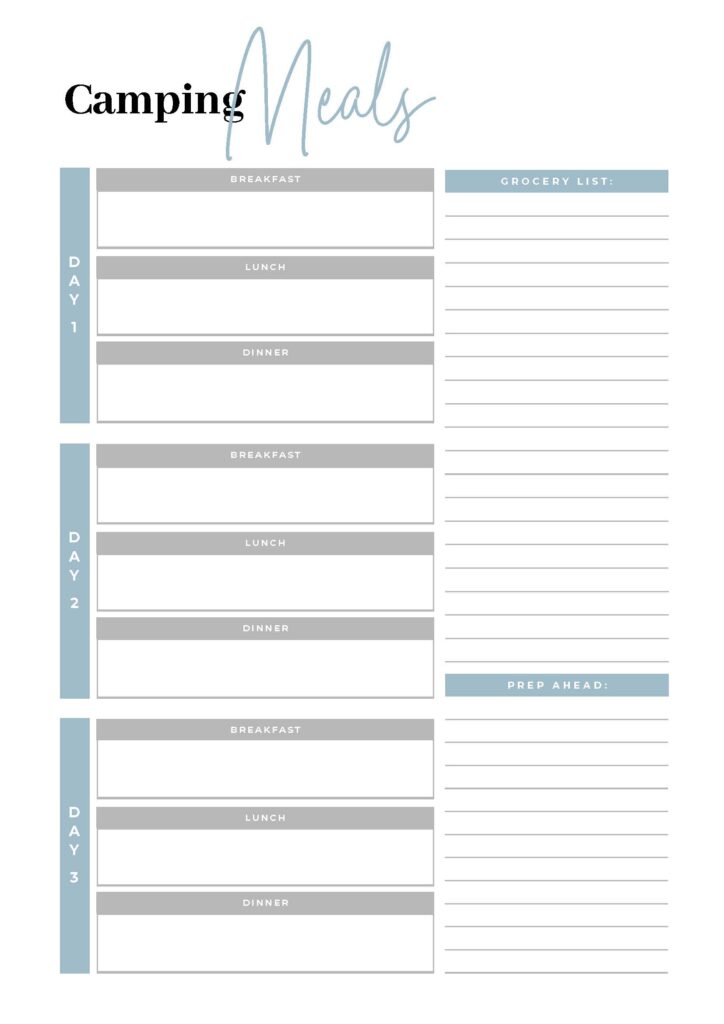 2. Camping Recipe Books
There are so many excelling camping-specific cookbooks you can check out. These books are great ways to look for inspiration and provide easy-to-make and delicious camping meal ideas. Below are some excellent examples to check out buy purchase or your local library.
3. Camping Book Recipe Binder
I previously wrote about organizing a recipe book binder for recipes to try. In fact, my mom has a whole section in one of her family cookbooks specific to camping meals. Personally, I believe a half-size binder with camping-specific recipes printed would be a very convenient size to leave with your camp supplies.
4. Camping Meals Pinterest Board
Not only is Pinterest a great place to look for recipes but I also have a board you'll want to check out that is dedicated to camping recipes. I realize you may want to stick to the convenience of your camper kitchen but if you're looking for more traditional camp-type food, this campfire cooking board is chocked full!
5. RV Kitchen Checklist
A camping kitchen checklist can help you ensure that you have all the necessary cooking equipment and supplies for your camping trip. You can find free printable camping kitchen checklists online or create your own. I also have a kitchen section in my RV Checklist you can use or build your own checklist from.
Tips for Efficient Camp Cooking and Meal Prep
Efficient RV cooking and meal prep can save you time, money, and headaches during your trip. Here are some final tips to help you streamline your RV meal planning process:
1. Pre-Cook and Freeze Meals
Pre-cooking and freezing meals before your camping trip can save you time and effort at the campsite. Prepare meals such as chili, spaghetti sauce, or soup in advance and freeze them for quick and easy meals at camp. You may also want to precook ground beef ahead of time and then divvy it out in different meals.
2. Pack Non-Perishable Foods
Packing non-perishable foods such as canned goods, nuts, and dried fruit can help minimize food waste and spoilage. Simple meals that can be whipped up easily are also a lifesaver in the event that a planned meal does not go as planned.
3. Plan Meals Based on Ingredients
Plan your camping meals based on ingredients that can be used in multiple meals. For example, if you're using ground beef for chili, plan to use it in tacos or spaghetti sauce as well.
Conclusion: Enjoying Your Camping Trip Through Meal-Planning
I know all too well that having a solid meal plan while you're camping can make all the difference in your camping experience. By taking into account the number of people you're serving food for, the duration of your trip, your cooking equipment and facilities, and your camping activities, you can create a camping meal plan that is nearly perfect for your loved ones.
Soon I'll be sharing with you some of our favorite lunch, dinner, snack ideas, and desserts. But in the meantime, you can use my camping meal planning template, camping-specific cookbooks, and kitchen checklists to streamline your meal planning process. So grab your camping gear and get ready to indulge in some delicious and exciting camping menu ideas!