Living in a camper and prepping meals for a family of 6, has been an adventure.  If you're faced with a small kitchen space, this post will help you not only survive, but thrive in a ridiculously small kitchen.
Today I'm sharing my favorite small kitchen tools and equipment to make that tiny kitchen more workable.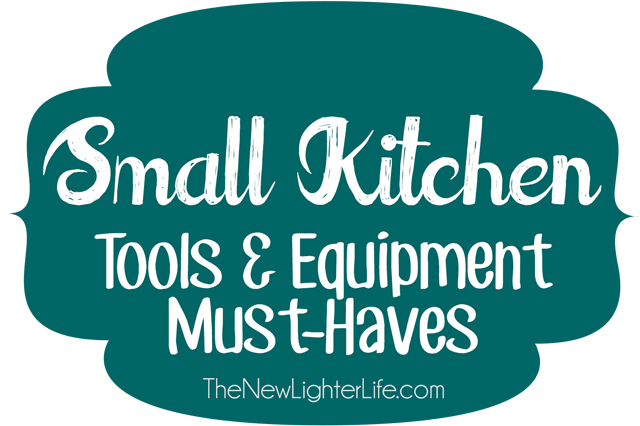 Ikea Butcher Block
I use this multiple times each and every day. If you're an RVer, your sink likely came with an cutting board insert. Ours came with an insert but it wasn't a cutting board, so we bought this from IKEA for $10. That's right $10!
I place this over half the sink and it more than doubles my counter space.
Magnetic Knife Strip
Ditch the knife block and save your counter space. As a Fulltime RVer, I have NEVER had a knife fall when we've been driving. These nifty strips are strong, convenient and a space-saver.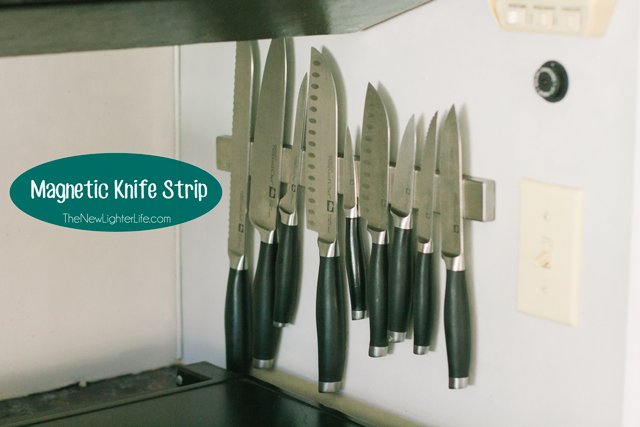 Baskets
Keeping your smaller items contained in baskets is a perfect solution to reduce your cabinet clutter. I'm lucky enough have really narrow and deep cabinets, (note sarcasm).   These baskets not only contain smaller items but allow me slide my pantry goods OUT making them accessible.
Multipurpose Appliances.
I love a good yogurt maker and stand mixer as much as the next person.  However, if your space is limited there are many appliances you can ditch, (and you won't even feel deprived). Think outside the box and get creative with how you prep your food.
The appliances I currently have:
coffee grinder
coffee maker
crockpot
immersion blender
bread maker
skillet
waffle iron
blendtec blender
toaster
Of my list of appliances the 3 that I'd classify as frivolous and specialty appliances are the waffle iron, bread maker, and toaster. Let's address those space-wasters and why I'm keeping them.
I love my waffle iron and would like to be buried with it, or cremated…I'm not sure but I don't want to part with it. Someday I'll make cookies with it, or hash browns, or waffle bread. Then it will all be worth while and I can tout about how it's multipurpose.
My bread maker has one foot out the door. I stopped buying bread for the kids and started making my sprouted whole wheat bread again.  I don't want to fuss with my RV oven so I have the bread maker. It's history once we replace our microwave with a convection oven/microwave combo. I promise – it's almost gone.
My toaster is so not necessary, but we can fit it in the cabinet.  We don't use it often and if we were even more pressed for space, we'd ditch it.
Appliances should pass some sort of test, (my test looks something like this)…
You can fit it comfortably in your small kitchen.
Multipurpose / Multifunction.
Very useful.
My FAVORITE multipurpose appliance is my immersion blender.  I use that baby to blend up black beans for Black Bean Chocolate Chip Cookies, make whipped cream, Tangy Italian Salad Dressing, or my Low Carb High Protein Pancakes (and more odd jobs).
Final thought on this – I highly recommend keeping the appliances you use.
You need to decide which appliances are worth the space they take up in your small kitchen.
Lazy Susans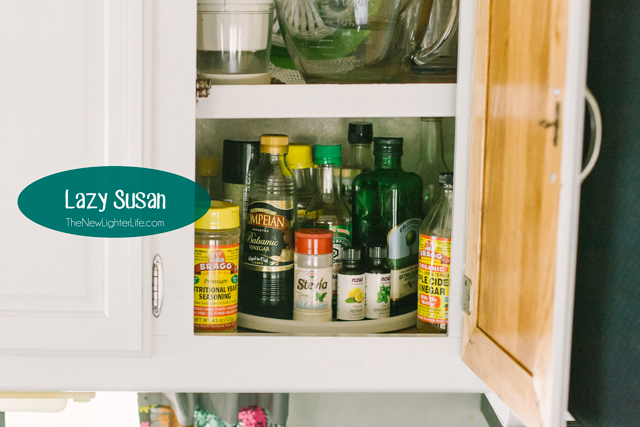 These are perfect for smaller cabinets to make sauces and condiments more accessible. Instead of stocking a cabinet full and having a jumbled mess, lazy susans keep everything at hand's reach with a simple spin.
Collapsible or Nesting
Space is prime real estate and this only makes sense.  Salad spinners, collanders, bowls, measuring cups, even funnels.  There are many collapsible items available.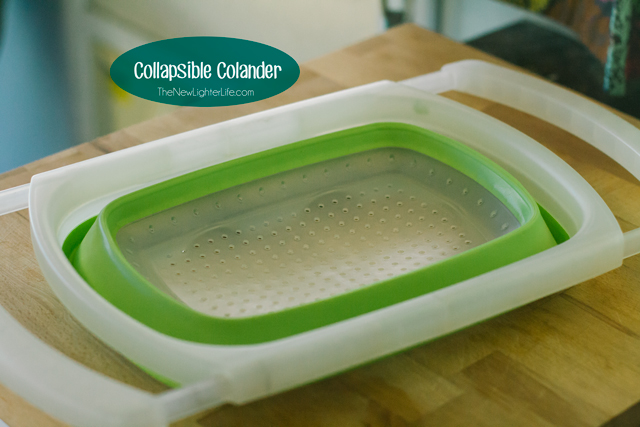 Drying Mat
This little puppy cost all of $4 and it saves space in comparison to a regular metal or plastic drying rack.
If you're in a tiny kitchen, your standard drying rack gobbles up sink, counter, or cabinet space.  A drying mat serves our purposes well.
Cabinet Hooks
My last recommended tool is a simple one, cabinet hooks.
These are so convenient and slip right over the edge of a standard cabinet door. We use ours for hanging our drying rack in the kitchen to dry, (and to hang my purse, and towels in the closets/bathroom).
So that is my list of  Small Kitchen Tools & Equipment Must Haves.  If you have any you'd like to recommend, I'd love to hear it!