As avid campers, we know how important it is to have the right gear. A portable camping grill is one of the most important pieces of equipment for any camping trip. Whether you're a seasoned camper or new to the game, having a reliable grill that's easy to transport and set up can make all the difference in your outdoor cooking experience. In this post, I'll share our top picks for the best portable grills for RVing, including gas and charcoal options and tips for grilling like a pro while camping.
Why a Compact Grill is Essential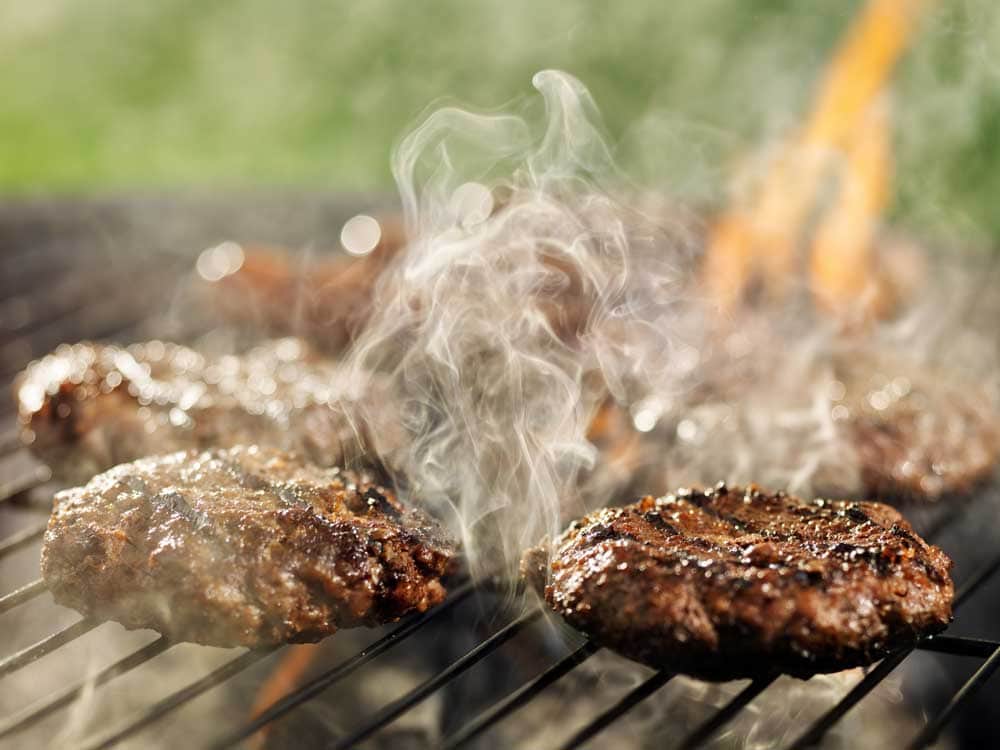 A portable grill is an essential piece of equipment for anyone who loves spending time outdoors. Sometimes, campgrounds have dedicated firepits or grills for charcoal, but not always. You want to ensure you have a place to cook delicious meals while camping. There's nothing like gathering around a meal with friends and family, sharing stories, and enjoying a hot meal after a day of hiking, fishing, or exploring.
Of course, not all grills are created equal. When considering a grill there are several factors to consider, such as size, weight, fuel type, cooking surface, and ease of setup. With so many options on the market, it can be overwhelming to know where to start. That's why I've put together this list of the very best portable grills for RVing (and camping) to help you find the perfect one for your needs.
Considerations When Choosing the Best Portable Grill for RVing
Before diving into my pick of best portable grill for RVing, let's take a closer look at what factors you should consider when choosing an RV grill.
Restrictions on Use – The biggest roadblock we've run into as far as grill type is campground restrictions on grilling. If you are camping in many state parks, they will often have a fire ring where you can simply cook your meals over burning wood or charcoal. However, more recently, we've noticed burn-bans in different areas that may restrict your use of charcoal.
Size & Weight – Whether your camping or RVing space is limited, you'll want a compact and lightweight grill to pack in your vehicle or RV. Look for grills that fold up or collapse for easy storage and transportation.
Fuel Type – The two main types of camping grills are gas and charcoal. A portable gas grill can be convenient and easy to use, while a charcoal grill offers a more traditional BBQ flavor. Consider which fuel type you prefer for transportation and flavor.
Cooking Area – The size of your cooking surface will depend on how many people you'll be cooking for. Look for grills with enough cooking space to cook multiple items at once. Since space is generally limited, there is a fine line between too much space and not enough.
Easy Setup – The last thing you want is to spend hours setting up your grill while your hungry friends or family are waiting for dinner. Look for grills that are easy to assemble and don't require any special tools.
Cleanup – You'll want to make sure whatever grill you choose, you can easily remove the grill grates for cleaning. If there are a lot of places for grease and food to fall, your grill will be worse for wear in no time at all, (which doesn't make for a pleasant cooking experience).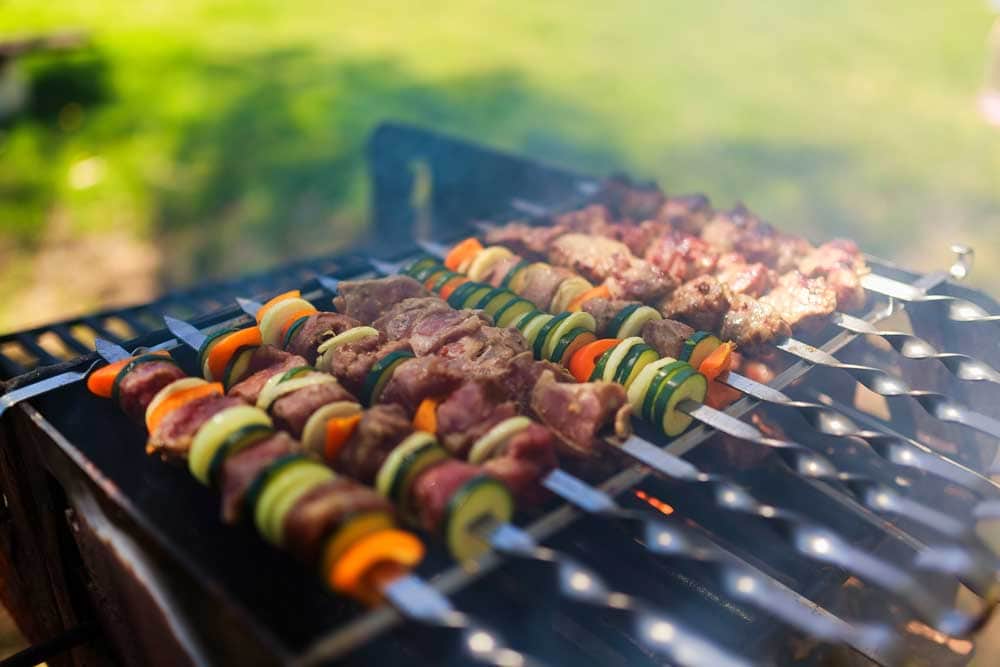 Top Compact Picks: Best Compact Camping Grills: Gas & Charcoal
Now that you know what to look for in a smaller grill, let's look closer at my top picks for gas and charcoal options. These two grills are the best-rated grills out there. They are compact and easy to set up, which is always appreciated when you'd rather be enjoying the great outdoors.
Best Compact Gas: Weber Q1200
This grill is so compact and lightweight that it's perfect for camping. It has a 189 square-inch cooking space, the perfect size for a small family. The grill grates are porcelain-enameled cast iron grates and like all Weber grills, it has a built-in thermometer for better temperature control. Assembly and setup are a breeze.
Best Compact Charcoal: Lodge Sportsman's Grill
For more traditionalists, this portable cast iron grill is an excellent choice! The cooking area height is adjustable which allows for temperature control. The grill also comes with a draft door for temperature control and a flip-down door for easy access to the coals.
Our Picks for the Best Portable Grills for RVing: Gas & Charcoal
If you're looking for something a little larger, then you have some additional options available. Here are the best portable grills for RVing.
RV Gas Grill: Blackstone Tailgater
This versatile grill has both griddle and grill cooking space. It's perfect for RVers who want to cook various meals, from burgers and hot dogs to pancakes and eggs. It is easy to transport, thanks to its foldable legs and compact design. The grill's heat output is adjustable, giving you precise control over the temperature of your cooking surface. Overall, the Blackstone Tailgater is a great choice for RVers who want a versatile and high-quality rv grill.
RV Charcoal Grill: Masterbuilt Portable Grill
The grill has a large cooking area (225 square-inch), which is large enough to cook for a family. The built-in thermometer and air dampers allow you to control the heat easily. The grill also comes with a removable ash pan for easy cleaning. The grill is lightweight and the cart is foldable, which makes transportation super easy and the perfect rv grill.
Propane Grills: Pros & Cons
If you're camping or RVing you'll have specific needs in selecting a gas versus charcoal. By far, propane grills are probably the most popular type of grill for RVing. But if you're camping, you may find this option less appealing. Here are some of the pros and cons of gas grills.
Pros:
Convenient: Gas-type grills heat up very quickly and are easy to use. With this option, you can start cooking right away.
Connect to RV Propane: You have a huge supply of fuel for your grill if you hook into your RV's propane. You can read more about how to hook your grill up to your RV's propane here.
Cleanliness: Cleanup is much simpler when dealing with gas since you don't need to worry about disposing of your ash.
Precise Temperature Control: Most grills have temperature control knows, so you have better control over your cooking.
Cons:
Less Flavor: With gas, you will miss out on the smoky flavor of charcoal. If you're a fan of that classic BBQ taste, gas grills may not be your best choice.
Cost: Gas grills can be more expensive, especially if looking for a quality grill.
Fuel: A gas grill requires a propane tank. Lugging your fuel with you can be inconvenient if you're limited on space or camping in a remote location.
Charcoal Grills for Camping: Pros & Cons
Charcoal is the classic choice for BBQ lovers and offers a unique smoky flavor that can't be replicated with gas. There are obvious limitations to sticking with charcoal though. Here are some pros and cons of charcoal rv grills:
Pros:
Flavor: Charcoal grills offer a unique smoky flavor that can't be replicated with gas.
Portability: Often, this type of grill is smaller and more easily transported portable propane grill.
Cost: The grills themselves are relatively inexpensive and affordable over gas grills.
Fuel Source: Not only is charcoal relatively inexpensive, but you also have the option to use area wood for cooking your food in your charcoal grill. Remember, if you use wood, you will want to avoid pine and stick to hardwood.
Cons:
Slow Heating: It takes longer to heat up a charcoal grill than a gas grill. This can be most inconvenient, especially if you're angry. You can alleviate some of the wait time with a charcoal chimney, but it still takes longer to heat in comparison to a gas grill
Cleanup: You must contend with the ash after you are done cooking.
Temperature control: It can be more challenging to control the cooking temperature with these grills since there are no precise temperature control knobs like there are with gas grills.
Tips for Grilling While Camping
Grilling while camping can be a fun memory-building experience. However, taking the stress out of grilling while camping requires some preparation and know-how.
Plan ahead: Meal plan and prepare any marinades or seasoning blends ahead of your trip.
Dedicated camp grill tools: If you grill at home, I find it's best not to "steal" from those supplies (or go through the RV trip packing list so you don't forget your grill tools at home)
Set up your grill in a safe location: Choose a level surface away from any flammable materials, such as dry grass or leaves. Gas grills set off a lot of heat as well so keep them away from surfaces that can be damaged.
Don't forget to clean your grill: Cleanup is so much easier if you clean your grill after each use. Keep a grill brush or scraper to remove any residue.
Store your grill properly: If your grill did not come with a cover, I suggest you purchase a cover to protect it from the elements between uses.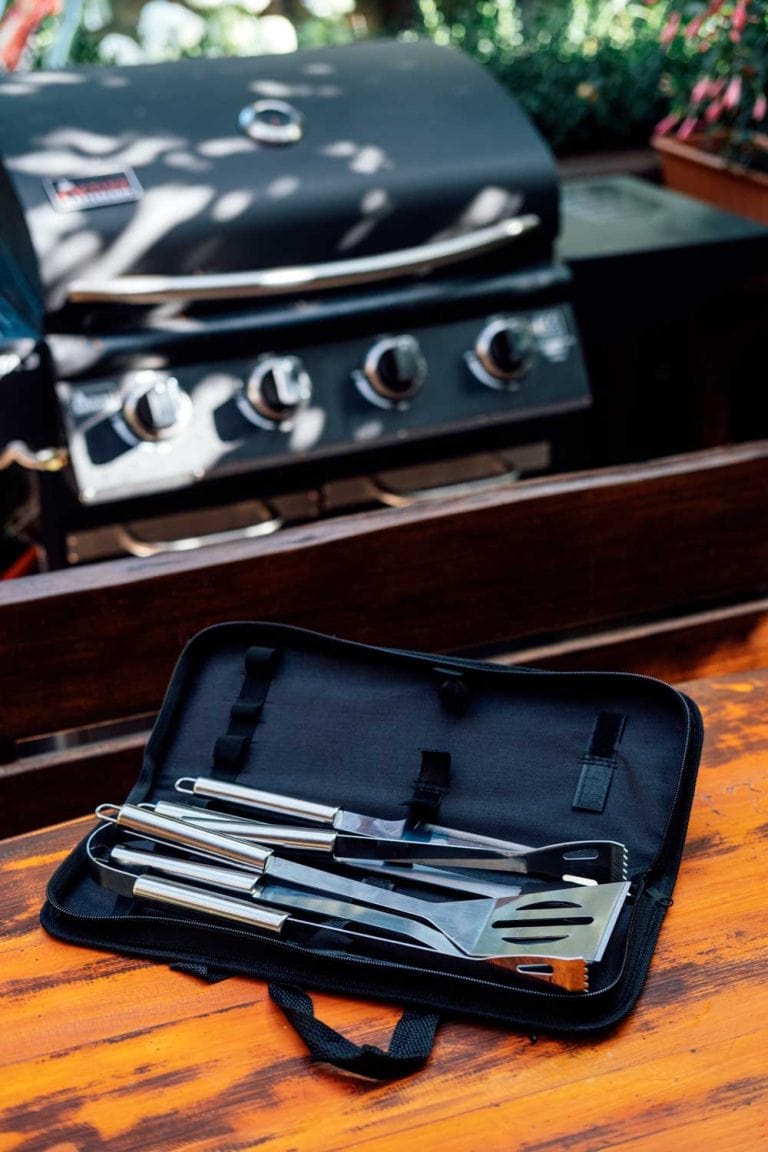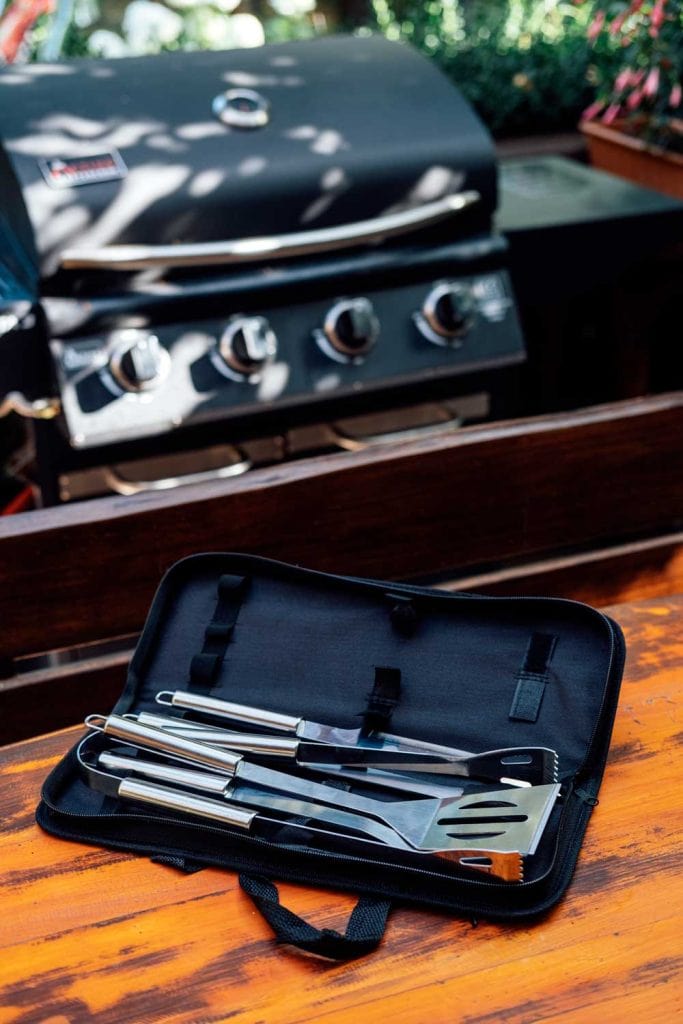 In Closing…
Whether you prefer gas or charcoal grilling, there are plenty of great options on the market to find the best grill for your outdoor adventure.
In making your selection, you'll want to consider factors such as size, weight, fuel type, cooking surface, and ease of setup. And don't forget to bring along essential accessories like a grill cover, grilling tools, and a portable fuel source. With the right grill and some basic grilling knowledge, you can take your outdoor cooking game to the next level and enjoy cooking delicious meals while enjoying the great outdoors.