I know I've been sharing a lot of Christmas recipes lately.  Rest assured, I have some different posts planned for the near future.  I just had to share this Caramel Cheese Puffs recipe with you today.
If you have never tried Caramel Cheese Puffs, you are in for a treat.
I got this recipe from a dear friend of mine close to 15 years ago and always think of them around the holidays, but they are great throughout the year.
On a side note…Do any of you remember when Target carried the popcorn that had caramel, cheddar, and salted popcorn?!  It was AMAZING!  I remember thinking it sounded disgusting until another friend of mine told me it was to die for.  She was right.  And then Target discontinued it.
These Caramel Cheese Puffs almost make up for the long-discontinued triple flavored popcorn.
You can use cheese balls or cheese puffs in this recipe; they are both amazing.  If you use puffs, you may want to cut them in half.
This recipe only has 3 ingredients to add to your cheese puffs and is very easy to make.  Once you pour your caramel mixture over your puffs, you'll need to bake them in the oven for an hour and stir them every ten minutes.
Trust me, they are worth the time.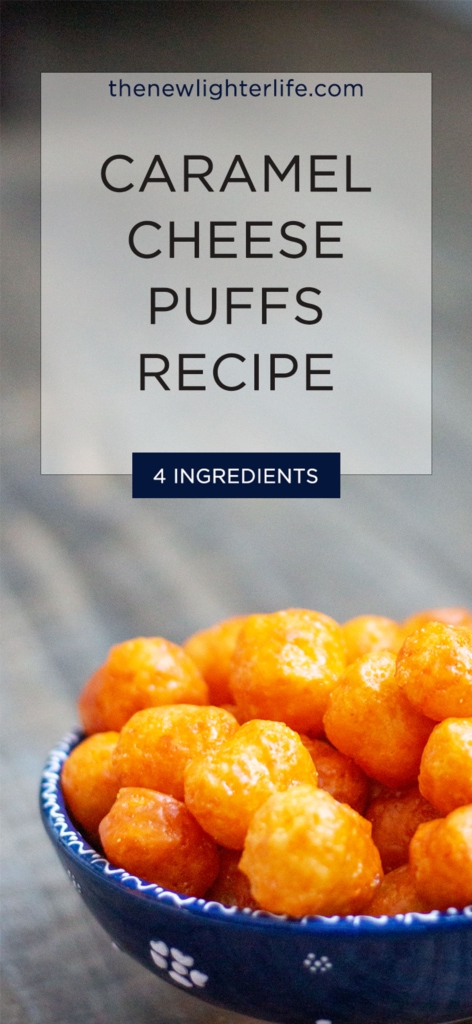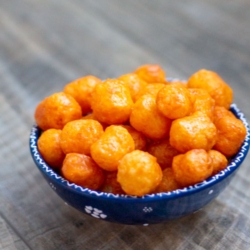 Caramel Cheese Puffs Recipe
Ingredients
1

cup

butter

1

cup

brown sugar

1/2

cup

light corn syrup

11

oz

of cheese puffs
Instructions
Melt butter.

Stir in brown sugar and corn syrup.

Bring to a boil for about 2 minutes.

Pour over cheese puffs and stir to coat.

Empty into a roasting pan and bake at 250 degrees F for 45 minutes stirring every 10 minutes.

Empty onto wax paper and break apart as it cools.