Today, I'm excited to share this quick craft with you.
These adorable Christmas trees may just spread a little "JOY" this year. This craft is super fast to whip up and makes such a nice gift.
In the picture above you'll notice two different fonts and styles of a block.
For the Font: The white/black blocks are a simpler font. If you are a beginner silhouette user, I recommend you follow the simple font as weeding the fancier font is more challenging to weed.
Style of Block: I made the white/black blocks from scrap wood I had on hand. I glued the pieces together, cut them to size, and sanded them. I was going for more rustic on the white/black. The red/black blocks are 2″ square blocks I bought from Hobby Lobby.
As for actually making the stencil, I used my Silhouette Cameo cutting machine. There are newer versions of the cutter, but mine has served me well for the past 4 years.
Before my days with my Silhouette, I discovered some methods to transfer an image to wood and I may post some follow-on instructions on those methods. If you would like me to post those, please comment below and I'll get that post up sooner rather than later.
To access the cut file, please scroll to the bottom of this post. I have 3 different styles of "JOY" for you depending on your liking. Again, I'd highly recommend you use the simplified "JOY" if you do not have a lot of experience with vinyl stencils.
If you plan on doing any amount of stenciling, I highly recommend buying rolls of Oracel 631.  It's much cheaper than the Cricket or Silhouette brand non-permanent vinyl.  (and by much cheaper, I mean MUCH cheaper)
First things first, let's talk supplies.
Supplies
2″ wood blocks
Christmas Trees
Silhouette Cutting Machine (or another brand cutter such as Cricket)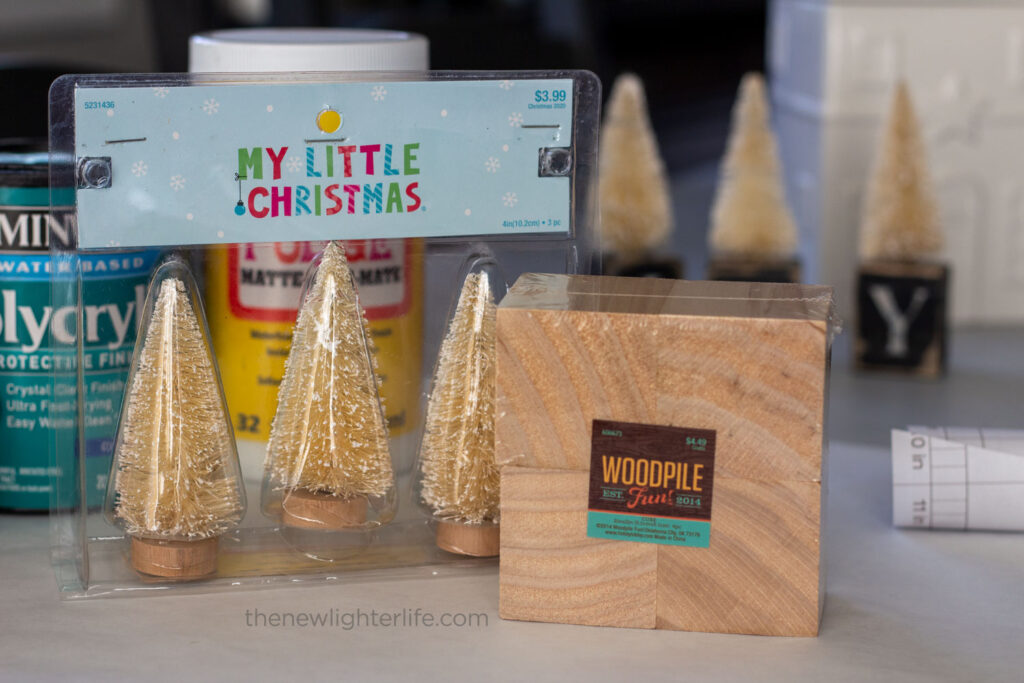 Oracel 631, (or another removable vinyl)
Stencil cut file (see .svg below)
credit card or squeegee
clear shelf liner paper (for transferring stencil)
weeder, (I use this set)
Modge Podge (I prefer matte)
foam craft brush
paint (I have used cream/black and red/black)
paintbrush
sanding block or electric sander (80 grit or above)
drill with 5/64, (drill bit or similar size bit)
permanent glue or wood glue
polycrylic protective finish (or a polyurethane spray)
Directions
Paint your unfinished woodblocks.
Cut your Oracel 631 or non-permanent adhesive vinyl with the template below.
Cut a piece of shelf liner paper. (I prefer this over transfer tape as it does not adhere as strongly). Use your credit card or squeegee to make sure clear liner paper is firmly attached.
Remove the stencil with shelf liner paper from the backing of the vinyl.

Using the guide (points are center marking for the blocks) place the stencil on the blocks.
Press your stencil firmly to the block with your squeegee.
Carefully remove the clear shelf liner paper leaving the design and background on the block.
Using your weeder, remove the design from your block, (where you want to paint the color for the letter).
Paint a thin coat of modge podge on your block where you just removed the vinyl.  This will help your stencil not bleed.  Let dry
With a paintbrush, paint your accent color on each block. You may need to paint more than one coat.

When your paint is nearly dry, pull your stencil off, using your weeder to remove any detail remaining vinyl.
Make sure the paint is completely dry, and sand the block.  (this is great for covering up any imperfections.)
Coat the block with polyurethane to protect the finish.
With a ruler, draw a make a small line, corner to corner on the top of the block, (this is to help you find the center for your tree stem).
Drill a hole with a very small drill bit or what is necessary for your tree. (I used a 5/64″ bit)
To remove the base of the tree, simply twist the base.
You can use an all-purpose glue, (I like Rapid Fuse, but wood glue would also work) to glue your wire tree stem into the wood block base.

You can access the .svg file here, for free. The file contains three different style fonts for a 2″ block.
That's it! I hope you enjoyed this quick and easy Christmas craft!