Here we are in the dead of winter and I'm posting a zucchini pickle recipe.
Zucchini Pickles, you say?
Yes!
As you probably know, zucchini has a very mild flavor, which makes it a perfect candidate for a pickle.
If you have a garden and have more than one zucchini plant, you probably know the pain of having more zucchini than you know what to do with it.
We love the standard zucchini bread, zucchini coffee cake, zucchini muffins, zucchini fritters, and even the breakfast zucchini bake but still, last year I was brainstorming on what else to make with the harvest from my 5 zucchini/summer squash plants (5 plants….yes, I know…insanity).
I got to thinking…
Why can't you use zucchini to make pickles?  After some research, I found that you can indeed make pickles with zucchini!
So today I'm sharing my favorite pickle recipe.  These pickles are tangy, slightly sweet, and go perfect with a burger, sandwich, or even potato salad!
If you slice slightly on the diagonal, you'll end up with a longer pickle slice that gives you great coverage.
Enjoy!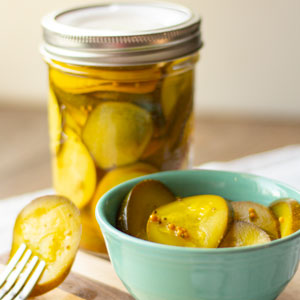 Tangy & Sweet Zucchini Pickles Recipe
Ingredients
20

cups

sliced zucchini

(diagonal, 1/4-inch)

1/2

cup

pickling salt

cold water

6

cups

white vinegar

3

cups

granulated sugar

4

tsp

mustard seeds

2

tsp

celery seeds

2

tsp

ground turmeric
Instructions
In a glass or stainless steel bowl, layer zucchini slices with pickling salt.

Pour cold water over top and let stand at room temperature for 2 hours.

Drain zucchini and rinse with cold water, drain.

In a stockpot, combine vinegar, sugar, mustard seeds, celery seeds, and turmeric.

Bring mixture to boil over medium-high heat, string. Reduce heat and boil gently for 5 minutes.

Stir in zucchini, remove from heat, cover, and let stand for 1 hour.

Prepare canner and return stockpot with zucchini to a boil.

Pack sterilized jars with zucchini, leaving 1/2 inch of headspace.

Pour extra liquid into jars and remove air bubbles with a skewer or knife.

Wipe rim, place lid on the jar, and screw ring onto jar until finger tight.

Process in water bath canner for 10 minutes. Turn off heat, remove the canner lid and let stand for 5 minutes before removing the jars from the canner.