When we did the complete remodel of our 96′ Winnebago camper, we decided to paint our dinette table.  But that didn't turn out so well.
After our disappointment in the countertop paint, we decided to scrape the paint off and try fix the eyesore.
Uh.  Yeah.  It didn't work so well…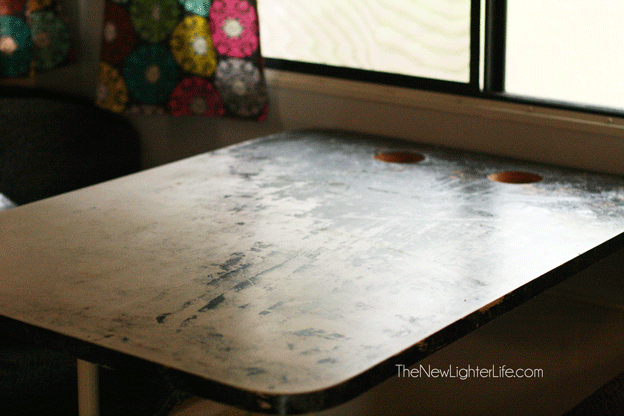 Oh disappointment!  The tabletop surface was pretty trashed & we needed a solution.
Here were our ideas for fixing our table:
Replace the tabletop
Paint with a different brand countertop paint
Mod Podge something artsy and cover with a thick coat of Polyurethane
Use a tablecloth
Wear a blindfold
We chose to use a tablecloth.  But instead of just laying a tablecloth on top that would slide around and give something for the kids to hide their broccoli under, we decided to affix a laminate tablecloth semi-perminantly to the surface.
I picked up the fabric from Hobby Lobby.  They have a decent selection of laminate fabric.  This particular one was $15/yard,minus the 30% discount that their decorator fabric always seems to be.
I stretched and stapled the cloth all the way around the table and it's working out nicely!  It only cost $11 after the discount.
Oh and you see those cup holder holes in the first picture at the top?  Our table has inserts for those holes to set your drink in but we never used them for their intended purposes.  Honestly, our kids spent more time taking them off the table and standing on them as they slide across the RV.
This is not a permanent solution of course.  You know since it's basically a wipeable fabric  table cloth.  If there are tears in the fabric or the laminate wears away, we'll take the cover off and recover it.  But for $11, that's not bad!  Best of all it didn't involve stripping, prepping, and days of curing.
Stay tuned for our countertop fix, (which is still in the works).
Blessings,