*UPDATE* After several months of use, I have to take back my recommendation of this product.  Please click here for what our counters look like now.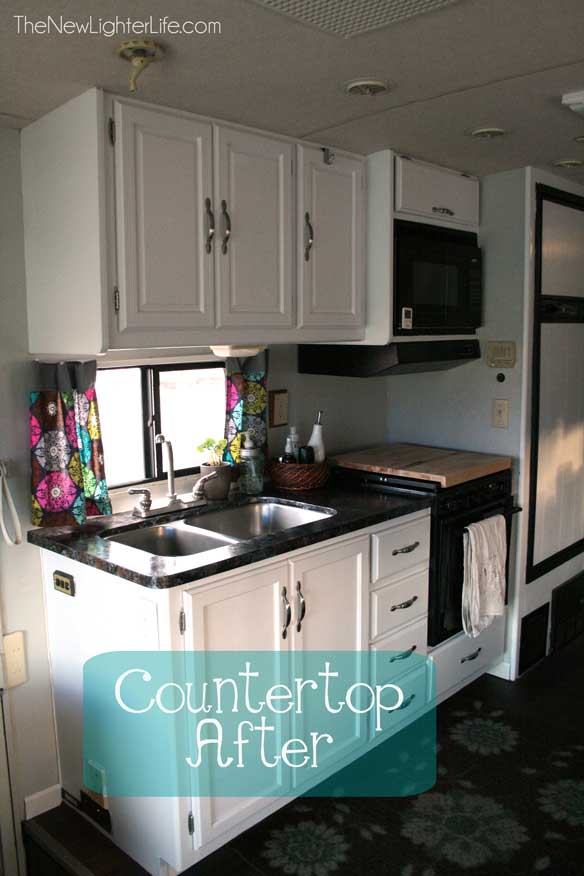 After we did the transformation of the cabinets with Nuvo's cabinet paint it was painfully obvious that I needed to update the countertops.
In all honesty, I hadn't even considered the counters when I chose to do the cabinets in Platinum White.
But as you can below, the counters looked dingy next to the updated cabinets.
So I contacted Giani Granite, which is the same makers of Nuvo Cabinet Paint, and they agreed to send me a kit to update our countertops.  I decided on Bombay Black for the countertop color.
I got my kit in the mail and was happy to see it came with a practice sheet of paper.
I used wrapping paper and lots of painter's tape to protect area around the countertop.
There was a little bit of prep work such as sanding and removing the plastic trim around the base of the countertop.
I also needed to apply wood filler to the nicked areas of existing counter, which was mostly around the sink cutout.
I applied my primer coat (which had amazing coverage).  I decided to do the dining room table because we had more than enough primer to complete the job.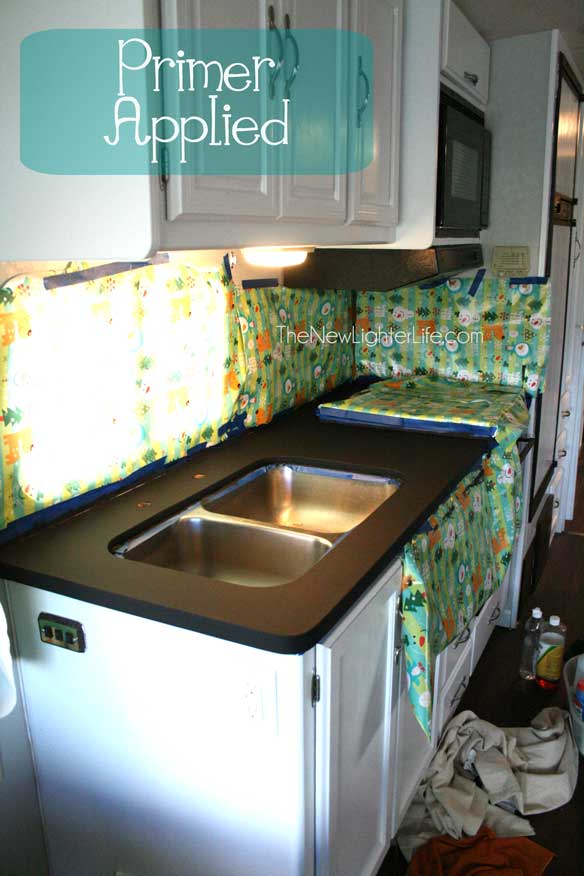 While the primer was drying, I used my practice piece of paper to try the sponging method.  Now keep in mind, I'm no artist.  I watched the application video, which was very helpful, but I still felt intimidated.  I've never done any type of faux painting but I plunged ahead.
Once the primer had dried the appropriate time, I started sponging on my colors.  It went very well I think.  It was hard to visualize the end product and I just kept sponging more colors on.  I didn't want to have a uniform color so I had to go back and forth with colors a bit.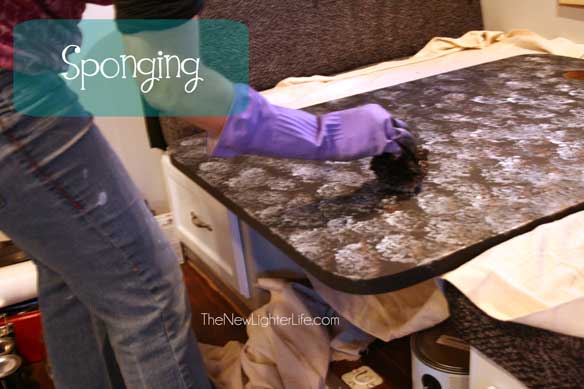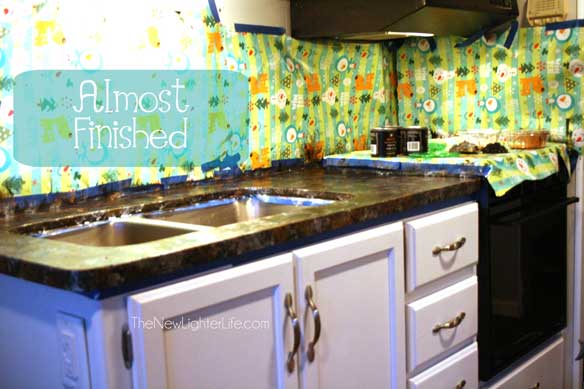 As you can see, someone took the paper down too quickly and the wall got messed up.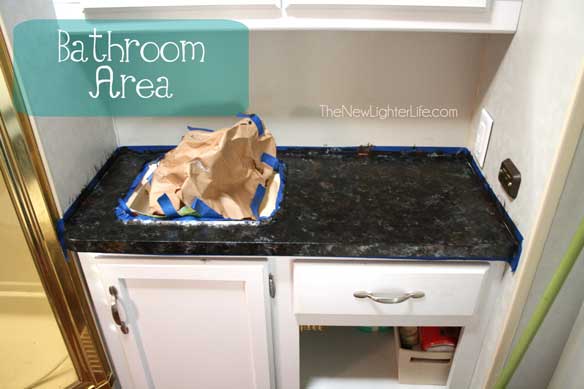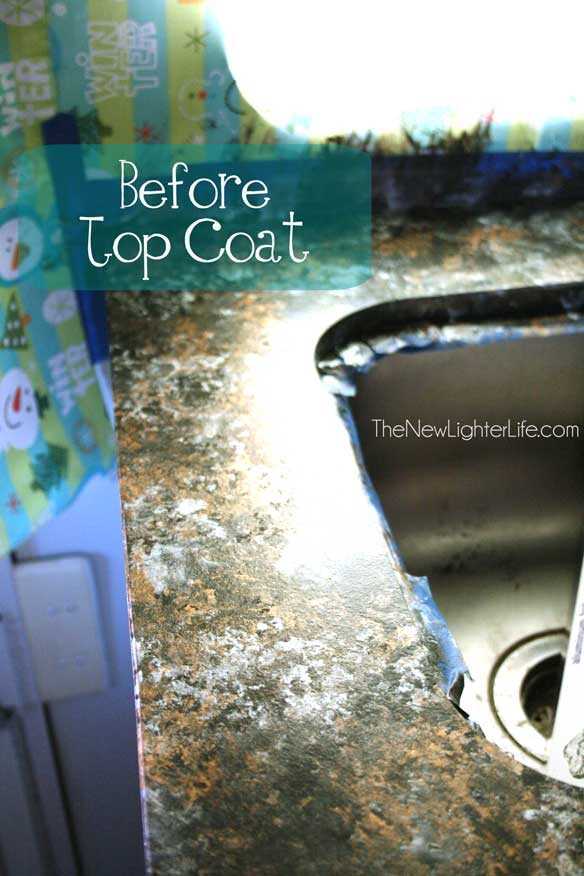 I sanded the counters after the paint had dried but before I applied the clear top coat.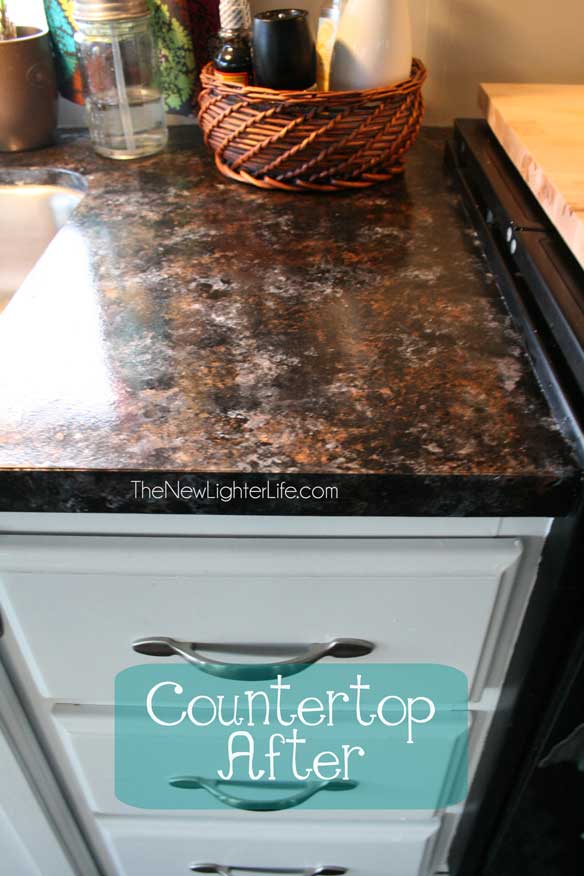 Above is a closeup of the countertop after 2 top coats were applied.  The top coats really seem to meld the colors together and make it look more finished.
I'm very happy with how it turned out!  I made mistakes with applying color and noticed them later but everyone I showed the "mistakes" to didn't notice them.  My mistakes consisted of drops around the edges and splatters of paint.
As far as wear and tear, the paint has held up very well.  You do want to make sure water does not rest on the countertops.  I noticed that when it does rest, it bubbles slightly and has to dry out to go back to a smooth finish.
Would I do the countertop paint again?  Absolutely.  It was quick and it made such a difference in the look of the camper.  I'm very happy with it!  Since we have leftover paint, we can always touch up the paint if need be (we tend to be hard on countertops).