Hi friends, I'm catching up on all of our favorite canning recipes and today I'm sharing the best Cowboy Candy recipe with you.  If you've never heard of Cowboy Candy, it is essentially candied jalepeños and it is so delicious!
On a side note, I have to warn you…over the next few weeks or months I'll be putting a lot of posts up until I can clear the backlog of content I have been meaning to share with you all.  
But let's get back to these jalepeños…I love this stuff and I have gifted quite a few jars to friends and it's always been a big hit and requested again!!
Over the past summer, I had high hopes of stocking my shelves with Cowboy Candy but our garden just didn't deliver the jalepeños.
Fortunately for us, we're blessed with some very sweet and generous neighbors who had a bumper crop of jalapenos this past summer.  With their abundance of jalapenos, I decided it was high time I dig out my cowboy candy recipe and get to preserving those babies.
Well, all, here we are in February, and let me tell you, the flavor is PERFECT!
If you've tried other Cowboy Candy and found that it was just a bit too sweet for you, then I think you'll love my recipe.
First, maybe you're looking for ideas to use Cowboy Candy?  Let me tell you that the sky is the limit for adding these little flavor bursts to your food!  Here are some of our favorite ways to use pickled jalepeños.
Ways to Use Cowboy Candy
Chili
Hotdogs
Tuna or Chicken Salad
Potato or Pasta Salad
Burgers (inside or on top)
Sandwiches
Cornbread
Baked Beans
Pizza
Cream Cheese & Crackers
With those ideas, you can't go wrong making your own batch of Cowboy Candy.  So, let's get to this recipe already.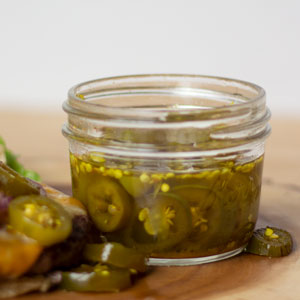 The Very BEST Candied Jalapeños - Cowboy Candy
Ingredients
3

lbs

fresh jalapeños

2

cups

apple cider vinegar

4

cups

white sugar

1/2

tsp

turmeric

1/2

tsp

celery seed

3

tsp

powdered garlic

1

tsp

ground cayenne pepper
Instructions
With gloved hands, cut away stems from peppers. Slice into 1/4-inch slices.

In a large pot, add apple cider vinegar, white sugar, garlic powder, turmeric, and celery seed. Bring mixture to a boil. Reduce heat and simmer for 5 minutes.

Raise the heat to bring the mixture back to a boil. Once boiling, add the pepper slices. Allow to return to a boil, then reduce the heat again and simmer for 4 minutes.

To Can: Transfer the peppers using a slotted spoon to sterilized glass canning jars, leaving 1/4-inch of headspace.

With just the syrup in the pot, increase the heat to bring to a full rolling boil. Boil syrup for about 6 minutes.

Ladle the syrup into the jars with the jalapeno slices. To remove air pockets, use a skewer to disturb jalepeños. Check the headspace again to ensure 1/4-inch headspace is maintained.

Wipe the rims of the glass jars with a clean and damp paper towel. Top with a canning lid and screw on the ring to finger tight.

Process in a water bath canner for 10 minutes.

Once the processing time is complete, turn off the heat and remove the lid. Wait 5 minutes before removing from water bath canner. Let sealed jars set for at least 12 hours before disturbing.
Notes
Be sure to put on gloves before cutting your jalapeños!
These taste best after they have been set for 1 month.  If you are NOT canning these and storing in your refrigerator, they should be used within 3 months.
Do you have some other ways you've tried Cowboy Candy?  If you have, I'd love to hear more ideas.  Please share below in the comments!