Taking a trip in an RV is often synonymous with freedom & adventure. What is more exciting and enjoyable than exploring new places from the comfort of your camper?! However, the task of planning a trek in your RV can be daunting with all the factors to consider and the vast amount of information to sift through. If you've ever wished for a magical genie to simplify your RV travel planning, your wish has been granted! I'm loving AdventureGenie, an AI-powered RV travel planning tool that I'm excited to share with you today.
You might recall that I shared my 10 favorite road trip and camping apps last year. A few weeks ago, I started looking for new planning tools for our upcoming RV trip and I came across AdventureGenie. Since AI is gaining popularity, I was intrigued and signed up for the trial. After playing around on the site for a few days, I was hooked! I absolutely thing this is a game-changer for route and trip planning!
So today, I'm going to give you an overview of AdventureGenie, features I find most useful through a trip we are planning, and end with the AdventureGenie coupon code just for my readers that get you 60% off the cost (I don't make money off this coupon…it's just a generous gift from AdventureGenie to you). So let's get rolling…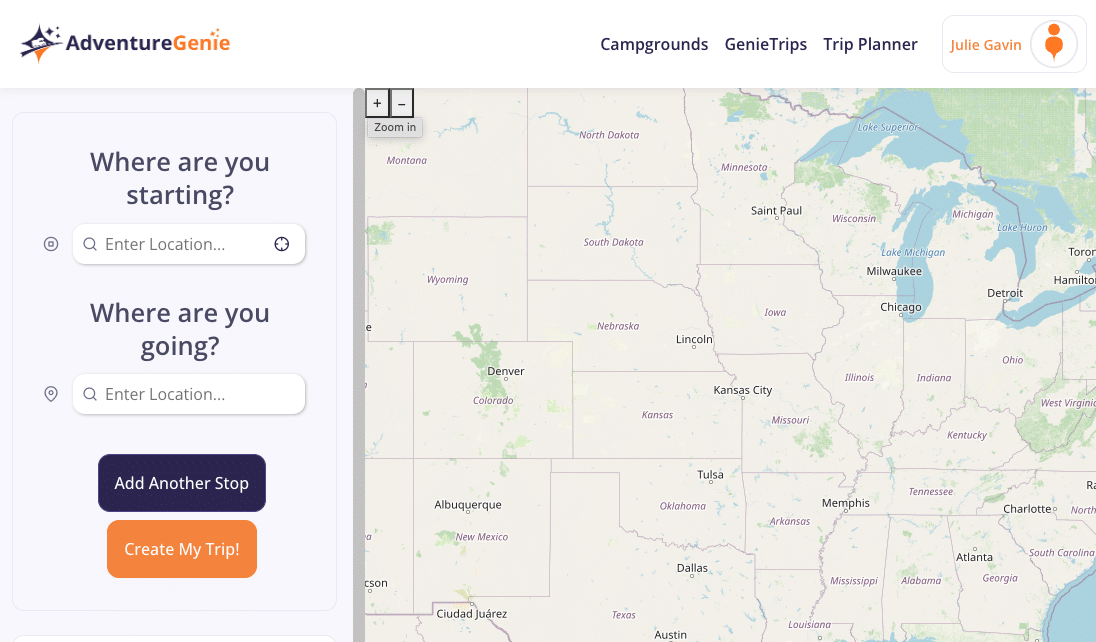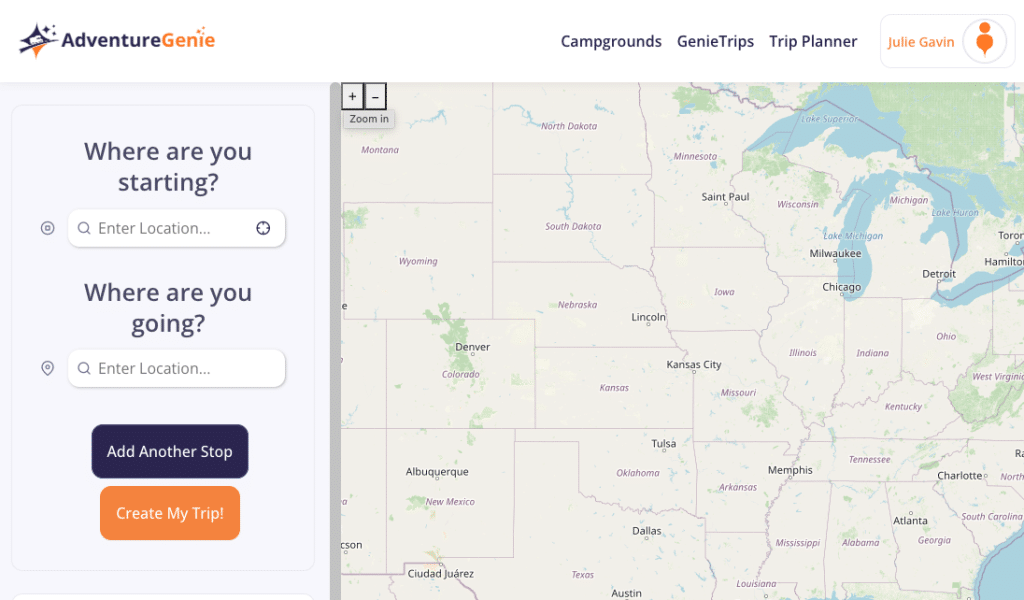 Overview of AdventureGenie
AdventureGenie is a tool that sifts and provides information about a route and stays while keeping in mind your preferences. Through this AI, you can easily route and customize your journey so you are a happy camper. The site is very clean and easy to navigate, making the entire process stress-free and a breeze.
The website uses advanced algorithms and has an extensive database of information to pull from such as campground ratings and amenities. Through the planner, you can select and adjust the route, the drive distance between stops, amenities, and specific activities (aka "wishes"). Based on what you input as your interests or what you want to do at stops, the genie will suggest attractions, scenic spots, and hidden gems along the way. Through the use of AI to do all the heavy lifting on planning, you are free to enjoy your travels.
My Favorite Parts of the RV Trip Planner
Here are the best aspects of the trip planner:
1. Add Multiple Stops to a Trip
Just like with GoogleMaps, you're able to add multiple stops to your trip and AdventureGenie will work out your route. Recalculating your route works pretty much the same way. The major advantage of this platform versus a standard GPS is that you can see campgrounds in the vicinity of your stop.
NOTE: I've found that when you start messing with your route too much by adding multiple stops and then taking them away, the route can get messed up. When this happened to me, I started a new trip and input firm stops I'd already figured out through my previous adjustments. That fix worked like a charm.
2. Designate # of Miles Driving/Day
I LOVE this feature!! This is probably one of the more challenging parts of planning an RVing trip in my experience. Figuring out the distance/time for a leg of a long trek across the country can be difficult. On top of that, trying to find a place with campgrounds, forget it. On one of our long trips, we ended up driving well into the night just to get to a campground because we did not want to dry camp and were out in the boonies.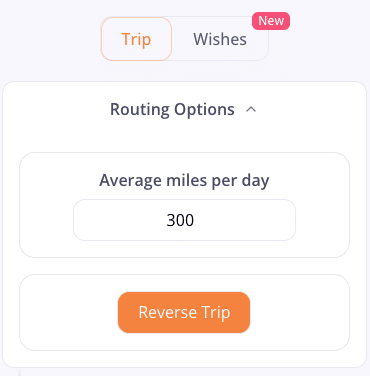 Other trip planners I've used are very cumbersome and painful to use. It's super easy with this platform and I can focus more attention on what we're actually going to do at our stops. If you want to adjust the miles per day, you'll just need to refresh your route and the AI will update where you should stop.
NOTE: This is an average distance/day. From what I gather, the AI tries to get you to a location that has campgrounds to choose from so there is a fluctuation in the distance for different legs of the trip.
3. "Wishes" to Add Interests & Activities to Stops
If you click on "Wishes" toggle, you can add what you're interests are and what you'd like to do. I think it's best to show you it in action. My inputs were as follows: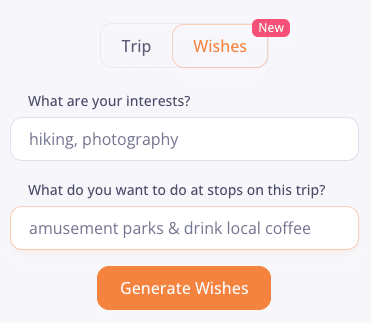 There was a nice message saying no amusement parks are on my route, but AdventureGenie suggested the following stops for Rapid City, SD:
Hike the Skyline Trail at Badlands National Park
Visit Mount Rushmore National Memorial and take photos
Explore the Black Hills National Forest and take photos of the scenic views
Drink local coffee at Pure Bean Coffeehouse
Knowing this area, I can say that these are great recommendations! Pure Bean is my favorite local coffee shop so kudos to AdventureGenie!
You can keep generating interests and stops on the trip and the trip planner will add them to your notes, which I'll cover next.
4. Add Notes to Stops
All those suggested activities from the "Wishes" are saved in "My Notes". Plus, you can edit, delete and even add (I added the last bullet and website) to these notes so you cover all your planned activities and stops.
5. Campground Details
The planner lists all the available campgrounds to choose from at your trip stops. When you click on a campground you'll get all the details available on the platform. It is continually gathering data available about campgrounds so details are added all the time.
Here is a view of a campground I selected at random along our route. If you scroll down further on the details, you'll see amenities, activities, discounts, affiliate info, contact info, and overall campground details (# of sites, $ and max size camper).
There are two different scores: a GenieScore and GenieMatch. The Genie score is based on some complex algorithm I don't understand. Ha! The GenieMatch is based on our personal needs and wants that I designated in my account settings under the RV details and preferences.
So why did this campground get a GenieMatch score of 50? You can't see it in the screenshot of the campground's data page, but the campground does NOT have sewer or electricity, which were important amenities to me. Nice huh?
NOTE: A kind reader pointed out the fact that the campground description does mention the amenities I wanted. This had me a little puzzled as to why the low GenieMatch score was assigned. I did a little digging on what this campground actually provides. Other sites stated this place was an RV sales, service, and campground. A little more digging and I came across this…
This leads me to believe that the AI pulled reviews and had data to suggest the location was closed. With the online presence of the campground, the AI did not completely remove the campground from possibilities. Instead, it ranked it lower.
Once you select a campground to stay at, your route will have a cute little tent on your route as you can see below.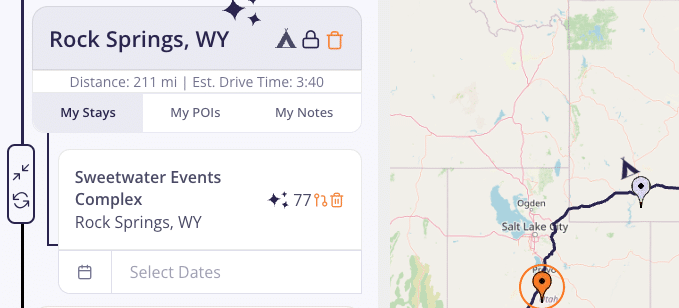 Is There an App for RV Trip Planning?
As of right now, AdventureGenie does not have a phone app, and the Trip Planner part of the site does not work on mobile phones. They're developing an app, but in the meantime, you'll need to access AdventureGenie through a computer/tablet, or print your trip out.
Simplifying RV Trip Planning Complexities
A few weeks ago, I had the pleasure of speaking to some of the creators of AdventureGenie, who are full-time RVers. We chatted about all the headaches of planning trips such as routes, activities, and selecting campgrounds. With experienced RVers as the masterminds behind the site, they have identified all the headaches in planning for an RV trip and eliminated them.
As you know, planning an RV trip often involves juggling multiple websites and apps, each catering to a different aspect of the journey. From finding the right campgrounds to mapping the route and searching for local attractions, the process can be complicated and frustrating. This was most definitely the case when I shared my 10 favorite planning apps. However, with this AI most of these tools are consolidated in one place, which removes a ginormous headache in the planning process.
Coupon Code for NewLighterLife Readers
Now for the deal.
As an exclusive offer for my faithful readers, you can now take advantage of a special coupon code that grants you a 60% discount on AdventureGenie, bringing the total cost for a one-year subscription down to just $39.99.
This sweet deal allows you to access the full range of AdventureGenie's features and benefits at a fraction of the regular price. While others would typically pay $99.99 for a yearly subscription or the introductory price of $49.99, you can unlock the full potential of AdventureGenie for an incredibly affordable price. All those apps I eliminated cost more than $40/year (and did I hit on the headache of switching between them yet?
When you go to AdventureGenie, you can access the 7-day free trial to give it a test drive. When you sign up, simply input the following coupon code (must be in all caps) when you checkout:
NEWLIGHTERLIFE
Don't miss out on this deal from AdventureGenie so you can start planning your next RV adventure at a steep discount.
In Conclusion
We have some trips coming up that I'll be using AdventureGenie in real-time for adjustments on the road. I'll keep you all posted on how we're loving the platform. But with all its features, expanding campground database, and algorithms, I anticipate a much more enjoyable planning process on the road. No matter your RVing experience, I think you'll love how easy and beneficial your RV trip planning is with AdventureGenie.