Today, I'm giving you a big update on my 3a curly hair routine for 2022.  I'm shocked that it has been almost 10 years since I shared my posts about curly hair!  So much has changed since then but there is still some great information and resources in those posts.  I'm not covering curly hair cuts in this post today but you can find the information I shared previously by clicking these links:
Curly Hair Numbering System
If you're unfamiliar with the curly hair numbering system, let me give you a quick overview and then go more in-depth on a 3A curly hair routine.
2A-2C – Wavy Hair – wavy loose s-pattern hair that is easily straightened. In fact, you may be straightening your hair to smooth out the waves.   You do not need as much moisturizer or as heavy of styling products for your hair if you have 2 hair.  You'll want to clarify your hair frequently to prevent any weight down and also use a styling product lighter than gel.
3A-3C – Curly – S-Shaped Curls that corkscrew and are about the diameter ranging from sidewalk chalk to a sharpie.  This hair type is prone to frizz, needs LOTS of conditioner, and should only be combed or messed with when wet.
4A-4C – Coily – Tight kinky curls that form an s-shape when stretched and the diameter is about the size of a crochet hook.  Curls may also be zig-zaggy and start right at the scalp.  This curly hair type needs lots and lots of moisture.
What's New in This 3A Curly Hair Routine?
A video of me styling my hair
Updated co-wash (conditioner wash) products and tools
Updated styling products and tools
New styling method
Haircare Video/Styling Info
For those of you who prefer to watch, I have a video explaining my process and you can see how I style my 3A hair.
There are so many new products out there for curly hair. I think much of this can be attributed to the fact that there has been a curly hair revolution.  I'm exaggerating a little but the truth is, curly hair somehow became very popular and manufacturers figured out that curly-headed people were desperate for products that worked.
Now I'm not going to even try to address some of these products specifically formulated for curly hair.  I've said it probably a hundred times on here, I'm cheap.  I don't buy expensive hair products.  So I'm going to give you a list of products I use from the supermarket or drugstore.  NO frills, just products that work for my 3A curly hair.
Updated Co-Wash Products and Tools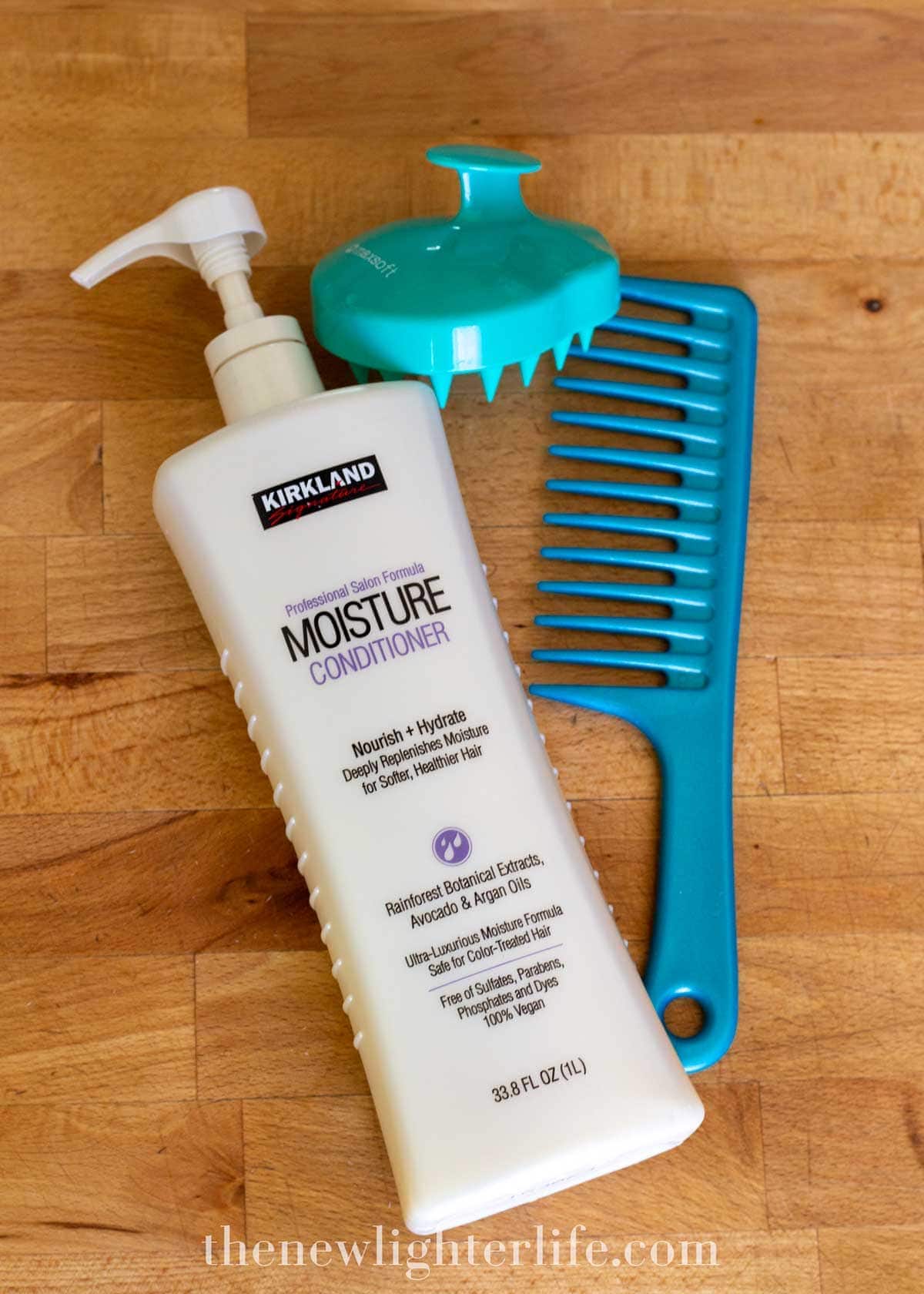 Here is my list and explanation for each of the products pictured above.
Kirkland Moisture Conditioner – This is my current favorite conditioner for my hair.  It is thick and super moisturizing.
Wide-tooth Comb – This tool is a must for combing out your tangles when you are in the shower and your hair is loaded down with conditioner.  This comb never leaves my shower (except for my video explanation).
Scalp Scrubber – I've used this tool for about 3 or 4 years and I LOVE it.  With this scrubber, I'm able to really wash my scalp with either the clarifying rinse or the sugar scrub.  I use this every time I "wash" my hair.
Updated Clarifying Rinse
For the picture above, I was completely out of my VO5 conditioner, but that is my absolute preference for use in my clarifying rinse.   (1X a month).
To mix up your rinse, mix 1 part Apple Cider Vinegar to 2 parts conditioner.  Place in a squeeze bottle.  Again the V05 conditioner is my preferred conditioner.
To use your clarifying rinse, simply apply to your hair/scalp and scrub with your scalp scrubber.  Use a wide-tooth comb to remove any tangles. Rinse thoroughly.  Apply a small amount of normal conditioner and lightly rinse.
New Styling Products/Tools/Method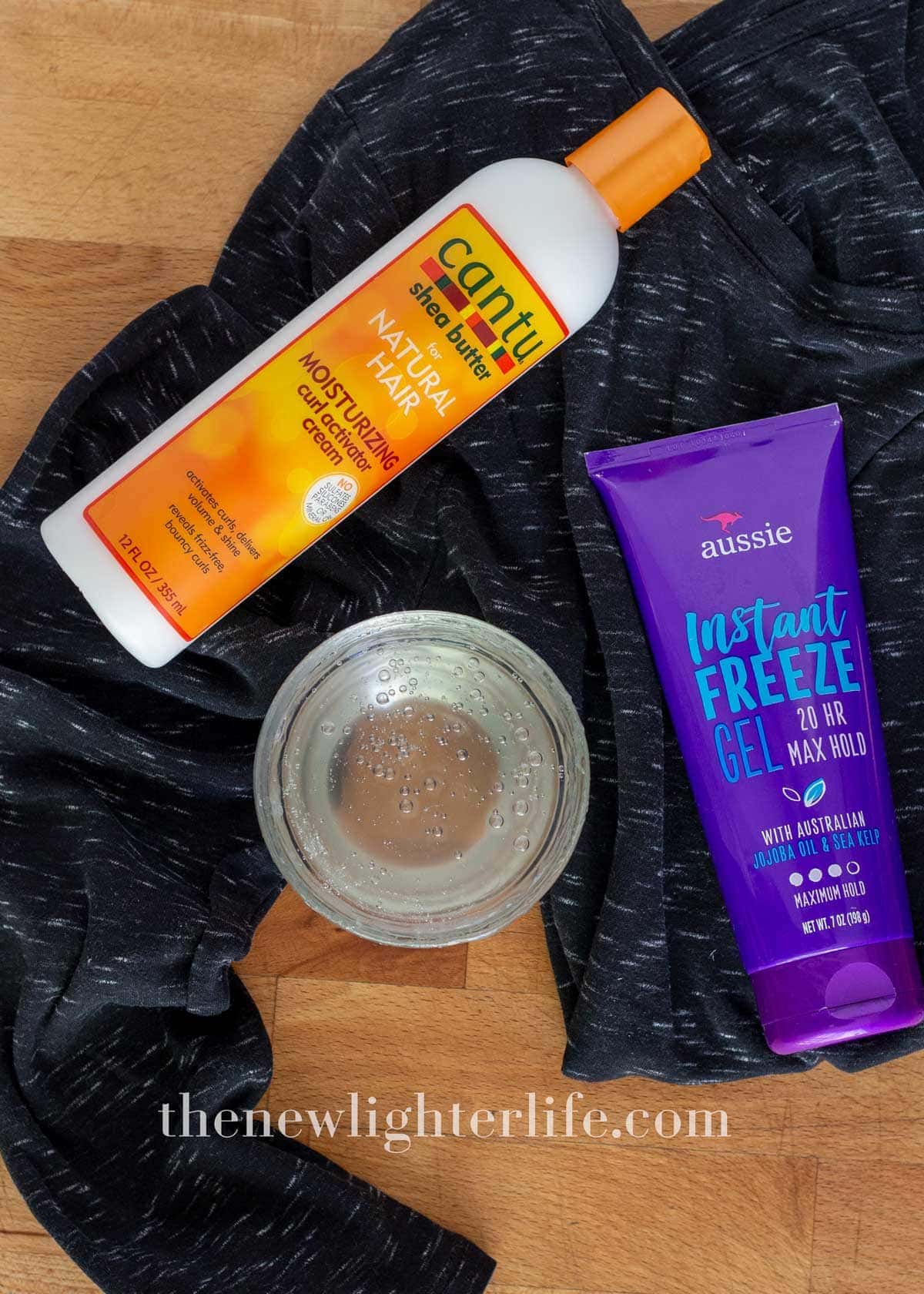 Here is my list and explanation for each of the products pictured above.
Cantu Moisturizing Curl Activator Cream – I use this as a leave-in once I'm out of the shower.  To apply, simply spread the amount of cream you need on your hands and use "praying hands" to apply to your hair. (see video for a demonstration of what "praying hands" is).
Aussie Instant Freeze 20 Hour Max Hold Gel – this gel works best for me and I apply it directly after my Cantu cream.  This is applied with "praying hands" as well.  I prefer to put all my gel into a glass jar so I can scoop out as much gel as needed.
T-Shirt – I use a T-shirt to remove some of the water and weight from my hair before defusing it.  See the video for a demonstration on how to tie your hair up in a t-shirt.
Diffuser Adapter & Hair Dryer – This is not pictured but is absolutely essential to styling your curly hair.  I know many purists will say to NOT diffuse curly hair, but I find that if I do not, the weight in my hair drags down my curls and I have a major flat head.   If you don't have a hairdryer/defuser a basic one such as this one will do just fine.  If you have a hairdryer and just need a defuser I recommend a simple silicone adapter that attaches to the front.
Summary
Hopefully, this helps you all find new products to use for your curly hair.  If you have a recommendation or a question about any of the information above, please comment below.
Blessings!