Today, I'm going to dive into how to care for curly hair and ditch the shampoo.  If you're a curly-haired human and reading this, I'm betting that you are looking for how to take care of your curly hair.
My Bad Hair Years
I fought my curly hair for years and really wish someone would have given me the low-down on what to do with curly hair.
Believe me, I've had my share of bad hair YEARS.
I've also had a slew of bad hair cuts.  All of them were basically attempts to tame my tresses.  In fact, when I was 4, my mom chopped off my cherub curls.  I looked like a little boy and neither of us knew how to manage my curls.
The reality is curly hair can be very difficult to care for IF you fight the curl or don't understand what your hair needs.
But back to my curly hair…it was bad people. Really really bad! The picture below is me in that boy haircut.  I'm the boy on the left.
My hair was kept short until I was about 9 or 10. By then I had finally talked my mom into letting me grow it out.
For years I fought the curly hair. I always had it tied back and never let my hair down – literally.
Chopping it All Off
Just before joining the Air Force, I chopped it to a bob and straightened it every day. It still wasn't right but I finally had the straight hair I longed for. When I joined the military, I cut it even shorter to a boy haircut again and straightened it as best I could. I was desperate and didn't know what else to do to keep my hair under control.
Turns out humidity (I was first stationed on Guam) and straightened naturally curly hair are not a great combo, but I survived somehow and even got a few dates.
I finally decided to grow my locks out.  What do ya know…Mark loves me in long hair so I've pretty much had to learn how to deal with it over the years.
BUT for the past 5 years, I've not just learned to deal with curly hair, I've fully embraced my curls.
I have found that there are really 2 things that make or break a curly head of hair.
This is the first installment of 3, I cover how to wash your curls and what tools work the best.  The next post will be all about how to style your curly hair. And the last one is all about how to tell your stylist to cut your hair (if you're looking for a long style).
So without further adieu…
How to Wash Curly Hair
1.  Give Up Shampoo.  Curly hair is just naturally dry and that is because of the structure of curly hair.  No way around it.  Curly-haired folks NEED to apply more moisture to their hair and avoid harsh shampoos.  I opt for NO-POO.
You read right.
I do NOT shampoo my hair.  Seems crazy? But believe me, I CAN NOT shampoo my hair.  If I even shampoo my hair twice a week, it becomes very brittle and damages quickly.  Not only that, but it is frizzy and out of control.
It sounds gross, but if you have curly hair, you understand the dryness and need for moisture. Without shampoo, my hair is not funky. I don't have any problems from not using shamPOO my hair.  But trust me, my hair is not nasty, and neither will yours be.
2.  Wash With Conditioner.  So what do I do? Every two or three days, I wash my hair with conditioner.  To wash, I just apply a generous amount of conditioner to my hair and scalp and scrub.  Next, I run my fingers through my hair to remove any tangles.  Once all the tangles are out, I rinse out most of the conditioner but leave a little in there since my hair is a moisture hog.
3.  Periodically Clean Scalp. Every 2 weeks or so, I scrub my scalp with a  conditioner/sugar scrub mixture. I can tell when I need to scrub my scalp because it starts to get a little itchy.
For the scalp scrub, mix 1 tablespoon sugar to 3 tablespoons conditioner to make a paste and scrub that into my scalp followed by a good rinse.
Curly Hair Products ~ From the Grocery Store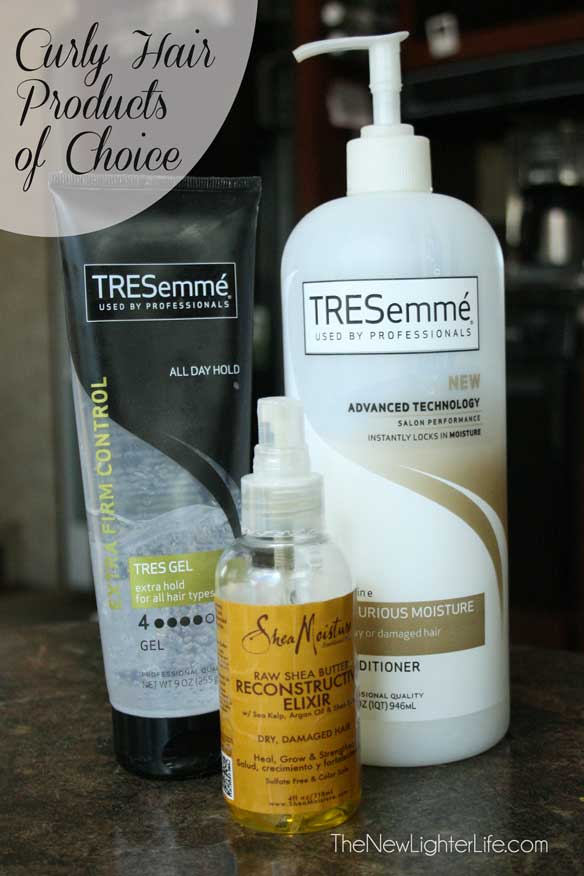 At the time of writing this, I hadn't found a salon formula that I loved and we were on a strict budget.  I had been using grocery store hair products for years. I used 3 products on my hair and they were lifesavers.
Conditioner – TRESemme Moisture Rich Vitamin E formula.  It's reasonably priced and gets the job done.  **UPDATE:  I've switched to a paraffin-free conditioner from Costco (Kirkland's Signature) LOVE it as far as a grocery store brand conditioner goes.
Oil – I use an Argon oil blend by Shea Moisture, Raw Shea Butter Reconstructive Elixir (it's available from Target).  I LOVE LOVE LOVE this stuff!  I put it on just before I put gel on my hair (but I'll get into that in the next post)
Styling Gel – I still use my TRESemme #4 Tres Gel.  The hold is just right.  #5 makes my hair crunchy, and #3 is not strong enough.  Just call me Goldilocks.
Recommended Reading
Curly Girl Handbook.  I cannot recommend this book enough!  It is full of so much information.  I read it years ago and what an eye-opener.  I've found what works for me from the book and made my own way.  If you have curly hair, this book is a great starting point!  It is packed with loads of information.
The author breaks curly hair down into seven 7 different types of curls.  For each type they have very specific tips and hints to work with your curl. The book has been updated from years ago when I first read it and it has even more valuable information.
Everyone with curly hair should have this book!  It also contains hair recipes and helps for getting a good cut along with other valuable information.
Here are some photos from the book to give you a peek inside.
Next, we'll cover curly hair styling tips…
Blessings