Today's post is the last installment on how to take care of naturally curly hair and we are going to cover super curly haircuts for naturally curly hair.
In the first post, I shared some of the tools you need for caring for your curly hair, along with grocery store products that work well for curly hair
The second post was all about how to style your hair.
First, let me just say that I've probably seen many different hair stylists and tried to achieve a cut that was compatible with my long curly hair.  I've had two stylists who cut my hair just right and all the others left me with a similar problem:  Triangle Shaped Hair.
What is Triangle Hair?
Triangle Hair speaks to the shape of your hair when the layers are not significant enough to take the bulk of the weight off towards the bottom of your length.
This issue happens with straight hair too, but it is usually not as pronounced unless hair the straight hair is very thick or the hair is not straightened with a flat iron.
With naturally curly hair, Triangle Hair is far more prevalent in my experience. There are two reasons why I think this happens more with curly hair:
A misconception that your curly hair needs to have the weight of your hair to tame your curls and be cut all one length.
Natural curls will flair out some at the ends as the curls get looser from flow and movement.
Though many stylists are well-meaning. Keeping long layers (or no layers in some cases) is the biggest mistake you can make if you want a more tapered look for your curls.
The reality is you want to lighten your hair up. Here we are in the year 2023 and so many hair stylists now get the need for layers for curly hair.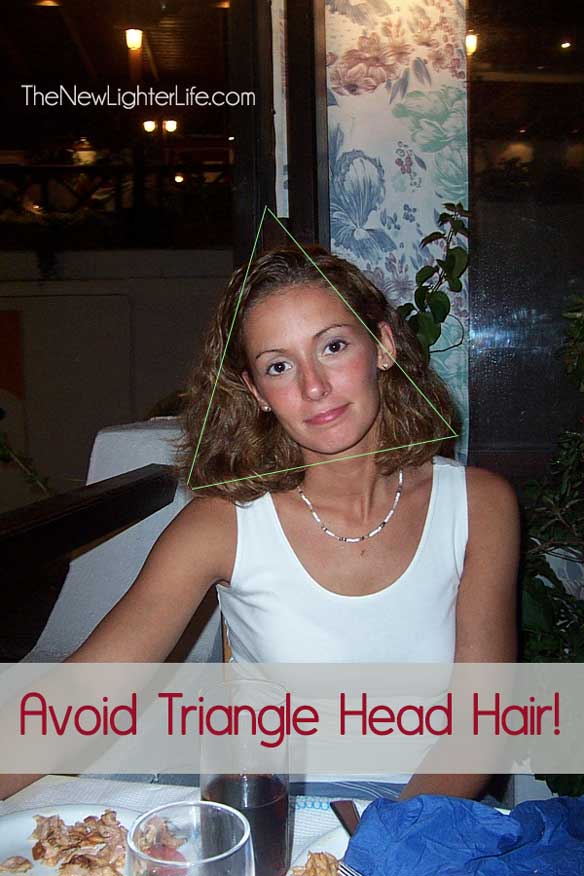 How to Avoice Triangle Hair
In order to avoid triangle hair, need to get layers cut in your hair but long layers won't do. You must insist that you want SHORT layers. In fact, I think I had long layers in this photo.
If you are going for this look of mine above, I don't want to sway you otherwise. But if you aren't, you must insist upon short layers.
It doesn't really matter if you have medium or longer curly hair, my experience is that haircuts for naturally curly hair must have short layers.
I've had stylists TRY to give me short layers but I still got long layers.
Back when I originally posted this, it really was a challenge to get a stylist to truly give me short layers. Maybe that has changed due to social media, Curly Girl, and more understanding of curly hair.
Basic Haircut Instructions
I wish I would have captured my curly hair layers before and after when I first had my hair cut properly. Through a quick Google search, you'll see for yourself the difference short layers make. My stylist up in Rapid City sent me these instructions for the next person who cuts my hair and I plan on quoting her exactly as follows:
"Increase layer and let the bottom drop out. Slide cutting from the top down to take out the bulk, or you can thin with shears. Top layer should be 6-7 inches long. Frame face."
Those were her instructions on how to talk to a stylist about a long curly haircut.
If you look at the top photo (the non-triangular hair one) you'll see that I have short layers. This is really what you want if you want to have long curly hair and be able to wear it down.
So those are the basic instructions for haircuts for curly hair.
Key Takeaway: You have to have short layers, which will lighten the weight and enhance your curls.
I'd love to hear if you have some product you love to use for your hair or if you have a tip you'd like to add, please comment below.
*UPDATE #1* I had a stylist in Fort Walton Beach, FL who did an amazing job of cutting my hair. She cut it dry and have me the short layers I need. She also said someone with naturally curly hair should NEVER have their hair thinned with thinning sheers.