Well, friends, we've moved into high gear to prepare for our 2021 garden. We reconfigured all our raised beds, put in irrigation for the soaker hoses, laid weed fabric and rock on the pathways, and installed our trellises.
I'm super excited about my trellises! I first learned about these from one of my favorite YouTubers, Roots & Refuge Farm, if you'd like to see Jessica's explanation, please click here.
They are very cost-effective and stronger than any trellis you can buy! These materials will last us many years to come, which is a huge win!
I'll get into showing you how to set them up, but first, let me show you the two configurations we have this year.
Archway Cattle Panel Trellis
We will grow our beans, peas, cucumbers, and smaller melons on these.
Lateral Cattle Panel Trellis: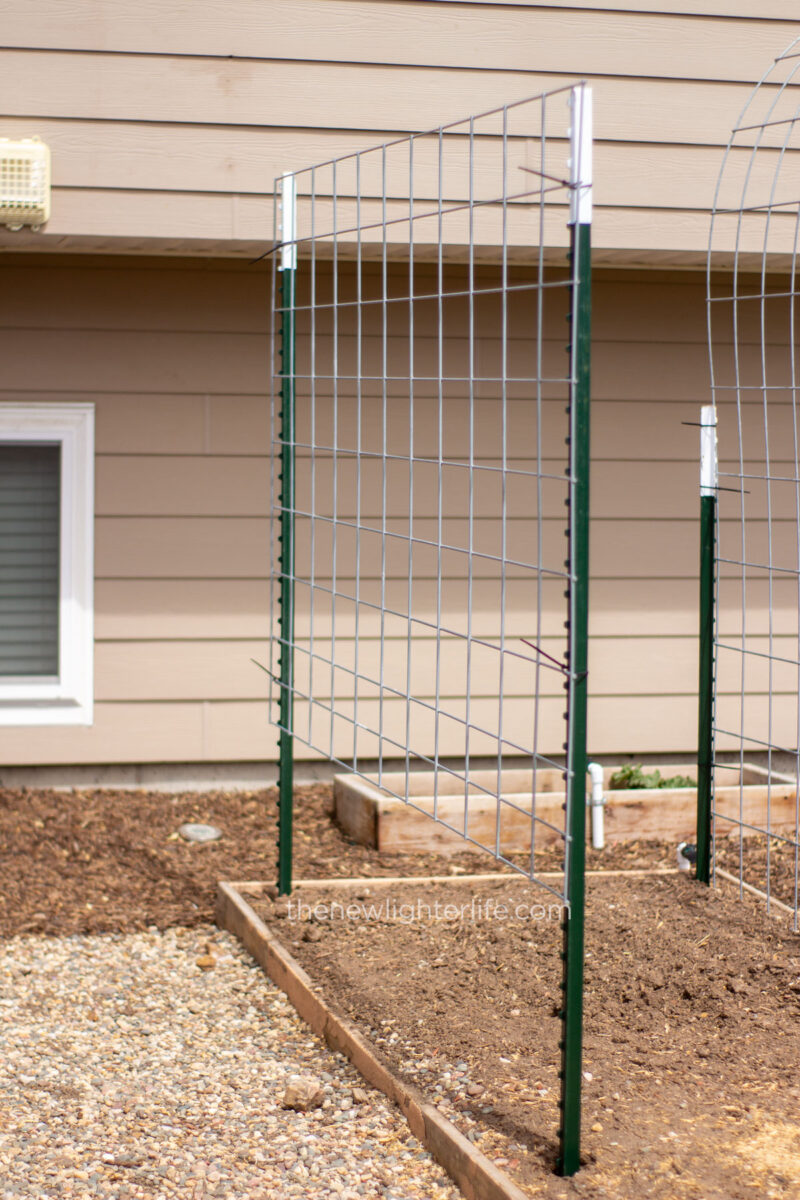 I have a couple of these babies for my tomatoes.
This brings me to the very best and most economical way to trellis your tomatoes (or other vegetables/fruits for vertical support).
Tomato Trellis Materials
7 or 8-foot T-Posts (2 for each trellis)
Cattle Panels
Zip Ties
Post Pounder
Wire Cutter/Bolt Cutter, optional
Grinder, optional
All the items above are readily available at your local home improvement stores (we got most of our materials from Tractor Supply Company).  I've linked it to items so you can see what they look like.
T-posts are essential to this DIY. You'll want your posts to be 7 or 8 feet long. Just be aware that the height of your indeterminate tomatoes will be limited by how high your fencing goes up.
Cattle panels come in 16-foot or 8-foot lengths and are just over 4 feet tall (when horizontal). Depending on the size of your garden (or the vehicle you are hauling the panels with), you'll want to choose accordingly. It is most economical to buy the 16-foot panels ($24/each) versus the 8-foot panels $17/each). If you can accommodate the 16-foot panels in your truck or trailer and have a wire cutter or bolt cutter and a grinder, you'd save quite a bit of money by cutting the 16-footers to the length you need.
BONUS: If you are wondering how you can haul your 16-foot panels in the bed of a truck, we followed this process to haul 3 panels and it worked perfectly:
Zip Ties are readily available at any hardware store, and you'll want 8-inch long ones. We decided to order UV-resistant zip ties from Amazon, so they would not break down during the harsh months for at least a couple of years.
Post-pounders are about $30. Since we do a limited amount of fencing, we borrowed one from a friend.
If you need to make any cuts to the length of your panels, a wire cutter will work. But if you want to move quicker, a bolt cutter zips through those cuts even faster.
If you decided to cut your panels, you'll have some sharp edges to contend with. We used an angle grinder.
Installing the trellis is very simple to do!
Steps to Install Trellis
Pound the t-posts (one near each end of the trellis) about 4 to 6 inches away from the edge of the garden with the t-post teeth facing toward the walkway.
Posts should be pounded about a foot or more into the ground. (I went about 1 1/2 feet into the ground)
Position your panel for attaching. Remember, you do not need to place your panel right on the ground as you will have room for the tomatoes to grow before they need support on the trellis. As they grow, you will continue to prune and attach them to the trellis for maximum production and the health of the plant. (I have about a 1 1/2 foot gap at the bottom)
Next, you will want to attach the panel to the posts. Place the panel against the teeth side of the post and secure the panel with a zip tie. I recommend you use at least 3 or 4 zip ties per post.
If you cut your panels, be sure to grind the metal edges to ensure all edges are smooth.
That is is friends. Very easy to do.
To Setup an Archway Trellis
You will follow relatively the same process to set up an archway trellis as the tomato trellis, just a slightly different configuration.
I recommend a 16-foot panel for the archways that you can cut down slightly depending on how high your beds are. Just keep in mind, you want your archway to be tall enough to walk under and not too tall for your vegetables to be out of reach for harvest.
Since the ends are just over 4 feet, you'll need to install your t-posts the same way as before, but you will need 4 posts in a relative rectangle for 1 archway.
T-posts do not need to be as long as the T-posts for the tomatoes (I have used 5-foot posts before).
With zip-ties, attach your panel with the 4-foot end at the base of the ground against 2 t-posts and loop the panel to the other side of the archway completing the archway trellis.