Kitchen View
This is one area of the camper that I wish was larger. Who doesn't want a larger kitchen though right?
I have to say, as far as camper kitchens go, it's pretty big!
I admit, after being here for 3 weeks, it's getting better.
Microwave/Refrigerator/Storage
Here is the side view…
The over-cabinet storage is handy.  We have baskets above the microwave for vitamins, snack items, and bread, plus my spice rack is mounted.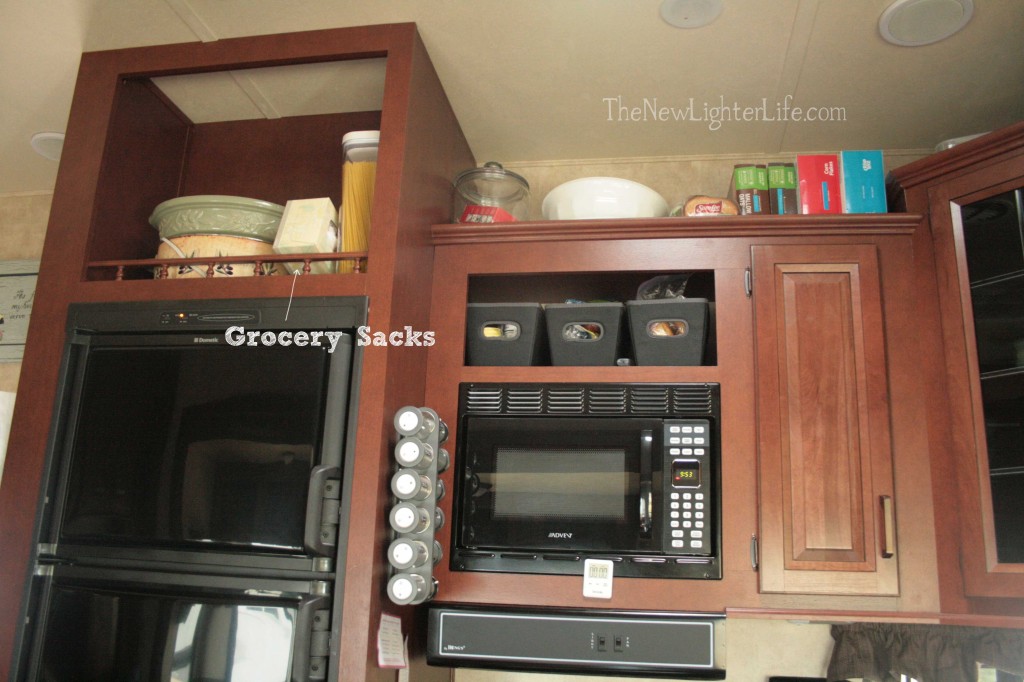 Stove/Oven Area
Here is the stovetop…pretty standard to RVs. In the back is a little rack that I put spice overflow. I use to put sauces but AFTER ONE NEARLY EXPLODED, I moved the sauces to a cabinet. (it gets hot back there!)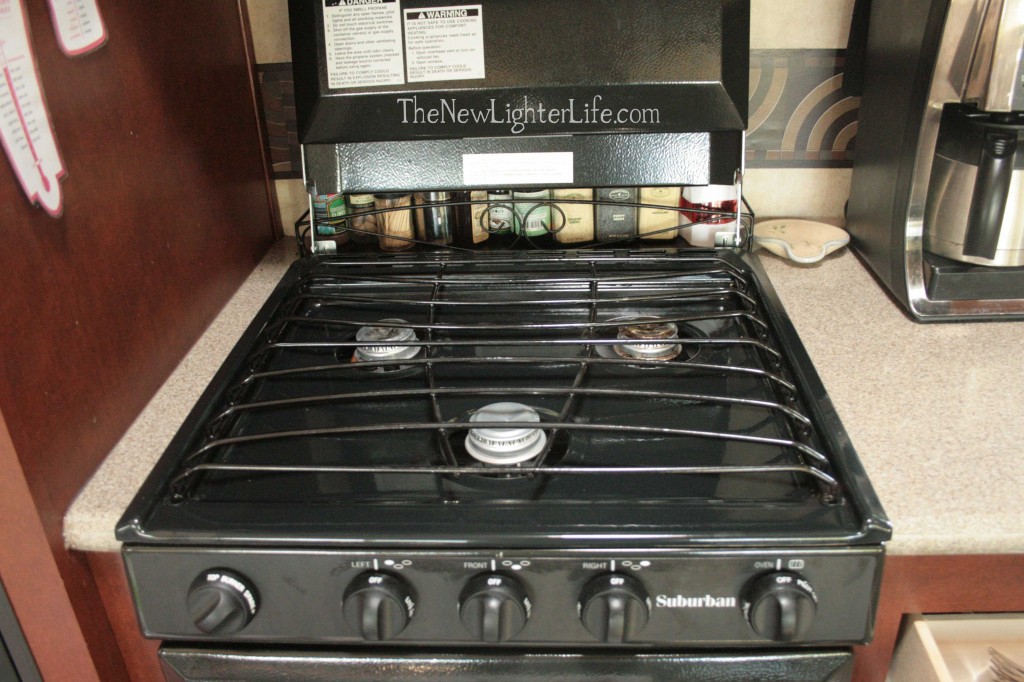 This is obviously the oven. I store some of my larger pans and stoneware here. Our oven is pretty nice as far as RV ovens go, (you can adjust it more which I'll go into later).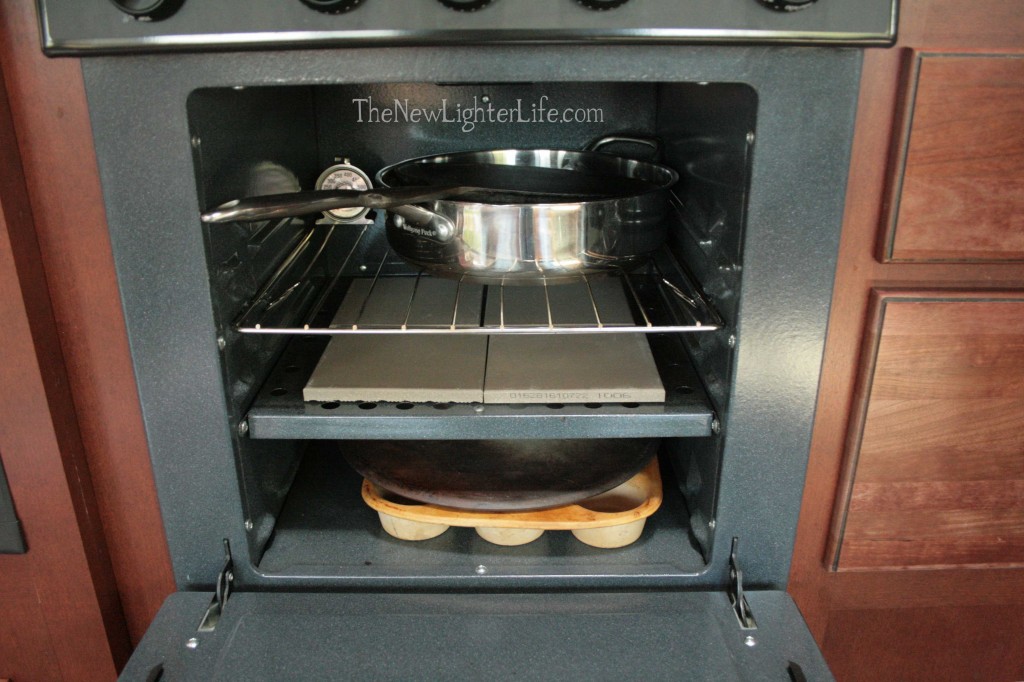 Cabinets
Here is where we moved our sauces…love lazy susans for easy access. We still have organizing to do…but we're getting there.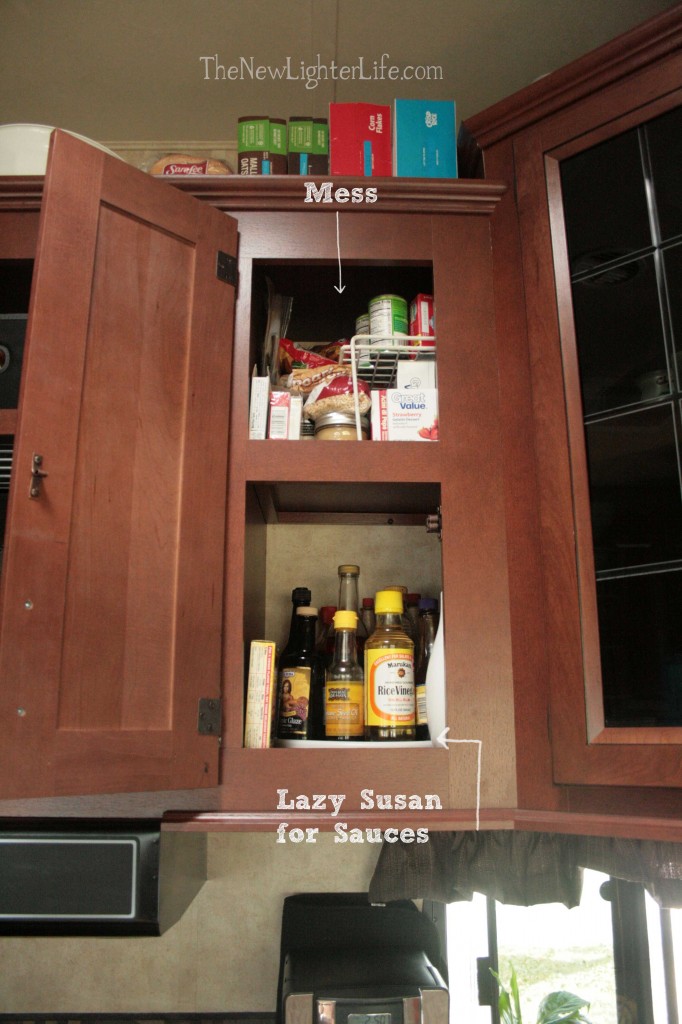 Here are the drawers that Mark made the built-in organizer for.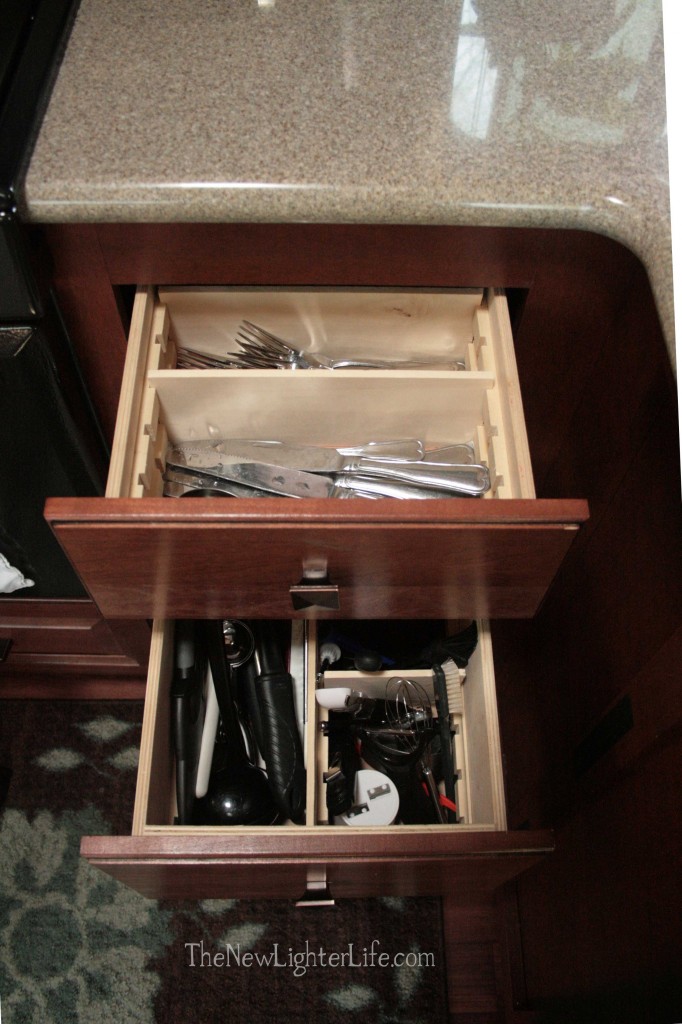 Here is the upper corner shelf. It's hard to get back there in the corner, so we got another lazy susan.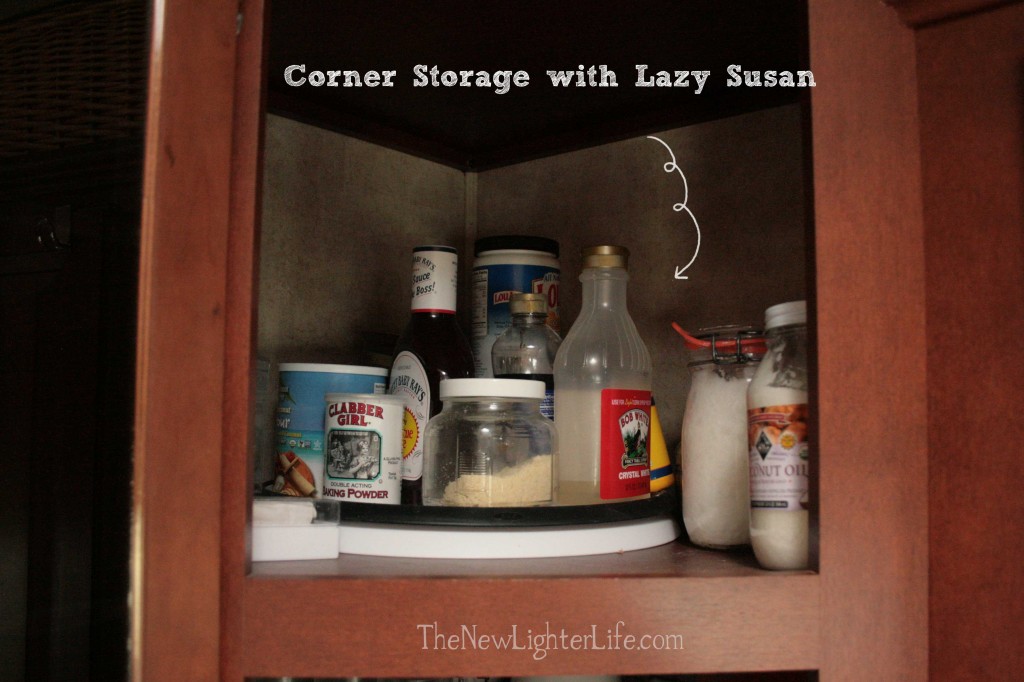 This is the bottom shelf of the corner cabinet. We really crammed a lot in there with racks and wire shelves.
This cabinet is a mess and I'm still trying to figure out how to organize it.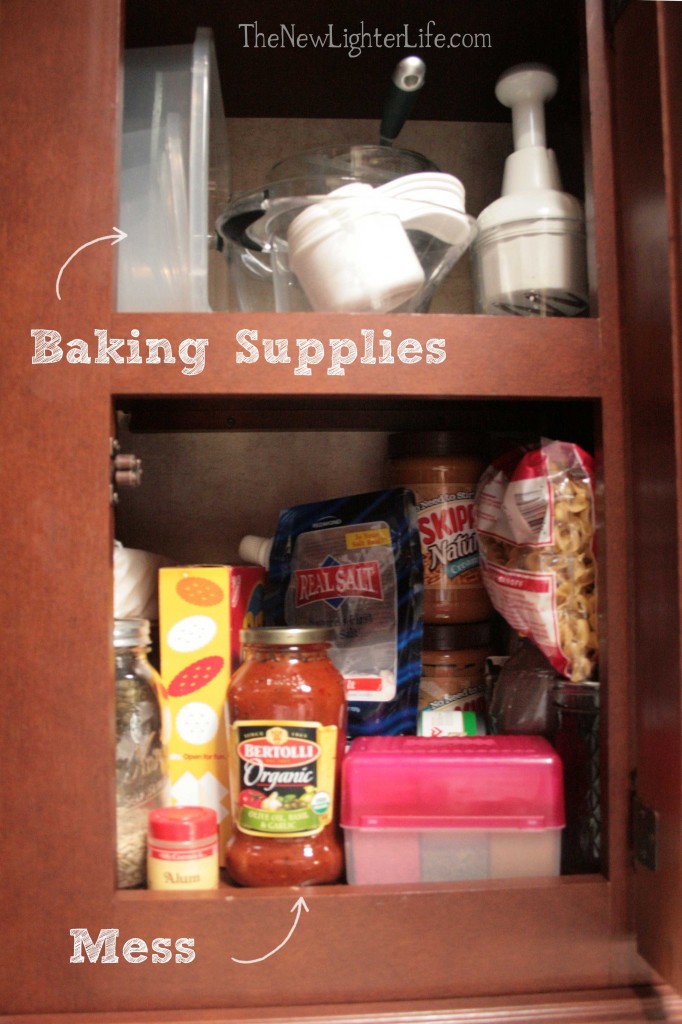 I do have 4 more drawers I forgot to take a picture of. I store my glass snap containers, tin foil, saran wrap, baggies in one. Pan lids, potatoes, pot holders in another. Coffee, coffee grinder, aprons, in another. And hand mixer, kitchen towels, and wash rags in the last one.
Pantry
Upper pantry view…lots going on in here! On the top shelf, my re-purposed containers with our bulk goods. Middle has a wire organizer for our cutting boards, collapsable colander, pans. And the bottom shelf has a collapsable salad spinner, mini loaf pans, & lid organizer.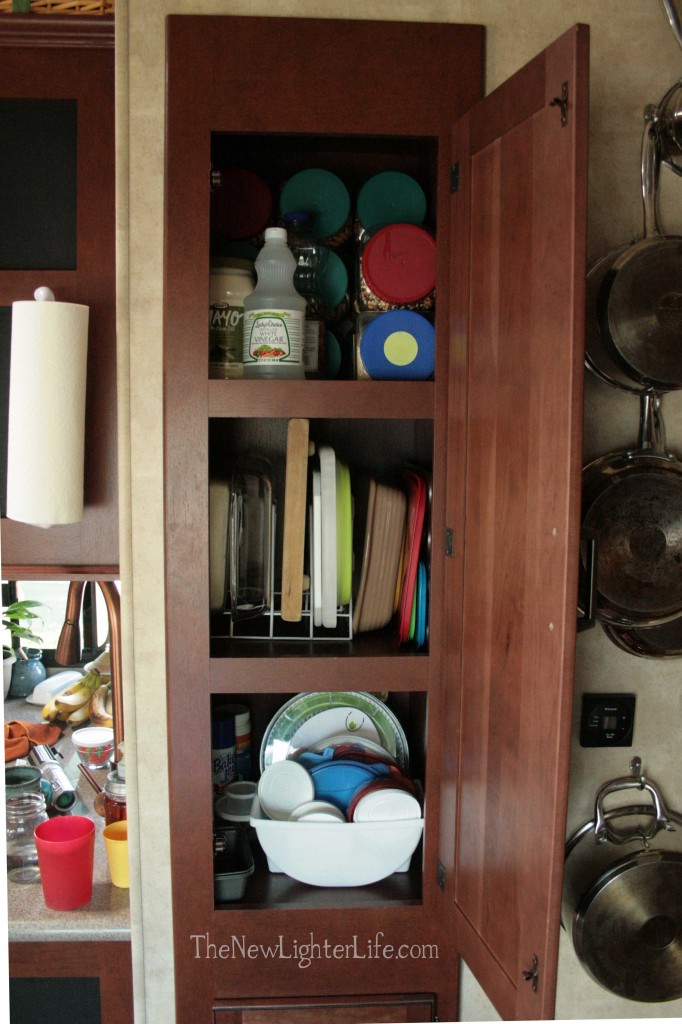 The lower part of the pantry. I simply love my OXO Storage!
Side Wall
Mark mounted hooks on the wall for my pots and pans.
Under Bench Storage
I had to keep my lefse griddle and I use it for all sorts of meals: pancakes, french toast, quesadillas, and I'll hopefully be making lefse this winter. And I love my Salad Master chopper….they're both big and bulky but I had the space to store them.

So there you have it. A tour of the kitchen area.
We have a few projects to get the space more organized but I figured if I waited until it was all just right, I'd never get a post up.
If you all have ideas or tips to organize some areas, I welcome them! I've sorta run out of steam with organizing at this point. Still, I'm very happy with where we are in the organization department.