Recently, I was sharing about how we recently went on a 5,000 + mile road trip with our Winnebago Class C. With that long of a trip, we've gathered some ideas for what you might want or need for an RV trip. Since we have camped quite a bit, we have narrowed down our RV trip packing list to what we actually need/use.
Please Keep in Mind…
Glampers – we are unashamedly glampers. We like creature comforts and enjoy conveniences where it makes sense. You may look through this list and realize you need/want only certain items. I'm sharing the list in PDF form so you can print it, but you can also download the Microsoft Excel version if you want to customize your own list.
Exhaustive List – the list I use personally, is slightly pared down from this one. Since I'm sharing with a broad audience, I added a few items we do not use but may be helpful reminders/ideas. Some examples of items not on our list are sidewalk chalk, bubbles, & a kiddie pool. My youngest is 10 years old & has personally outgrown these past times. Still, they are on the list because I thought these might be ideal for those of you with smaller children.
Add-Ons – I have some space on here for you to add your own, (under MISC).
Food Items – the food items (except the last one) are what we keep in the camper during the summer. We keep these in the camper since we camp so frequently. You may want to remove your food between trips, depending on how often you camp. The food portion of the list reminds me to check my containers before we head out. It's also useful for a reminder of what to put back in the camper next spring. I meal plan separately from this Glamper's RV Trip Packing List and make a short list of perishable or trip-specific items to bring on the trip which coincides with my meal plan.
Questionable Items – Some of these items on my packing list may not be familiar to you. I'll be sharing some specific items we love for the RV in another post, so be on the lookout for that post.
I think those are all the disclaimers for now so let's get to the packing list pdf first.
RV Trip Packing List – PDF: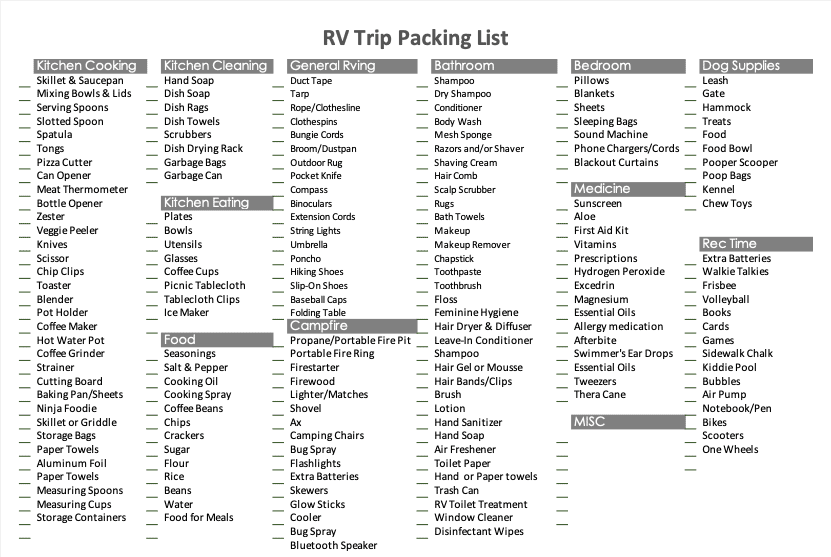 And the Editable RV Trip Packing List that you may edit to suit your needs.
That's all friends! With this list, you'll be able to avoid unwanted trips to the store! If I forgot anything essential or you see any errors, please drop me a note below in the comments!
Blessings to you in your RVing adventures!